Industrial Ecology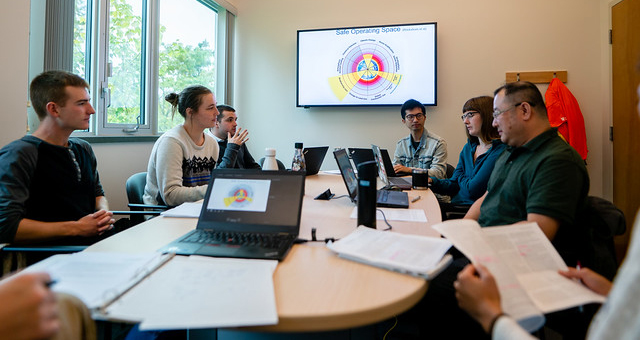 Industrial ecology is the study of the flows of materials and energy in industrial and consumer activities, of the effects of these flows on the environment, and of the influences of economic, political, regulatory, and social factors on the flow, use, and transformation of resources.
—Robert White, President of the U.S. National Academy of Engineering (1994)
UVic is planning to launch a 1-year Masters of Engineering degree in Industrial Ecology starting September 2020 (subject to approval by the Government of British Columbia).
To receive notification of the application procedures, when the program is approved, please register here.
Background
The field of industrial ecology has emerged as an influential brand of sustainability science, with aims of developing technological systems that support human well-being, while dramatically reducing the environmental impacts of resource use.   Essentially, industrial ecology is the study of energy and material flows in industrial-societal systems, paralleling natural ecology which involves the study of energy and material flows in natural ecosystems.  Over the past 25-years, research in industrial ecology has adopted and developed a variety of methods, including environmental life cycle assessment, material flow analysis, and environmental foot-printing (amongst others). Through these methods, industrial ecology is able to link environmental stresses to human driving factors, providing an understanding of complex interactions and pointing the way to sustainable paths forward.
The impacts of work in industrial ecology are many.  Examples include: development of the international standards for assessing life-cycle impacts of products and processes; inclusion of material flows in the environmental accounts of OECD nations; and standard approaches for inventorying greenhouse gas emissions of cities. Researchers in Industrial Ecology have extended input-output models to determine environmental impacts, such as biodiversity loss, from economic activities. They have produced most of the reports of the United Nations International Resource panel on topics such as resource decoupling, metals, biofuels, and global land use change; and contributed to many chapters of the IPCC's 5th Assessment Report on climate change mitigation. Much of this work has also been published in leading scientific journals.
The field of industrial ecology is thus ideal for training engineering students with quantitative skills to address sustainable development in an interdisciplinary and policy relevant context.
Learning Outcomes
Graduates of the MEng in Industrial Ecology will be able to:
Assemble and compute energy and material flows in industrial-society over a range of scales, from products and services to cities and economies.
Frame, develop and apply systems approaches for determining the environmental and economic impacts of infrastructure, products, processes and services using appropriate spatial, temporal and life-cycle boundaries.
Plan and analyze systems for material reuse and recycling, displaying well developed understanding of the limitations and potential of circular economies.
Demonstrate a basic level of understanding of the scientific basis of environmental impacts of human activities (e.g., climate change, biodiversity loss, water stress and other impacted planetary boundaries), including appreciation of the complexity of ecological systems.
Explain how methods and tools of Industrial Ecology can be applied in business, economic or public policy contexts.
Program
Industrial Metabolism and Global Environmental Change (CIVE 510)
Advanced Methods in Life Cycle Assessment (CIVE 511)
Industrial Symbiosis and Recycling Technologies (CIVE 512) OR Systems and Complexity Modeling in Civil Engineering (CIVE New)
Urban Metabolism and Sustainable Cities (CIVE 513)
Energy Systems and Exergy Analysis (MECH 542) OR   Wind Power Systems (MECH 547)
The Climate System (EOS 550) OR Ecological Theory & Methods (ES New)
Watershed & Ecosystem Economics (CIVE New) OR a 500-level course from the School of Public Administration (ADMN 5XX)
Free Elective
MEng Project in Industrial Ecology (New) – can be taken combined with a professional development course (ECE 592B)
Admission Requirements
The entry point to the Program is September only. The Program length is fixed at one year.
Applicants will normally hold an undergraduate degree in engineering, though students with backgrounds in science, geography, environmental studies, business or economics may also be eligible.
The minimum requirement for admission to the MEng will be B+ (grade point average of 6.0 on the University of Victoria scale of 9.0) for the last two years of university work.
Applicants for admission whose first language is not English must meet the English Competency Requirement as specified by the Faculty of Graduate Studies. Currently, the minimum acceptable TOEFL (Test of English as a Foreign Language) score for the Program will be 575 on the paper-based test or 90 on the Internet-based test (the minimum score for each section is Writing: 20; Speaking: 20; Reading: 20; Listening: 20). A minimum acceptable IELTS score will be 6.5. Even with passing TOEFL/IELTS scores, students may be required to take English language courses in addition to their other course work.
Admission is competitive with places limited.
Links
International Society for Industrial Ecology  https://is4ie.org/
O*NET On-line (Job prospects)  https://www.onetonline.org/link/summary/19-2041.03