UVic Mech Alumni Successfully Get Electron Rocket to Low Earth Orbit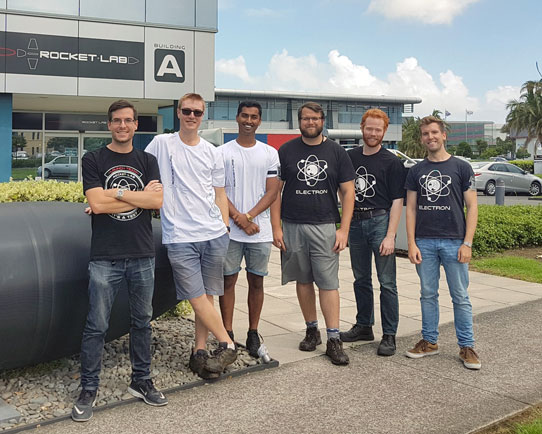 On the morning of January 21st, 2018, only ten countries in history had the capabilities to launch objects into orbit. By mid-afternoon of that same day there were eleven. At 2:43 PM NZDT the Electron rocket successfully launched from the Mahia Peninsula in New Zealand, delivering four payloads into two different orbits.
At liftoff, five of the cheering employees were either current or former UVic students with a Camosun alumni in the mix. Michael Pearson started as a co-op in 2014 before the Electron project was announced. He is now a Propulsion Engineer conducting operations as a flight controller and running Rutherford engine hot fire tests. Simon Moffatt started later in 2014 as a co-op and is now a Propulsion Engineer, primarily developing the Curie engine (design, build, test, integration). Cass Hussman started in 2016 after finishing his Masters at UVic and has been a valued member of both the Avionics and Software teams. He primarily works on numerous communication systems and their related electrical hardware and software development as well as ground station operations. Leo McKee-Reid, a graduate of the Camosun Engineering Technologist program, started his role as Composite Tooling Designer at Rocket Lab in early 2017. He has a strong connection to UVic through his role as Aerostructure Lead on the UVic Rocketry team and design work at UVic CfAR. Shane Sagar started his co-op term in October 2017 as a Production Engineering Intern and coordinates with numerous teams across the company to increase Electron production efficiency. Graeme Ramsey is the newest UVic student to join the team, starting at the beginning of this year on the Range team. He will be making critical range infrastructure improvements and supporting launch operations.
Besides working at Rocket Lab and studying in Victoria, the six have a common background of working in student engineering teams at UVic. Those teams include Rocketry, AERO, ECOsat, and FSAE. Active involvement in these teams helped develop the necessary skills for working at a fast paced, high tech company like Rocket Lab. All six feel very fortunate to have the opportunity to be a part of such a unique and exciting project and are very grateful for the support that the University of Victoria, its faculty and staff, have provided over the years.