UVic Team wins Electric Mobility Canada competition for second time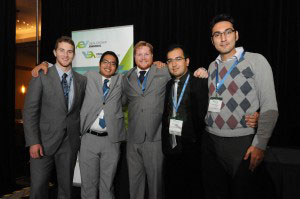 Our UVic team has won the Electric Mobility Canada (EMC) annual competition that challenges combined teams of engineering and business students to come up with a plan to improve electric vehicle infrastructure and promote the adoption of electric vehicles in Canada.

Five teams selected from across Canada had one week to assess the issue given to them, conduct research and prepare a 10-minute PowerPoint presentation, delivered at the third annual EMC Conference in Vancouver, Oct. 28-30. This year's challenge was to write a five-year technical and business plan to position Canada as a leading nation in per capita sales of electric vehicles. This is the second year in a row the UVic team has won. The first place award is a Class II Electric Vehicle charger from AddENERGIE.
Ted Alley of Mechanical Engineering and Martin Guinto of School of Business (both co-op students of Mechanical Engineering in this term) have delivered the presentation. Other members of the winning team included Mojtaba Lajevardi, Pouya Amid, Valery Heckel, Nima Tehrani, Adam Gray and Sahand Behboodi. The team has been advised by Dr. Zuomin Dong and Dr. Curran Crawford (both of Mechanical Engineering and Institute for Integrated Systems), and Ms. Christine Kormos from Psychology.