Community & government events
UVic prides itself on making a vital impact.  We organize events celebrating our dynamic relationships with local organizations, government partners and the community at large.  From funding announcements to royal visits, from parades to local fundraising campaigns, UVic is a vibrant leader in the community.
On Friday, October 2, 2015 members of the UVic community came out to support the Tour de Rock Riders. Approximately 60 people joined the team for a ride around ring road.The Canadian Cancer Society Cops for Cancer Tour de Rock raises money for pediatric cancer research and programs for children with a history of cancer. The Tour de Rock team cycles from one end of Vancouver Island to the other, over 14 days, covering 1,000 kilometres.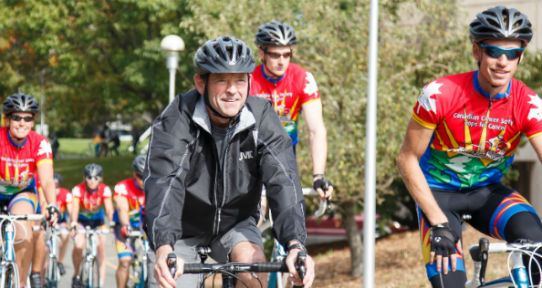 Victoria Leadership Awards celebrate the inspiring stories and successes of community leadership in Greater Victoria. For more than a decade, our region's business, government and community sectors have been recognizing the contributions of people and organizations who demonstrate commitment, inspiration, encouragement and accomplishment.
UVic partners with Greater Victoria's leading community organizations to bring this event to life each year: Leadership Victoria Society, Rotary Clubs of Greater Victoria, United Way of Greater Victoria, and The Victoria Foundation.