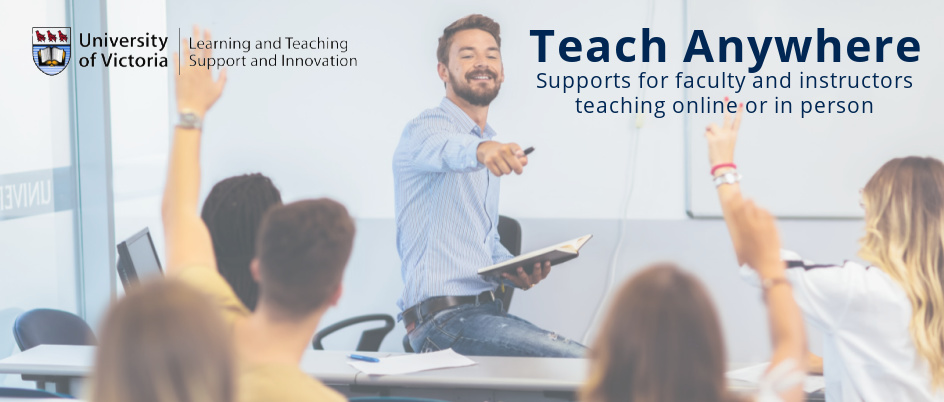 Preparing to teach this Spring?
We have created a consolidated resource which includes information on instructional modes, LTSI supports and learning technologies, accessibility, COVID contingency planning, strategies for supporting student and instructor absences and more.
---
Class Recording Support
Online workshops and in-person drop-in sessions
A great place to start is by attending the class recording online workshop. We also have in-person drop in sessions where you can practice in a room ahead of class.
View our upcoming workshops and drop-ins
Live & email support
For any questions you encounter when preparing to record your class or managing recordings, we are also available live or through email. If you are experiencing, technical difficulty in the classroom, the best course of action is to restart the computer (as this solves most issues) and contact AV at 250-721-8292.
Book a consultation
We are also happy to meet with you individually to further discuss options for class recording. Our consultations here are online, but we have some limited capacity to meet in your room if you have one booked.
Self-serve web guides
We also have a number of self-serve web guides you might find helpful:
Cheat sheet (this is also posted in all enabled classrooms)
---
About TIL
Technology Integrated Learning is part of the division of Learning and Teaching Support and Innovation and helps UVic faculty, instructors, staff and students with technology-enabled dynamic learning and teaching environments. With Brightspace, Echo360 and our other learning technologies, we support blended and online learning and enhance the traditional classroom. By evaluating emerging strategies and advocating for modern solutions, TIL keeps UVic on the cutting edge of technology in education.
Quick Links
We are here to help!