Learning and Assessment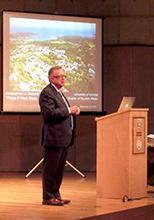 In 2013 the Division of Student Affairs (STUA) began developing new assessment practices to improve student outcomes and enhance the quality of services we offer.
Through this process we are adopting CAS Standards (Council for the Advancement of Standards in Higher Education) and implementing assessment to document student learning outcomes, demonstrate program effectiveness, and define the contributions of the Division to student development, learning, and success.
This is a STUA key initiative of in support of the division strategic objective to use research and assessment to inform decision making.
Develop a three-year plan with related resourcing strategies that will assist the STUA Executive and unit leaders in moving forward with their learning and assessment plans.
Align divisional assessment strategies and goals with institutional learning assessment and goals and provide leadership for the implementation of institutional learning outcomes and related assessment practices on campus in partnership with faculties and academic units.
Embed the development and assessment of learning outcomes and related assessment practices in the departments and units of Student Affairs that demonstrate how Student Affairs supports student development, learning and success.
Increase capacity of staff in Student Affairs to conduct reliable assessments of student learning and operational effectiveness in accordance with CAS Standards and other applicable metrics pertinent to their departments and/or units and to ensure the sustainability of the internal Learning Outcome Advisor program.
PHASE ONE: Spring/Summer 2014
Work began with Keeling and Associates (K&A) to introduce CAS Standards into the Division of Student Affairs
Council for the Advancement of Standards in Higher Education (CAS) Steering Committee established
Review conducted of current assessment practices across the Division
Development of assessment strategy to adopt CAS Standards in Student Affairs
Two day K&A campus visit included professional development opportunity for STUA Council as well as introduced the program to senior institutional leadership.
PHASE TWO: Winter 2014/Spring 2015
Implementation of an assessment strategy with further use of CAS Standards to guide professional development and practice
Continued development of standard for areas for which CAS Standards did not exist
Two-day campus visit included two professional development opportunities, one each for Student Affairs Council and staff, focused on the development and assessment of learning outcomes.
Work continued to develop CAS Standards for those function areas where standards do not already exist: Child Care Services, Indigenous Affairs, and Vikes Athletics
Presentation to Dean's Council regarding Student Affairs' efforts to integrate the CAS Standards and institute assessment of learning outcome and operational effectiveness.
PHASE THREE: Fall 2015/Spring 2016
Ongoing remote consultation and technical assistance from K&A
Preparation for "train-the-trainer" professional development program to build capacity for CAS Standards within the Division
Three campus visits in 2015/2016
THREE-YEAR PLAN: 2016-2019
Executive Leadership
Joel Lynn, Executive Director, Student Services (Chair)
Nicole Greengoe, Registrar
Carolyn Russell, Director, Student Recruitment & Global Engagement
Consultants
The Learning and Assessment Community of Practice (LACP) is the next iteration of the CAS Trainer group that worked with Keeling and Associates in 2015/16 to improve the capacity for learning outcomes assessment in the Division of Student Affairs. LACP members include former CAS trainers as well as additional members to make sure that all units in the division have a representative in the group. LACP members are actively engaging in and supporting the development and implementation of assessment and learning outcome practices, processes, training, and reporting in their units and departments.
The LACP meets throughout the year to:
collaborate on the development of learning outcomes and assessment and reporting practices for Student Affairs programs, services and operations
continue professional development related to the CAS Standards, UVic Learning Outcomes, and knowledge related to the various learner populations we serve
make recommendations to the Student Affairs Executive on the ongoing goals, processes, and objectives of embedding effective learning and assessment practices in the Divisional culture
share resources, training and education materials, research articles, assessment activities and results, and to support, acknowledge, and provide constructive feedback to peers in support of departmental learning and assessment needs
Trainers were selected from across the division in numbers proportional to the sizes of the departments and based on the following criteria:
Ability to support the department leader in departmental learning and assessment
Desire to champion and role model assessment in their department
Capacity to take on the work
The following individuals have been selected as unit representatives on the LACP:
Athletics and Recreation (ATRS)
Zac Andrus
Campus Services (CASV)
Neil Wedin
Vacant
Office of the Registrar (OREG)
Lori Nolt
Ada Saab
Student Recruitment & Global Engagement (SRGE)
Kate Hollefreund
Leah Toews
Student Services (STSV)
Tricia Best
Dustin Meredith
Rowan Shaw
Terry Forst
Angi Eddy
Ai-Lan Chia
Kim Daly
Melana Mar
Rob Hancock (INAF)
For those interested in the work that the LACP is doing, the CAS training handbook is available in the "Guides" tab at the bottom of the page or by clicking here. You can also speak to the LACP member or unit leader for your area.
Staff resources
Copies of the following resources are available upon request. Please contant Chardelle Lalonde at avpsasec@uvic.ca for more information.
Assessment Reconsidered
Learning Reconsidered 2