Cornelia Hoehr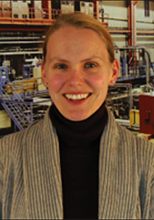 Position
Adjunct Assistant Professor
Credentials
PhD (U of Heidelberg, Germany)
Contact
Office: TRIUMF
Overview of research
Physics and especially nuclear physics has always played a direct and indirect role in medicine as very early on scientists realized the potential of radiation in medicine. My research focuses on two main areas where radiation is implemented:
Proton Therapy dosimetry
TRIUMF operates Canada's only Proton Therapy centre. Ocular cancer patients have been treated here since 1995. Cancer treatment with protons takes full advantage of their superior dose deposition versus the traditional treatment with high energy photons. This allows the healthy tissue around the tumor to be spared from excessive harm while destroying the cancer cells, resulting in a very successful cancer treatment. I am investigating ways to improve and expand the proton therapy program at TRIUMF. We are developing a Monte-Carlo simulation of the facility and are using it to investigate the feasibility of dose-deposition verification with Positron-Emission-Tomography and Prompt Gamma-ray emission. We are also investigating better beam control, advanced shielding from secondary particles and improved treatment planning.
New target development for nuclear medicine
Nuclear imaging and especially Positron Emission Tomography (PET) uses radioactive isotopes to diagnose and even treat diseases. We are researching and developing methods to produce existing and novel medical radioisotopes. This work concentrates on the targets used at medical cyclotrons and spans the fields of engineering, physics and chemistry.
Graduate students
Recent publication references
C. Henriks, T. Uittenbosch, D. Cameron, S. Kellogg, D. Gray, K. Buckley, P. Schaffer, V. Verzilov, C. Hoehr, A real-time beam-profile monitor for a medical cyclotron, submitted
C. Hoehr, E. Oehlke, F. Benard, C. Lee, X. Hou, B. Badesso, S. Ferguson, Q. Miao, H. Yang, K. Buckley, V. Hanemaayer, S. Zeisler, T. Ruth, A. Celler, P. Schaffer, Sc-44g production using a water target on a 13 MeV cyclotron, submitted
C. Hoehr, V. Hanemaayer, S. Zeisler, H. Yang, K. Buckley, T. Ruth, F. Benard, P. Schaffer, A simple method for producing and purifying Sc-44 from a liquid target using low energy medical cyclotrons, Journal of Nuclear Medicine vol. 54 Supplement2 1096 (2013)
G. Topping, P. Schaffer, C. Hoehr, T. Ruth, V. Sossi, Manganese-52 Positron Emission Tomography: Tracer Characterization and initial Results in Phantoms and In Vivo, Medical Physics vol. 40, 042502-1 (2013)
C. Hoehr, M. Trinczek, K. Dinelle, S. Blinder, E. Blackmore, W. Kwa, R. Lee, V. Sossi, T.R. Ruth, P. Schaffer, K. Paton, PET scanning of ocular melanomas after proton therapy, IEEE MIC 2012 Conference Record, M22-3 (2012)
C. Hoehr, B. Badesso, T. Morley, M. Trinczek, K. Buckley, S. Zeisler, V. Hanemaayer, T.R. Ruth, F. Benard, P. Schaffer, Producing radio-metals in liquid targets: proof of feasibility with Tc-94m, AIP Conference Proceedings vol. 1509, 56 (2012)
C. Hoehr, T. Uittenbosch, V. Verzilov, W. English, K. Buckley, D. Gray, S. Kellog, D. Cameron, P. Schaffer, A real-time beam-profile monitor for a PET cyclotron, AIP Conference Proceedings vol. 1509, 41 (2012)
J. Klug, K. Buckley, M. Dodd, C. Hoehr, P. Tsao, J.P. Appiah, C. Economou, P. Schaffer, S. Zeisler, A new transfer system for solid targets, AIP Conference Proceedings vol. 1509, 146 (2012)
C. Hoehr, T.J. Morley, K. Buckley, M. Trinczek, V. Hanemaayer, P. Schaffer, T. Ruth, and F. Benard, Radiometals from liquid targets: Tc-94m production using an adapted water target on a 13 MeV cyclotron, Applied Radiation and Isotopes vol. 70, 2308 (2012)
T.J. Morley, C. Hoehr, K. Buckley, P. Schaffer, F. Benard, T.J. Ruth, Rapid and efficient production of Tc-94m, Journal of Labelled Compounds and Radiopharmaceuticals vol. 54 S245 (2011)
T.J. Morley, C. Hoehr, K. Buckley, K. Gagnon, S. McQuarrie, M. Kovacs, P. Schaffer, F. Benard, T.J. Ruth, Simple, rapid production of Tc-94m, Journal of Nuclear Medicine vol. 52 supplement 290 (2011)
T. Kong, A. Gorelov, C. Hoehr, T. Wiebe, A. Chatwin-Davies, A. Berman, S. Behling, D. Ashery, G. Gwinner, M. Pearson, J. Behr, Specific Mass Shift Measurements in Rubidium by Doppler-free Two-photon Transitions, Journal of Physics B vol. 44, 215004 (2011)
J.R.A. Pitcairn, D. Roberge, A. Gorelov, D. Ashery, O. Aviv, J.A. Behr, P.G. Bricault, M. Dombsky, J.D. Holt, K.P. Jackson, B. Lee, M.R. Pearson, A. Gaudin, B. Dej, C. Hoehr, G. Gwinner, D. Melconian, Tensor interaction constraints from beta-decay recoil spin asymmetry of trapped atoms, Phys. Rev. C vol. 79, 015501 (2009)
E.P. Kanter, J. Rudate, D.A. Arms, E.M. Dufresne, R.W. Dunford, D.L. Ederer, C. Hoehr, B. Krassig, E.C. Landahl, E.R. Peterson, R. Santra, S.H. Southworth, and L. Young, Characterization of the Spatiotemporal Evolution of Laser-generated Plasmas, Journal for Applied Physics vol. 104, 073307 (2008)
C. Hoehr, D. Fischer, R. Moshammer, A. Dorn, and J. Ullrich, An ion source for a ns pulsed micrometer focused ion beam, Review of Scientific Instruments, vol. 79, 053102 (2008)
S.H. Southworth, D.A. Arms, E.M. Dufresne, R.W. Dunford, D.L. Ederer, C. Hoehr, E.P. Kanter, B. Krassig, E.C. Landahl, E.R. Peterson, J. Rudati, R. Santra, D.A. Walko, and L. Young, K-edge x-ray absorption spectroscopy of laser-generated Kr+ and Kr2+, Physical Review A vol. 76, 043421 (2007) 
C. Hoehr, E. Peterson, E. Landahl, D.A. Walko, R.W. Dunford, E.P. Kanter, and L. Young, A simple short-range point-focusing spatial filter for time-resolved x-ray fluorescence, AIP Conference Proceedings vol. 879, 1226 (2007)
C. Hoehr , A. Dorn, B. Najjari, D. Fischer, C.D. Schroter, and J. Ullrich, Laser-assisted electron-impact ionization of atoms, Journal of Electron Spectroscopy and Related Phenomena vol. 161, 172 (2007)
C. Hoehr, E.R. Peterson, N. Rohringer, J. Rudati, D.A. Arms, E.M. Dufresne, R.W. Dunford, D.L. Ederer, E.P. Kanter, B. Krassig, E.C. Landahl, R. Santra, S.H. Southworth, and L. Young, Alignment dynamics in a laser-generated plasma, Physical Review A vol. 75, 011403(R) 2007)