2017 Provost's Engaged Scholar recipients announced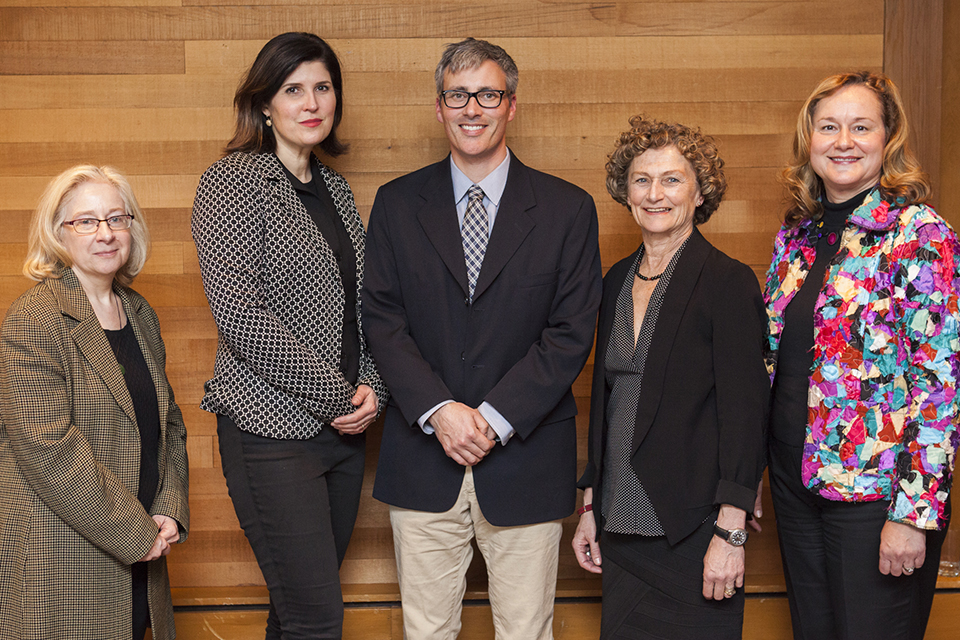 Dr. Cecilia Benoit (sociology), Dr. Jay Cullen (earth and ocean sciences) and Dr. Andrea Walsh (anthropology) have been named the 2017 recipients of the Provost's Engaged Scholar Award.
The award celebrates our tenured faculty members who have made significant contributions to community through their integration of outstanding scholarship, inspired teaching and community engagement. These efforts yield positive societal change in many dimensions that affect us all.
"Cecilia Benoit, Jay Cullen and Andrea Walsh are exemplary in their collaborative approach to scholarship," says VP Academic and Provost Dr. Valerie Kuehne. "They are community builders, and their scholarship is evidence of the positive and vital societal change that comes from combining research, teaching and community partnership."
This year's awards were presented on March 8. Drs. Benoit, Cullen and Walsh were conferred the title of University of Victoria Community-Engaged Scholar, which they will hold for a period of five years. They also each received a one-time award of $10,000 to support their research, teaching and community engagement.
Dr. Cecilia Benoit
As a professor in the Department of Sociology and a scientist at the Centre for Addictions Research of BC, Dr. Cecilia Benoit is a nationally recognized scholar whose research has illuminated the need for equitable health care for marginalized groups.
In addition to research focused on the occupation of midwifery and the organization of maternity care in Canada and internationally, Benoit has been involved in a variety of projects that investigate health inequities of Aboriginal women in Vancouver's Downtown Eastside, young people confronting health stigmas linked to obesity and asthma, street-involved youth in transition to adulthood, pregnant women and their families dealing with poverty as well as substance use and other challenges, and sex workers of different genders.
Benoit has pioneered a community-based participatory approach to study how stigma affects these groups and has developed sound ethical protocols to ensure confidentiality and anonymity. She is the author of more than 200 published articles, books, book chapters and government reports on the subject, and her research has had a significant impact on policies and programs, including: the legalization of midwifery and education for midwives in most regions of Canada; public funding of midwives' work; community outreach for Indigenous women; health care hubs for street-involved youth and disadvantaged pregnant women, and peer-led health and social services for sex workers.
Currently, Benoit is leading two Canadian Institutes of Health Research-funded projects that are researching vulnerability and stigma as it relates to health care and equity among people in the sex industry.
For the last 25 years, she has taught more than 2,000 undergraduate students and directly supervised 40 graduate students, twenty-nine of whom have received CIHR, SSHRC and MSFHR awards in their own right. Her former students finished their programs in record time and currently hold academic, executive and management positions in the public and non-profit sectors or work as policy analysts for national organizations.
As an active member of the community, Benoit has contributed to dozens of academic and advisory boards and committees, including, to name a few, the BC Government's Advisory Council on Women's Health, the National Network on Environment and Women's Health, the BC Health Research Foundation Studentship Awards Committee, HerWay Home Community Advisory Group and the Youth Clinic Society Board here in Victoria.
Benoit is a Fellow of the Royal Society of Canada, a Fellow of the Canadian Academy of Health Sciences, and was awarded the Governor General's Award in Commemoration of the Persons Case in 2016.
Dr. Jay Cullen
A professor of chemical oceanography and an international leader in marine biogeochemistry of trace metals, Dr. Jay Cullen has built a world-class marine geochemistry laboratory at UVic based on almost a million dollars in funding from the NSERC, CFI and other agencies.
Since joining the university in 2003, he has been involved in at-sea data collection through marine research cruises in all oceans of the world, and collaborates widely within Canada and internationally. In response to the scientific questions and public concerns of oceanic contamination from the Fukushima Dai-ichi meltdowns, Cullen instigated and now leads a new marine radioactivity monitoring network called the Integrated Fukushima Ocean Radionuclide Monitoring (or InFORM) network.
This network brings together Canadian and American scientists, governmental and non-governmental organizations including: UVic, UBC, University of Ottawa, Fisheries and Oceans Canada, Health Canada, the U.S. Woods Hole Oceanographic Institution, the Vancouver Aquarium, David Suzuki Foundation, Raincoast Education Society, Surfrider Foundation, Clayoquot Biosphere Trust, Georgia Strait Alliance and the Living Oceans Society.Through collaborations with these NGOs, more than 600 volunteer citizen scientists have been recruited, forming a vital component of the InFORM network.
A prolific author, Cullen has published approximately 45 papers in top peer-reviewed journals, given more than 100 presentations at scientific conferences and is a regular presenter in the community.
Cullen also makes exceptional efforts to ensure that the results of his research are accessible and shared with the public. This includes writing regular blogs for a lay audience based on emerging research reports and taking part in town hall meetings with citizen scientists from First Nations communities that closely identify with the marine environment and depend on its health for their physical and spiritual well-being—these communities include Bella Bella, Masset, Hartley Bay, Queen Charlotte City, Skidegate, Tofino, Ucluelet, Prince Rupert and Terrace.
Cullen was also one of 72 candidates shortlisted by the Canadian Space Agency to become one of Canada's next astronauts.
Dr. Andrea Walsh
Dr. Andrea Walsh is an associate professor in the Department of Anthropology whose engagement with and respect for community is evident in all aspects of her scholarship.
As a visual anthropologist who specializes in 20th century and contemporary Aboriginal art and visual culture in Canada, Walsh's research uses a decolonial framework to refigure relationships between Indigenous peoples and institutions.
She is the guiding force behind a movement to repatriate artwork created by Indigenous children in residential school to the artists and their families, and to honour these children's experiences through the exhibition of this artwork in culturally appropriate and respectful ways—in the name of education and reconciliation.
For her work on this initiative, Walsh was named an honorary witness to the Truth and Reconciliation Commission and last October, she received the BC Museums Association Award of Outstanding Merit.
Since 2011, Walsh has directed the Department of Anthropology's Visiting Artist Program, which welcomes artists of Salish ancestry to share their knowledge with students in Anthropology 305.
Last year, students worked with Deb George of Cowichan Tribes for 5 weeks to learn about cedar bark weaving, including teachings on the stories of cedar, Hulquiminum language teachings and the role of the cedar tree today for Salish nations.
This unique approach to teaching Indigenous content helps students to listen and use their hands and eyes to learn in a new way—to understand other ways of knowing beyond writing and the use of text.
Walsh's cultivation of the Visiting Artist Program is an outstanding example of the positive change that takes place when educators adjust teaching practices to move towards decolonization and Indigenization, and to honour and engage with Indigenous ways of knowing.
Photos
Author
---
Follow us on Twitter: @uvicnews
UVic media relations & services: uvic.ca/communicationsmarketing/media