Volunteer with UVic Orientation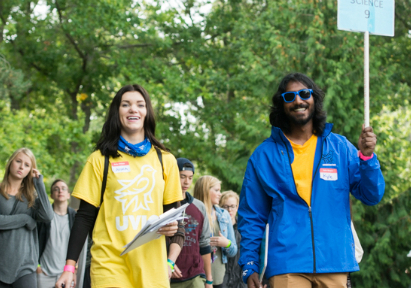 The Orientation Volunteer program run by the Office of Student Life is currently being rebuilt to offer wider opportunities for Student Volunteers leading up to September 2024. No Orientation Leader opportunities will be available for this fall, instead we will be offering tours by Student Tour Guides.
If you would like to receive information about opportunities as they come available in the future, please sign up for updates.
Student Tour Guide opportunities
Interested to get involved with UVic Orientation Student Tours? If you're a current UVic student, you can apply to be a student tour guide!
As a student tour guide, you'll connect new students to the UVic community and support their transition. Student Tour Guides play a critical role by acting as university ambassadors, providing new students with a positive introduction to UVic, and contributing to a welcoming and supportive atmosphere.
Learn more and apply to be a Student Tour Guide