New electric boilers to stomp campus carbon footprint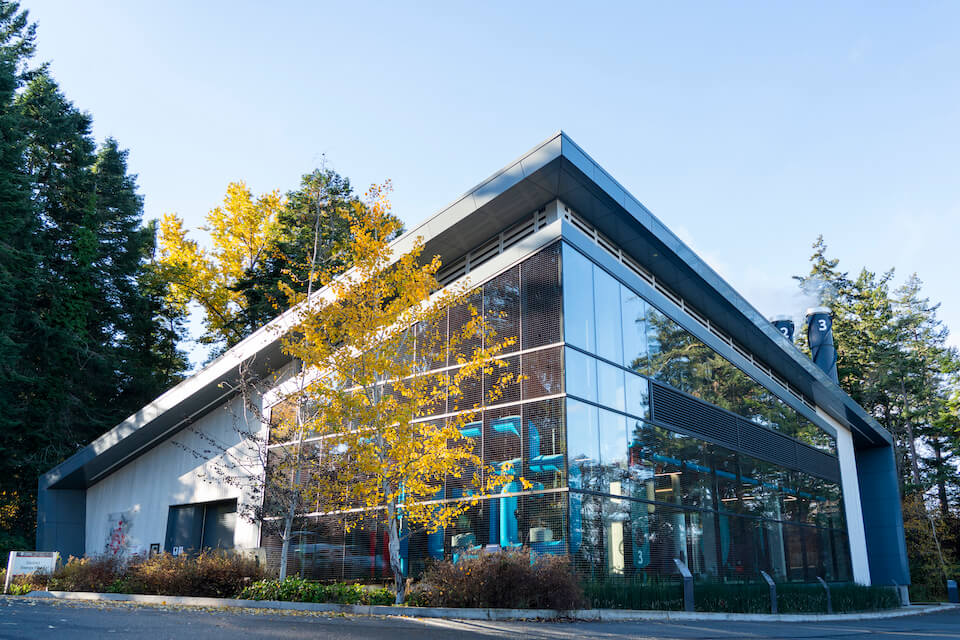 The University of Victoria can reduce its greenhouse gas emissions (GHGs) by more than 50 per cent from 2010 levels—years ahead of its 2030 target—thanks in part to a $2.4-million investment from the Government of Canada's Low Carbon Economy Fund.
This funding will allow the university to replace one of the natural-gas boilers in its District Energy Plant with two electric boilers, reducing the emissions from district energy heating by nearly 5,200 tonnes of CO2 per year—equivalent to taking roughly 1,200 gas-powered cars off the road for a year. That compares with more than 9,200 tonnes emitted by the plant in 2010.

On campus on Friday, Julie Dabrusin, parliamentary secretary for the ministers of Environment and Climate Change Canada and Energy and Natural Resources Canada, launched the fund's new application period by highlighting UVic's project—a 2022 fund recipient.
The federal government fund operates a competitive application process across Canada. Recipients are awarded based on the best ratio of GHG emissions reduction to cost, as well as other benefits such as clean growth, the environment, Indigenous leadership and health and safety.
Read the Government of Canada news release.
"UVic is grateful for the support of the federal government in accelerating our university's efforts to achieve aggressive carbon reductions in the near term and position us for longer-term success in becoming a net-zero campus," says Kristi Simpson, UVic's vice-president, finance and operations.
"Our campus community has challenged us to do better creating a sustainable campus. This support will allow us to reduce emissions by 50 per cent compared to 2010 levels. UVic now ranks as the world's third-best university for climate action. This next transition will help move the bar forward again for what's feasible—and achievable—in UVic's vision for climate action."

- Kristi Simpson, UVic's vice-president, finance and operations
One of three key targets of the university's campus-wide Climate and Sustainability Action Plan, released just over a year ago, is to reduce campus operations GHGs by 50 per cent below its 2010 baseline by 2030 and achieve net zero by 2040. The new boilers, which will come into operation in 2025, are expected to exceed the 50-per-cent cut four years ahead of schedule.
The District Energy Plant Electrification project reflects UVic's commitment to climate action as outlined in the United Nations Sustainable Development Goals. Read more about UVic's impact. 
Photos
In this story
Keywords: community, sustainability, administrative, clean energy, climate, government, funding
People: Kristi Simpson