Order of Canada: Budd Hall recognized for community-based research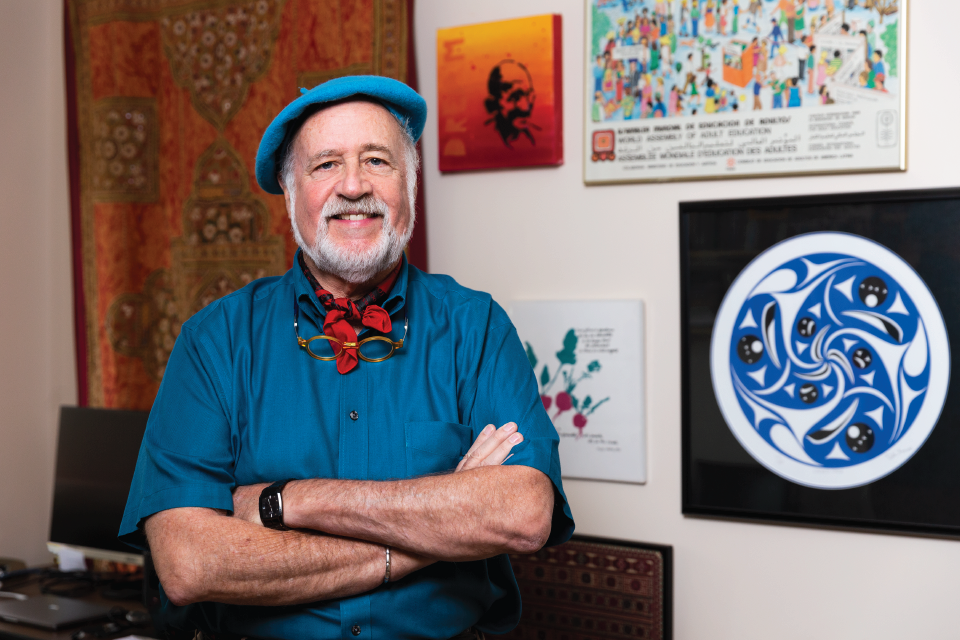 Budd Hall is a pioneer in the field of community-based research. Now the professor emeritus with the School of Public Administration and Co-Chair of the UNESCO Chair in Community Based Research and Social Responsibility in Higher Education can add an Order of Canada Officer to his long list of accomplishments.
On Dec. 29, 2022, Her Excellency the Right Honourable Mary Simon, Governor General of Canada, announced Hall's appointment as Officer of the Order of Canada for his "contributions as a pioneer in the field of community-based research, and for his advancement of knowledge building and research capacity around the world."
Hall has played a significant role in UVic's long history and reputation of excellence in community-university engagement, serving as the founding director of UVic's office of community-based research (Canada's first such office on a university campus) and, in coordinating CUExpo at UVic, the largest gathering focused on community-university engagement in Canada at the time.
Highly respected for his tireless dedication to people and to effecting real change, Hall has devoted his entire academic life to helping propel the movement of community-based research across Canada and globally and, in doing so, has earned the respect of innumerable collaborators over the years.
Forty-five years ago, when I began my academic journey, my ideas on community-based research were ridiculed by some prominent academics. However, in 2021, my ideas on knowledge democracy were central to the wording of the UNESCO Recommendation on Open Science, the major normative statement signed off by 176 nation states, outlining contemporary thinking on science and society. That has definitely been a highlight of my career.

— Budd Hall
A former dean of education at UVic from 2002 to 2006, Hall served as secretary-general of the International Council for Adult Education (based in Toronto) from 1979 to 1991 before coming to our university. In addition to numerous affiliations and collaborations with international working groups, global networks, national associations and community movements, he has also worked closely with UNESCO and the United Nations since 1972.
Dr. Budd Hall's appointment as an Officer to the Order of Canada is a well-deserved acknowledgment of his amazing contributions, both nationally and globally. His work with UNESCO and his ongoing commitment to excellence in community-based research make him a true Canadian hero.

— Kevin Hall, President and Vice-Chancellor at UVic.
Hall is known world-wide for his work in university-community engagement, international development, adult education and the field of participatory action research. For more than 40 years, he has been working collaboratively with communities in Nigeria, Tanzania, Venezuela, Brazil, Chile, Germany, Thailand, Yemen, Uganda, England and the US. He continues to address the vital importance of social responsibility in higher education through his ongoing work with networks such as the Global Alliance of Community Engaged Research, which he helped establish, as well as the National Co-ordinating Centre for Public Engagement in the UK and the Living Knowledge Network in Europe.
More recently, Hall helped link the norms for the United Nations' list of 17 Sustainable Development Goals (SDGs), published in 2015 by the UN, to the global community-based research movement. In addition, in 2017, Hall and UNESCO Co-Chair Rajesh Tandon launched a multi-partner global consortium, "Knowledge for Change" (K4C), to provide training and support for action through grass-roots field work and local community projects that focus on real-life problems, such as sanitation and water pollution.
Photos
In this story
Keywords: administrative, research, community
People: Budd Hall, Kevin Hall, Mary Simon
Publication: The Ring