Black History Month
- University of Victoria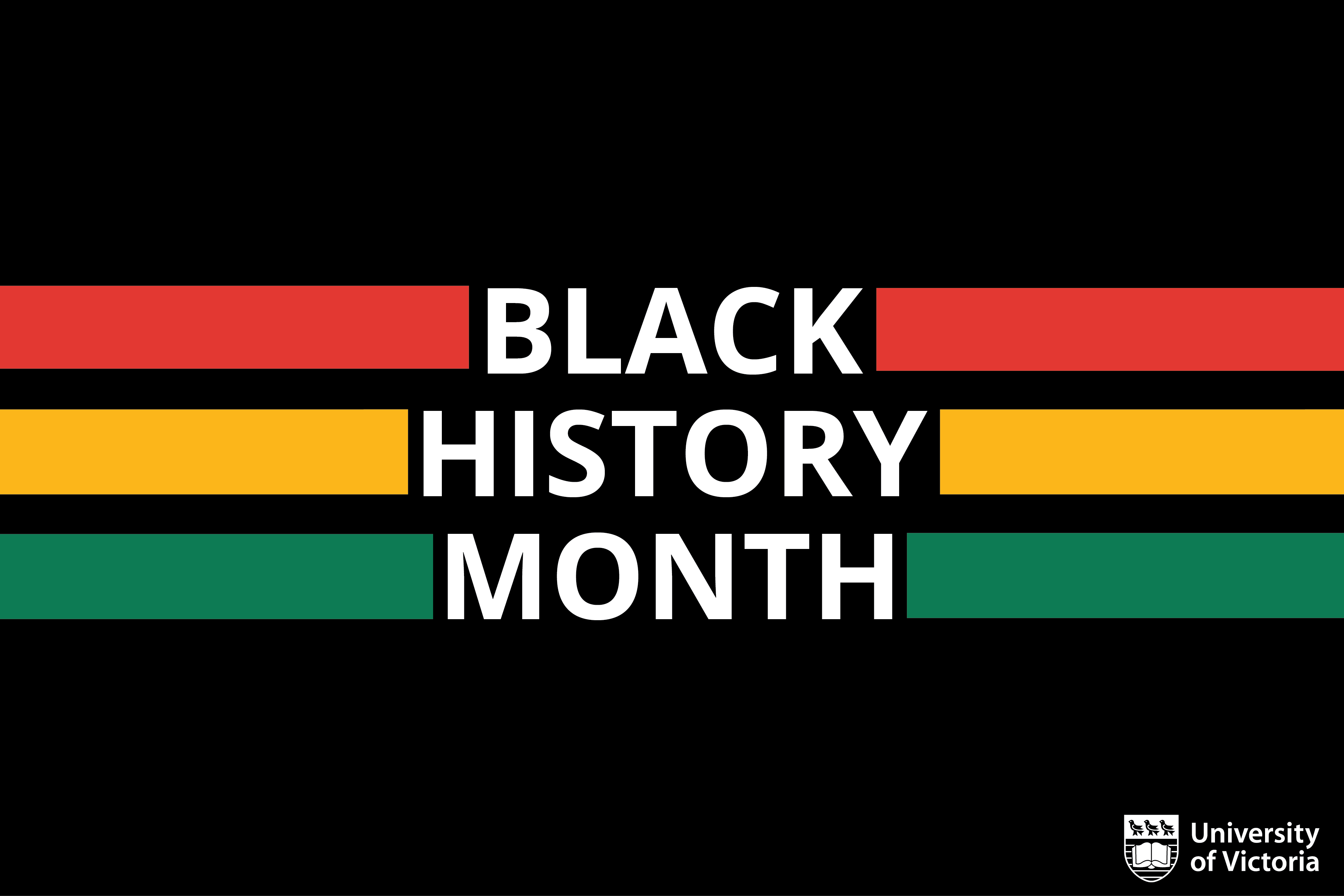 Black History Month provides an important opportunity to explore and celebrate the historical and current contributions of Black Canadians. At UVic, we recognize the many achievements of Black faculty, staff and students. We also acknowledge that ongoing work is needed to support racial equity, diversity and inclusion.
UVic signed onto the Scarborough Charter on Anti-Black Racism and Black Inclusion in Canadian Higher Education in Dec 2021.
To help hold ourselves accountable, we have adapted and incorporated a set of action-based commitments into UVic's new Equity Action Plan. The Equity Action Plan acknowledges present barriers to equity on campus and provides targeted actions—with accountability to leaders in the work—to meet our commitments to both the Scarborough Charter and also to meet our equity and belonging goals on campus for all marginalized communities. Consider reviewing the reflection and action guides tailored for UVic students, employees, educators, researchers and campus leaders to get ideas on how you can support our shared goals.
Additional work beyond the Equity Action Plan is underway to advance more of our commitments to the Scarborough Charter, with updates to come later in the year.
During the month of February and beyond, we invite you to join the UVic community to celebrate Black History Month with a series of events, initiatives and opportunities for engagement on issues of racial equity, diversity and inclusion.
Visit this page throughout the month for more campus events and opportunities.
Events/exhibits
Gule Wamkulu: Dancing Indigenous Governance
Jan. 14 - Apr. 8
Legacy Art Gallery Downtown
630 Yates Street, Victoria
Gule Wamkulu: Dancing Indigenous Governance invites visitors to bear witness to the Great Dance that serves as the governance structure of the Chewa people.
This immersive exhibition features photographs, films and objects that celebrate how diverse African Canadians build community while being relationally respectful of all Coast Salish expressions of sovereignty. 
Guest curator: Dr. Devi Mucina, Program Director, School of Indigenous Governance and artist collaborator, Kl. Peruzzo de Andrade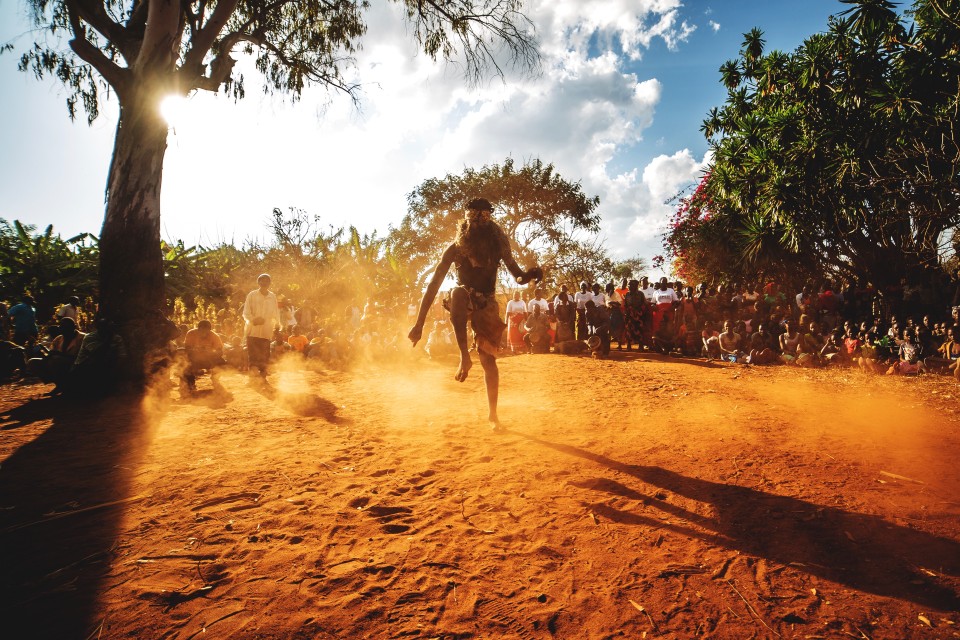 Black Histories of British Columbia
Feb. 8
12 – 1:30 p.m.
Upper Lounge, Student Union Building (SUB) or online
In support of Black History Month, the Faculty of Social Sciences and the Students of Colour Collective are sponsoring a talk by Fran Morrison, Director, BC Black History Awareness Society.
Morrison will speak about the first Black settlers in BC, who represented a wide spectrum of backgrounds, skills and interests, and contributed substantially to the settlement of the Colony of Vancouver Island and the Province.
Do the Right Thing
Feb. 9
Show times 5 p.m., 7:15 p.m.
Cinecenta
Set on one block of Brooklyn's Bed-Stuy neighborhood at the height of summer, this masterpiece by Spike Lee confirmed him as a filmmaker of peerless vision. Over a single day, the easygoing interactions of a cast of unforgettable characters give way to heated confrontations as tensions rise along racial fault lines.
Tickets must be purchased in person at Cinecenta. 
Black History Month Comedy Night
Feb. 10
7:30 p.m.
Vertigo, Student Union Building (SUB)
Students $15, General $25
Featuring Hassan Phills. Hosted by the Black Law Students' Association and sponsored by the Canadian Association of Black Lawyers (CABL).
Black students and Black professionals often feel immense pressure to represent our communities and that can take a toll on our well-being. So this year the event is focused on black joy because laughter is medicine. Come share some laughs and celebrate Black History Month.
Bridging the Gap for Black Futures
Feb. 28
2 – 4 p.m.
Michèle Pujol Room (SUB)
Hosted by the faculties of Human and Social Development and Social Sciences, this event features a discussion by panelists, including:
Dr. Afua Cooper, Jamaican-born Canadian historian, scholar and artist, Dalhousie University
Valerie Jerome, an African-Canadian track and field sprinter, educator and political activist
Issa Traore, entrepreneur/cofounder, EmailVeritas and Plurilock Security Solutions Inc. 
Workshops
Racism and Anti-Racism in Greater Victoria Workplaces: Results and Lessons for the University
Mar. 21
2 – 3 p.m.
Online
Open to all UVic students and employees
In 2020, the Greater Victoria Local Immigration Partnership (GVLIP) conducted a community survey on racism in Greater Victoria. In spring 2022, this was followed by the GVLIP Summit, an in-person event on racism and anti-racism in Victoria workplaces.
Using examples from the Racism Report in Greater Victoria and the GVLIP Summit Report (forthcoming), GVLIP will engage the university community to talk about racism and anti-racism efforts.
This workshop will start with a presentation, then lead to a Q&A and further discussion. The presentation and discussion are offered by Florentien Verhage, Greater Victoria Local Immigration Partnership (GVLIP) / Inter-Cultural Association of Greater Victoria (ICA).
Programs
Black Professionals Leadership Program
Established in 2021, the Black Professionals Leadership Program is a comprehensive support framework designed to enhance learning and promote wellness for Black students enrolled in a university program.
The BPL offers facilitated workshops and seminars alongside a mentorship program dedicated to the long-term success of Black students. In collaboration with partners across Canada—including the Canadian Association of Black Lawyers and members of the BC Bar—the BPL aims, among several goals, to implement UVic's strategic priority to entrench "equity, diversity, inclusion and dialogue throughout the university community so that all members feel welcomed, valued and supported to achieve their highest potential."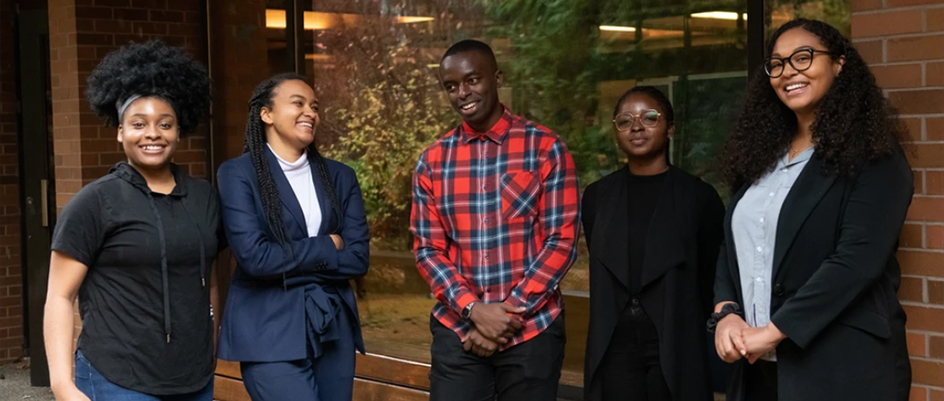 Resources
UVic Libraries Research Guide
UVic librarians offer a curated list of Book and film recommendations for Black History Month.
Question and Answer with Dr. Adebisi Alade
Dr. Adebisi Alade discusses the importance of teaching Black history, celebratory aspects of Black history and culture that have been overlooked or overshadowed by dominant narratives and anti-Black racism in the Teaching Black history Q&A.
Dr. Alade is an assistant professor who this semester is teaching two courses on African history: Africa in the World and Africa Since 1800.
Photos
In this story
Keywords: administrative, student life, diversity, history, racism