Planning for a net-zero campus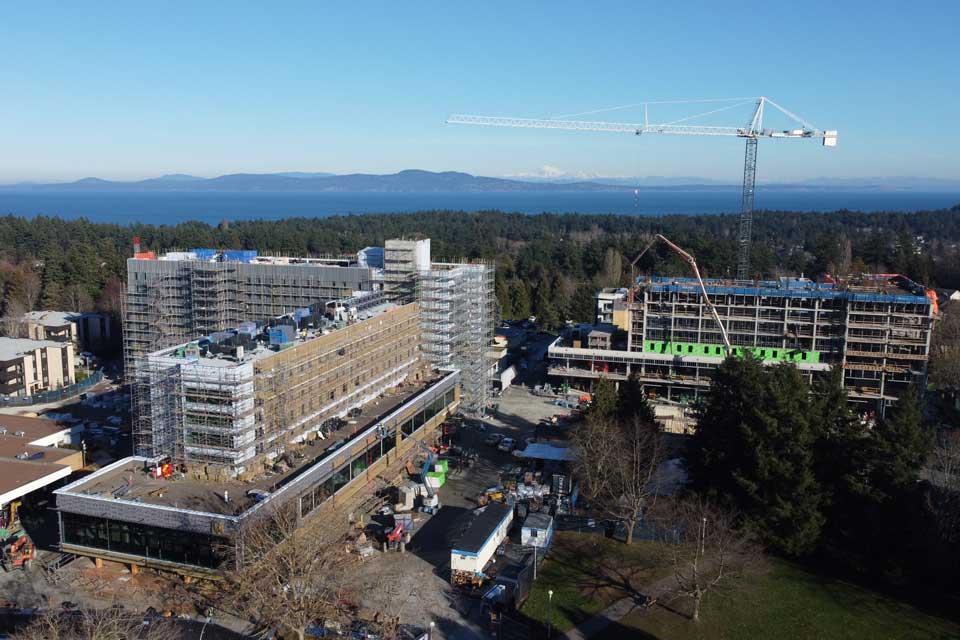 UVic is planning its transition towards low-carbon energy by developing a comprehensive and long-term framework to guide campus development and operations and phase out fossil fuel energy. 
Most buildings on the Gordon Head campus have heat and hot water delivered by the District Energy Plant, which generates and distributes thermal energy through a network of underground pipes. The plant was constructed in 2019 to replace an end-of-life and inefficient boiler plant in the Engineering Lab Wing. The new plant received Leadership in Energy and Environmental Design (LEED) Gold certification, but combusts natural gas and is the biggest source of UVic's greenhouse gas emissions. Fossil fuels for university buildings accounted for 92 per cent of GHG emissions (9,853 tCO2e) in 2020. 
Mike Wilson, director of the Office of Campus Planning and Sustainability, says, "The project to decarbonize building energy demonstrates the university's commitment to climate action and taking responsibility for reducing its emissions." The planning process is also consistent with the university's recent submission to the Race to Zero Pledge—a global campaign supported by the United Nations Framework Convention on Climate Change (UNFCCC) dedicated to reducing carbon emissions to net zero by 2050.
"There are several technology pathways that can significantly reduce our emissions," says David Adams, manager, energy programs at UVic. "This project is about finding the pathway with the best overall performance while meeting emissions targets in a financially viable way." 
Examples of specific technologies the university has been exploring include: thermal energy recovery from waste heat sources, incorporating campus-scale heat pumps into the district energy system, and use of low-carbon building materials such as mass timber for construction of new buildings. Some of these technologies have already been included in new capital projects on campus.
Several decarbonization strategies have been integrated into the new Student Housing and Dining project, which is currently under construction. Notable features include best-in-class exterior insulation, energy recovery of heat from ventilation exhaust and grey water, and highly efficient heat pump technology for space heating and hot water used in showers and the kitchen. Design and construction of the new buildings will meet LEED v4 Gold and Passive House standards.  
"There is also an opportunity to create experiential learning and research projects through the implementation of the plan," says Wilson. "Students will be able to study how green buildings operate and learn about the opportunities and constraints of green design, something that has already been considered in the current Engineering and Computer Science Building Expansion project." 
The final plan will target a 50 per cent reduction in emissions by 2030, and 100 per cent by 2040, which includes phasing out fossil fuel energy for low-carbon energy, and purchasing carbon offsets for residual emissions associated with low-carbon energy. It is expected that results from the project will be available to share later this spring, before the final plan is completed. 
Meanwhile, the university is also in the final stages of developing the new Climate and Sustainability Action Plan 2030, which will be published later this year. A community engagement event in late March will give the campus community an opportunity to see the broad themes of the plan before it is finalized.
Photos
In this story
Keywords: sustainability, housing, campus
People: Mike Wilson, David Adams
Publication: The Ring