This spring 2022, UVic convocation a larger affair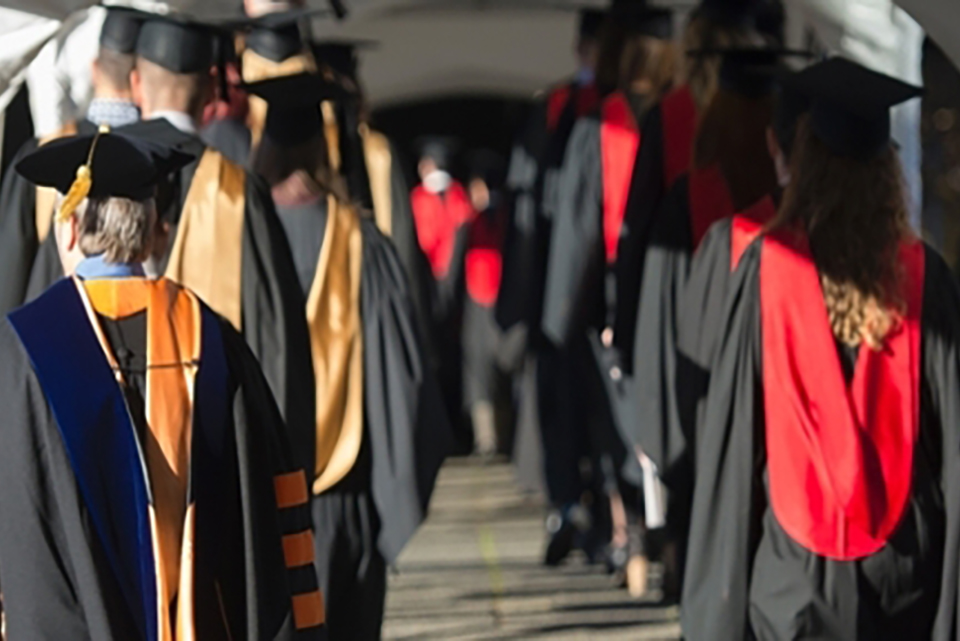 More graduates will cross the stage at the Farquhar Auditorium with University of Victoria spring convocation ceremonies that include an extra week to celebrate alumni who graduated in 2020 when large gatherings were not allowed due to COVID-19 restrictions.
More than 3,700 students are expected to graduate during 14 ceremonies. In a regular year, approximately 2,400 students graduate in 10 ceremonies.
The increased number of graduates also means UVic will be handing out twice as many honorary degrees. This year's seven recipients include public servants, innovators, an artist, a community and business leader and a chaplain.
Ceremonies will begin on June 8. Read more on this grad site.
Hon. Carole James
Honorary Doctor of Laws (LLD)
The Honourable Carole James has been a stalwart member of the BC Legislature for many years, well known for her role as leader of the BC New Democratic Party. As a lifelong activist, volunteer and public servant, Carole James has dedicated her life to the betterment of our province.
Dr. Perry Kendall
Honorary Doctor of Laws (LLD)
Dr. Perry Kendall's long career in public health has been devoted to improving the health of British Columbians, particularly those who are marginalized. He served as the Provincial Health Officer from 1999 to 2018, and during that time he championed the creation of safe consumption sites, declared a public health emergency to address the opioid crisis, managed the H1N1 pandemic of 2009–10 and the SARS crisis of 2003.
Gordon Denford
Honorary Doctor of Laws (LLD)
Gordon Denford is the founder of family owned Berwick Retirement Communities and is a community leader and philanthropist. He was a founding member of the Canadian Western Bank, which assists small businesses in Victoria and western Canada. He was a driving force to improve the Victoria International Airport, where he spent eight years on the board—two of those as chairman.
Lawrence Lessig
Honorary Doctor of Education (DEd)
Lawrence Lessig's early career focused on law and technology, primarily as it affects copyright—and that work was instrumental in shaping knowledge in the digital era. He was the co-founder of Creative Commons, a non-profit organization that promotes learning and open scholarship on the Internet by providing legal mechanisms to share creative work while still upholding intellectual copyright.
Arvind Gupta
Honorary Doctor of Science (DSc)
Arvind Gupta has worn many hats during his career, most notably, serving on the federal government's Science, Technology and Innovation Council and as chief executive officer and scientific director of Mitacs Canada, a national non-profit research organization that funds student researchers. He has made major contributions to theoretical computer science and championed student internships and work-integrated learning.
TEMOSEṈŦET Charles Elliott
Doctor of Fine Arts (DFA)
TEMOSEṈŦET Charles Elliott is a renowned carver and printmaker whose pieces are held in institutional and private collections around the world. For more than 50 years, he has been instrumental in the revitalization and resurgence of Coast Salish artistic styles, traditions and techniques. As his career progressed, he has taken on a mentorship role, supporting emerging Indigenous artists.
Rev. Lyle McKenzie
Honorary Doctor of Laws (LLD)
Rev. Lyle McKenzie has served as part-time chaplain at UVic for 19 years. A visionary leader, he helped to develop programs within congregations to advance truth and reconciliation and the inclusion of queer siblings. He was instrumental in developing the recent memorandum between UVic and faith communities and has been a strong contributor to the growth of multi-faith cooperation on campus.
Read the full recipient bios here.
-- 30 --
Photos
Media contacts
Jeanie Gunn (Ceremonies & Special Events) at 250-472-5668 or convomanager@uvic.ca
Jennifer Kwan (University Communications + Marketing) at 250-721-7641 or researchcomm@uvic.ca
In this story
Keywords: community, students, administration, convocation, alumni, student life