Historian receives top research award
- Philip Cox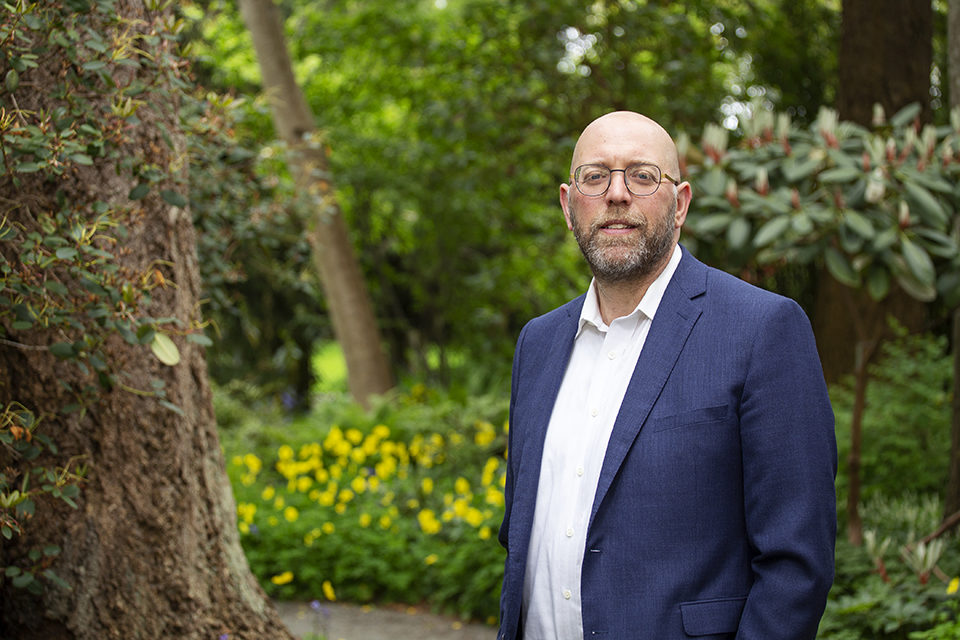 Historian Jordan Stanger-Ross is one of five academics from across Canada who will be honoured in the House of Commons today after receiving a prestigious Social Sciences and Humanities Research Council (SSHRC) Impact award, which is one of the highest national awards for Canadian humanities researchers.
The $50,000 award recognizes the outstanding quality of Stanger-Ross' scholarship and the far-reaching impact of his highly collaborative public history project, Landscapes of Injustice (LOI), which ran between 2014 and 2021.
"At a time when racism and injustices are occurring not only in Canada, but around the world, LOI serves as a beacon of hope that we can learn from past legacies and chart a course forward for a better future," says Anne Chafe, Chief Executive Officer of Newfoundland and Labrador's largest public cultural space, The Rooms. "LOI can be an agent of change for others to follow and emulate on a local, provincial, national and international level."
Based at UVic's Centre for Asia-Pacific Initiatives, the LOI initiative connected Japanese Canadian community groups and families with teachers, students, librarians, archivists, curators and researchers representing 17 institutions across Canada. Together, the group co-created a deeply impactful array of resources for teaching and learning about the mid-20th century displacement and dispossession of 22,000 Japanese Canadians.
Stanger-Ross is the first faculty member at UVic to receive an Impact award. He will do so on behalf of the project's multi-sector leadership team, which included Nikkei National Museum director Sherri Kajiwara, Governor General Award-winning teacher Greg Miyanaga, Queen's University geographer Audrey Kobayashi, UVic history alumna Kaitlin Findlay, and museum curator Yasmin Railton.
"This award validates the work that went into the human relationships behind this partnership. Landscapes of Injustice was a community. We realized that we could work together to find answers to common questions, and that by doing so we might challenge historical and systemic injustices more powerfully than any of us ever could alone."

—UVic historian Jordan Stanger-Ross
Research project rewrites a dark chapter in history
The key insight behind the Landscapes of Injustice project came to Stanger-Ross while conducting research on the history of localized poverty in Vancouver, when he realized that the land title data he had collected could reveal for the first time exactly who had bought the properties taken from Japanese Canadians and what they had done with it.
Subsequent research on those sales brought him into contact with key community organizations such as the Nikkei National Museum, which enabled a more expansive and collaborative engagement with this difficult history and the lived experiences of those it impacted.
Whereas prior understandings of the WWII-era treatment of Japanese Canadians focused on their internment and the role of a few high-level politicians, the growing LOI network realized that municipal governments, real estate agents, low-level bureaucrats and everyday people in western Canada had all played direct roles in the dispossession. Clearly, a new explanation of this major instance of systemic racism in Canada was required.
Through thorough and highly innovative analysis that focused on the loss of property and homes, LOI's work gradually revealed a new story of the Japanese Canadian internment — one that specified the previously unknown extent of the community's material losses, identified the beneficiaries, and illuminated the varied ways in which Japanese Canadians fought back against their dispossession and displacement.
Public archive shows the legacy of loss 
Throughout the project 's seven-year run, LOI members and partners shared this new history through a public-facing storytelling website, five exhibitions, 30 publications, two peer-reviewed books, an educational field school that guides educators through the sites of internment, and teaching resources for elementary and secondary school teachers.
The group also created a digital database that includes carefully curated files for every interned Japanese Canadian family, enabling descendants and survivors to explore their heritage and better understand their family history.
Locally, they operated informational booths at Japanese Canadians festivals in downtown Vancouver and contributed to community efforts to re-build the Gorge Park Pavilion in Victoria eight decades after the original was seized by the federal government and left to ruin.
The Japanese Canadian community owes a large debt to the Landscapes of Injustice. Their original research on the dispossession has had immediate, personal meaning to many of the victims and their descendants. [The database they created] is also an indispensable resource for the Japanese Canadian community in its ongoing talks with the B.C. Government for redress."

—The Honourable Madam Justice Maryka Omatsu, Canada's first East Asian woman judge and member of the National Association of Japanese Canadians' BC Redress Committee
The Landscapes of Injustice initiative has garnered a number of prestigious awards over the years, including the Canadian Race Relation Foundation's 2018 Award of Excellence, BC Heritage's 2021 Outstanding Award for Excellence in Education, Communication and Awareness, and UVic's 2021 Reach Award for Excellence in Knowledge Mobilization. Their capstone exhibition, Broken Promises, was shortlisted for a 2021 Governor General's award and received an award of excellence from the British Columbia Museums Association.
Thinking globally about wartime dispossession
Earlier this year, Stanger-Ross launched a new research network called Past Wrongs, Future Choices with Kobayashi as co-director, gathering together former members of the LOI team and dozens of new participants spanning five continents. This initiative will be the first ever to connect records related to the mid-20th century malevolent treatment of people of Japanese descent in allied countries throughout the Americas and the Pacific.
"This powerful public history project has changed the national conversation about what happened to Japanese Canadians in the mid-20th century and why it matters today," states Alexandra D'Arcy, Humanities Associate Dean of Research. "By choosing connection and cooperation, the research and resources developed by the Landscapes of Injustice team—and now those from Past Wrongs, Future Choices—will have a profound impact for generations to come."
Learn more:
Photos
In this story
Keywords: racism, history, research, community, human rights, award
People: Jordan Stanger-Ross, Sherri Kajiwara, Greg Miyanaga, Audrey Kobayashi, Kaitlin Findlay, Yasmin Railton, Maryka Omatsu
Publication: The Ring