Digital archaeology frames national art exhibition
- Lisa Abram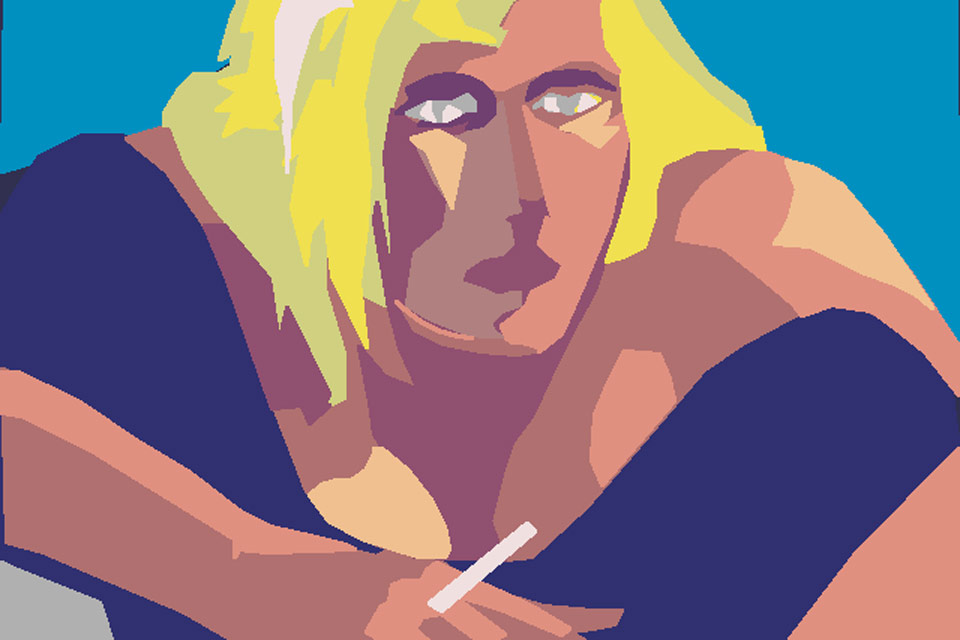 Obsolescence leads to passion project for digital archaeologist
A UVic librarian has paved the way for a major retrospective of a digital medium that flourished, and fell into obsolescence, at the dawn of the internet age. John Durno's efforts to recover artworks made with Telidon, an obscure and long-obsolete technology, will provide an opportunity to peer into a set of newly recovered, uniquely Canadian digital creations with the 2023 launch of a national exhibit.   
Over 40 years ago, UVic faculty members David Godfrey and Ernest Chang were at the forefront of Telidon research—part of a national effort to create what has since been described as the Canadian precursor to the world wide web.
The visual opportunities of Telidon weren't lost on artists. Glenn Howarth, a prominent artist and educator, used Chang's Telidon software to produce a major body of artwork while serving as a Canada Council artist-in-residence in UVic's Department of Computer Science—producing images in the flourishing art form. 
But the pace of digital change was unforgiving. By 2015, Telidon was a footnote—an obscure curiosity—when Durno was asked to restore Howarth's work for a retrospective.
The resulting 2016 Legacy Art Gallery exhibit, The Averted Eye Sees, and the libraries' subsequent 2019 publication [untitled]: The Artists' Archives at the University of Victoria Libraries, gave Durno an opportunity to tell the tale of Telidon art—a creative medium embraced, and then abandoned.
"My restorations of Glenn Howarth's artworks demonstrated that it's possible to recover Telidon files from floppy disks and view them on a modern computer," says Durno, who has restored hundreds of Howarth's unique Telidon files on floppy disks housed in UVic Special Collections. "The success of that project led me to initiate contact with a group of original Telidon artists, to explore the possibility of recovering other lost works. Notably, I connected with Telidon art pioneer Bill Perry, who in 1983 co-founded an arts centre dedicated to the production of Telidon art called Toronto Community Videotex, which has since evolved into the media arts centre InterAccess." 
In the years since the Howarth exhibition, Durno's techniques for restoring Telidon art have become more sophisticated—and the appetite for them has grown.
We're now able to display Telidon graphics on the web, using a method of in-browser emulation I developed. This technique permits us to fully restore the interactive aspect of Telidon, allowing viewers to interact with the artworks in a manner similar to how they would have done using Telidon terminals back in the mid-80s. This is the core enabling technology that will drive both the web and gallery exhibitions.

—John Durno, UVic Libraries
A selection of the revived Telidon artworks will be shown to the public, many for the first time, as part of a research, conservation, and exhibition initiative. 
Durno's ability to recover and archive as much Telidon art as possible is pivotal to the success of the new Telidon Art Project. He sourced hardware and wrote software to display interactive Telidon artworks on modern computers, and on the web; recovered and processed thousands of Telidon files from 5.25" and 8" floppy disks; reconstructed numerous Telidon artworks, including the databases that control the sequencing of the graphics; and amassed a collection of research materials and technical documentation that is helping to inform an exhibition.
Curated by Shauna Jean Doherty and funded by the Digital Museums Canada Investment Program, this 2023 online exhibition will be accompanied by programming that highlights the history of Telidon art, showcasing its trailblazing practitioners, and its ongoing influence within Canadian digital and new media arts. 
Photos
In this story
Keywords: arts, history, technology
Publication: The Ring