Great tasks ahead for campus, AVP Indigenous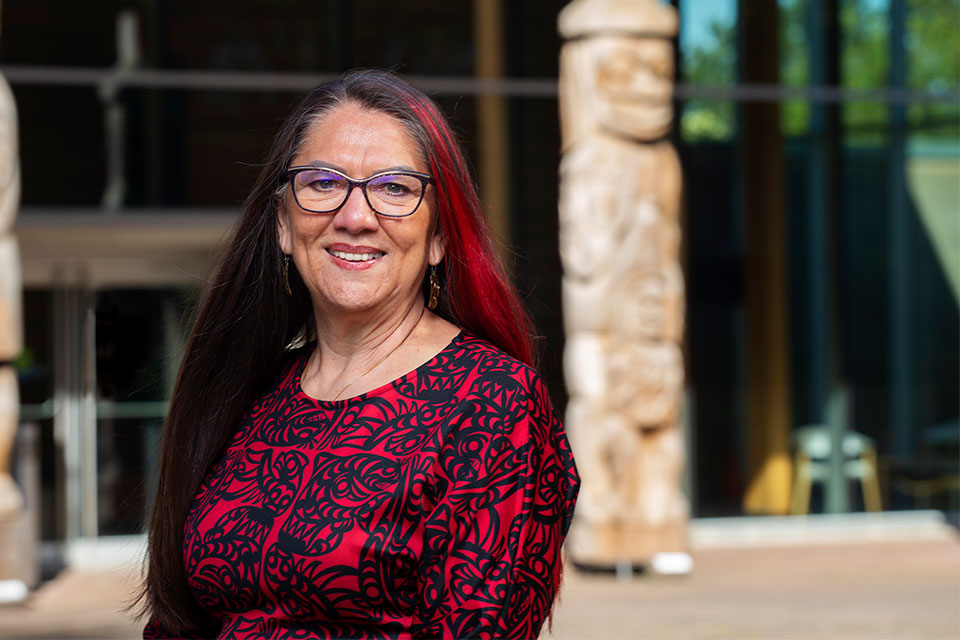 Qwul'sih'yah'maht Robina Thomas steps into new role as Associate Vice President, Indigenous
In 1998, the year that Qwul'sih'yah'maht Robina Thomas began her first job at the University of Victoria as a visiting lecturer in the School of Social Work, First Peoples House was still 12 years away from opening its doors. There were fewer than 500 Indigenous students at the university. The Truth and Reconciliation Commission (TRC) was a decade away from being established and the UN Declaration of the Rights of Indigenous Peoples was still in draft form.
Since that time, Thomas has completed her PhD, become a tenured professor, and served as executive director of the Office of Indigenous Academic and Community Engagement (IACE). She has earned the respect and admiration of students, staff and fellow faculty members for her commitment to developing programs and policies that have helped establish UVic at the forefront of Indigenizing and decolonizing its academic and work environments.
Her vision and leadership have been instrumental in the growth of Indigenous student enrollment at UVic (1,400 Indigenous students, including 230 in master's and PhD studies in 2019/2020), expanding programs and services for Indigenous students at IACE, facilitating the creation of UVic's first five-year Indigenous Plan (2017-2022), re-establishing the Indigenous Cultural Acumen Training program and piloting a program to engage Elders as specialist instructors.
On April 1, Thomas started as the inaugural Associate Vice President, Indigenous. She sees this newly created executive position as an opportunity to further ongoing efforts to Indigenize the institution. But she feels equally responsible to her Coast Salish ancestors and the wider Indigenous community.
As a Coast Salish woman working as the first Associate Vice President Indigenous on Coast Salish land, I have a responsibility to my ancestors and my grandmother whose name I carry, and to the Coast Salish communities. It's equally important to be accountable to both types of leadership—community and institution."
—AVP Indigenous, Qwul'sih'yah'maht Robina Thomas
Thomas is a member of Lyackson First Nation. She has Snuy'ney'muxw ancestry through her grandmother Lavina Wyse and Sto:lo ancestry through her grandfather Charles Prest.
The newly created position is important and long-overdue, according to members of UVic's Elders in Residence program. "As Robina continued in her education, her leadership, perseverance and vision helped shape Indigenous education," Kwakwaka'wakw Elder Gerry Ambers said. "With her colleagues she continued to develop a strong Indigenous presence at UVic and worked hard to advocate for indigenous ways of being."
During her 23 years in academic and executive roles at UVic, Thomas has been involved in almost every Indigenous initiative, but she admits it's a steep mountain for institutions to climb if they want to overcome the damage caused by federal education and colonial policies of the past century and a half.
Thomas says that her education and career journey at UVic has not been without its challenges. Like many Indigenous students and faculty at post-secondary institutions in Canada, she has personally experienced marginalization and racism.
"In a post-secondary institution, you need someone to be doing the administration work. You need someone to be doing the academic work. At this point in my life, I think that this position will work very collaboratively with the Indigenous scholars on campus so that we can all further the work of truth and reconciliation, Indigenization and decolonization."
Three of her top priorities in her new position include completing the next five-year Indigenous Plan, with a strong focus on community engagement; establishing an Indigenous strategic alignment committee designed to break down silos and set guidelines for Indigenous issues in various departments across UVic; and working closely with UVic's Equity and Human Rights (EQHR) office.
Songhees Elder Skip Dick believes that "Robina has an intuitive respect for her community that follows through to her work. She carries herself so well at everything she does, and this emanates through to the students, faculty and staff."
"We have a saying," Robina says, "/tth'ihwum tseep 'i'm'istuhw thun' 'uy shkwalawvns/, which means bring in your good feelings. Our elders tell us, when you come in /shkwalawvns/ with a good mind and a good heart you will be open to learning new things. Our responsibility is to those that walked before us and those that are coming behind us. Those are the teachings that really ground me as a human being in the work I want to do."
UVic Indigenous milestones and achievements
UVic's commitment to Indigenous students is demonstrated in the growth of academic and cultural programs during the past 10 years, including the opening of the First Peoples House in 2010 and the release of the university's first Indigenous Plan in 2017. The Office of Indigenous Academic and Community Engagement employs 13 Indigenous staff and eight Elders in Residence, who provide cultural programs, tutoring, funding and academic support to students year-round. The university also has two dedicated Indigenous counselors and an Indigenous Student Nurse Liaison.
Since 2009/2010 Indigenous student enrollment at UVic has increased by 37 per cent, from 888 to 1,408. In 2019, UVic launched the world's first joint degree program in Canadian Common Law (JD) and Indigenous Legal Orders (JID). There are approximately 90 undergraduate courses with Indigenous content offered by departments and faculties across the university.
Photos
In this story