Student Wellness Centre offers students one-stop support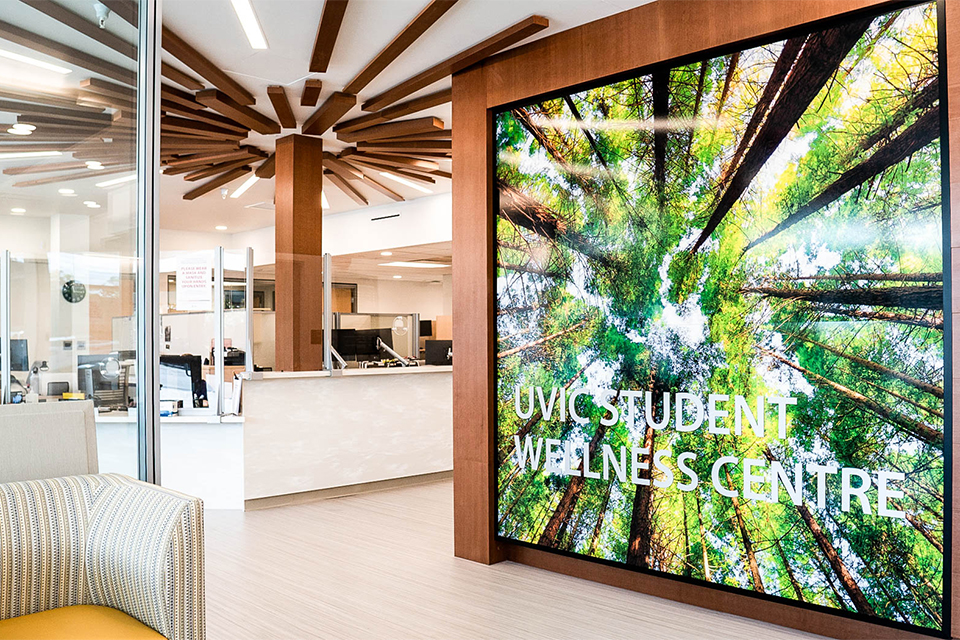 UVic's Health, Counselling and Multifaith teams have come together to provide students with an integrated, holistic approach to their wellness needs. Following a $6.5-million renovation, more than 50 combined staff moved into the Student Wellness Centre (SWC) on the first floor of the newly named Health and Wellness Building, formerly known as the Technology Enterprise Facility, in mid-July.
"It's a central hub for students," says Rob Crisp, director of Health, who co-leads the SWC with Dr. Rita Knodel, director of Counselling and Multifaith. The SWC is essentially one door for students to access counselling and health and marks a major transformation in the student experience to offer a high standard of comfort, care, privacy protection and infection prevention and control, says Crisp.
It gives students a central place for wellness. We hope that this integration will play a key role in reducing stigma around seeking mental health supports in particular. We also have the opportunity to be more professionally collaborative being physically close and we can be more oriented to what students need.
—Dr. Rita Knodel, director of Counselling and Multifaith
The SWC recognizes that supporting spiritual health and community building and are as vital as supporting the mental and physical aspects of health. Dedicated space has been provided to a range of visiting practitioners and healers including Indigenous Elders, chaplains and others. Multifaith is primarily situated in the Multifaith Centre. However, the SWC has plans to incorporate wellness-oriented Multifaith programming, like yoga and meditation, into the Health and Wellness Building.
Our model allows students' needs and preferences to guide the care they receive.
—Rob Crisp, director of Health
During COVID-19, the SWC is ensuring that student and staff safety is the top priority; appointments are primarily by phone or video conference, with limited in-person appointments available as required. Planning for fall programming is underway to provide students with groups, workshops and clinics, online and in-person, in a COVID-safe way.
Many universities are gradually transitioning to this model of student wellness in parallel with community health centres, where counsellors, nurses, physicians, allied health team members and support staff are located together and collaborating on care.
Last week, the Student Wellness Centre also implemented a new 24/7 mental health support service called SupportConnect available to UVic students anytime, anywhere. This online and call-in service augments the wellness centre's services to provide students with round-the-clock care in a variety of languages.
The renovated space includes individual clinical and counselling offices, meeting areas, boardroom and administrative offices. The SWC will offer students access to a variety of visiting specialists including an eating disorder clinic, gender affirming care, pet therapy and other specialists.
In addition to serving student needs, the wellness centre also serves as a one-stop for faculty and staff who have concerns about students and in the past may have been uncertain whether to contact counselling or health.
Integrating counselling and health has been a long-time goal for the university. Counselling was formerly located on the second floor of University Centre, while Health Services occupied the Petersen building, a fair distance away in the student housing precinct on the northeast edge of campus. The new, central, location, close to the bus loop and CARSA, will be more accessible to students.
The other major tenant of the Health and Wellness Building is the Canadian Institute for Substance Use Research, and the building houses a number of other offices as well.
More information
Photos
In this story