Vikes Championship Breakfast reaches $5.6 million mark in 12th year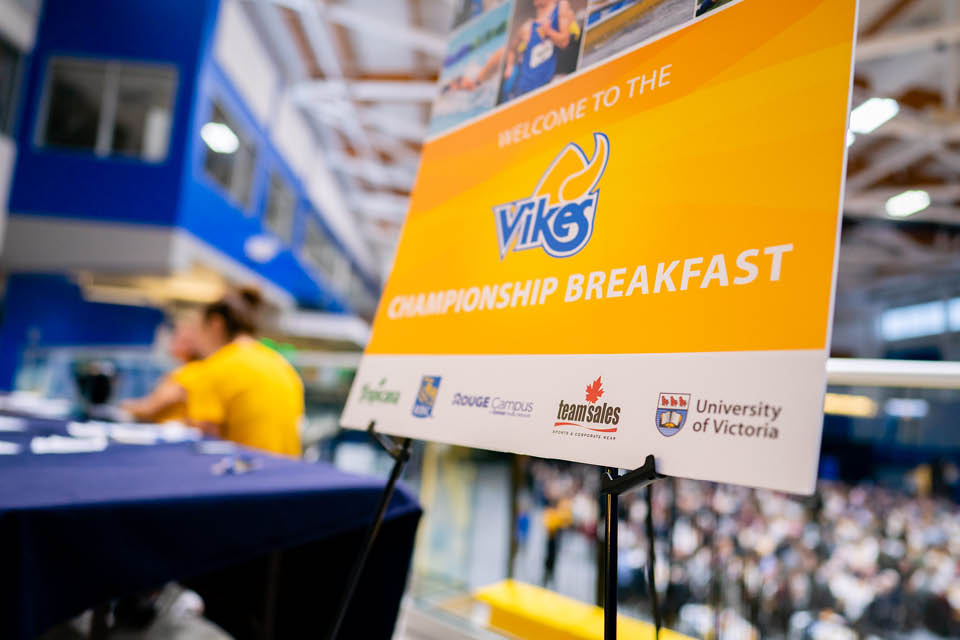 Vikes Athletics and Recreation hosted more than 600 alumni, supporters and community members inside the CARSA Performance Gym for the 12th Annual Vikes Championship Breakfast on Sept. 24. Over $550,000 was raised in support of student-athlete scholarships to push the total past $5.6 million raised since 2008. 
For the first five years of the event the University of Victoria provided a match for the first $150,000 raised and since 2013 that amount was increased to a $200,000 match. Every year, Vikes student-athletes rally together to contribute to the success of the event. From setting up the night before, to being parking lot greeters early in the morning, serving food and taking down, the Vikes varsity teams show their gratitude in any way they can.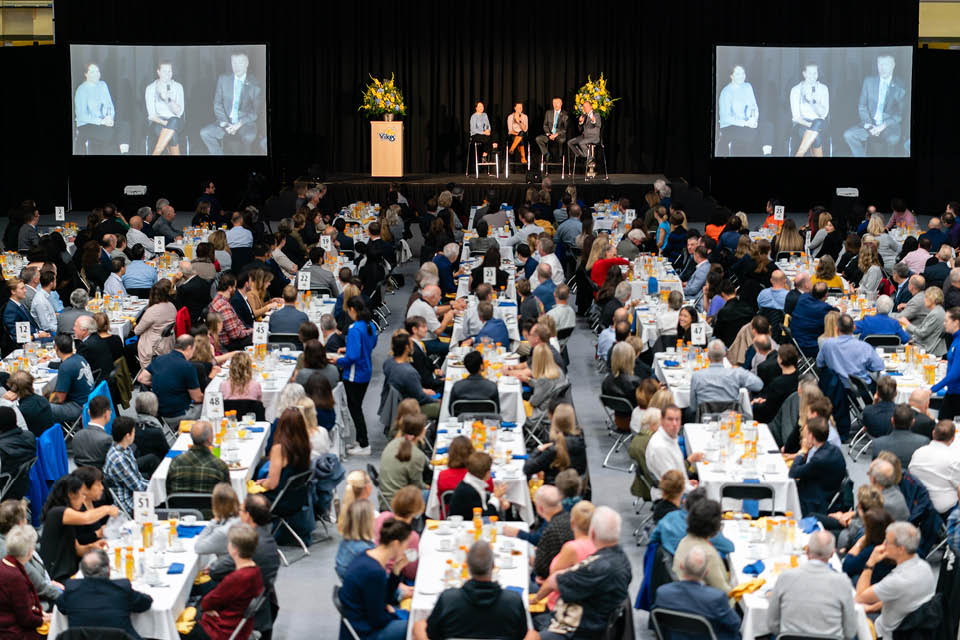 Degrees Catering provided breakfast, served by varsity student-athletes, while the event was proudly sponsored by Tropicana, a division of PepsiCo North America.
The Championship Breakfast is an integral component in securing scholarship funds for current and incoming athletes. Thank you for investing in our community through our student-athletes. They are terrific role models who need and appreciate our support.
— Director of Vikes Athletics and Recreation, Clint Hamilton
In the past, the breakfast even has featured a keynote such as past headliners Simon Whitfield, Stephanie Dixon, Bob Lenarduzzi and Gareth Rees. For 2019, the Vikes wanted to pay tribute to the unique year that will feature the hosting of three national championships in Victoria. CHEK TV sports anchor Jeff King hosted an alumni panel discussion with three iconic Vikes alumni that represent the three sports of the hosted championships in women's soccer, rowing and swimming.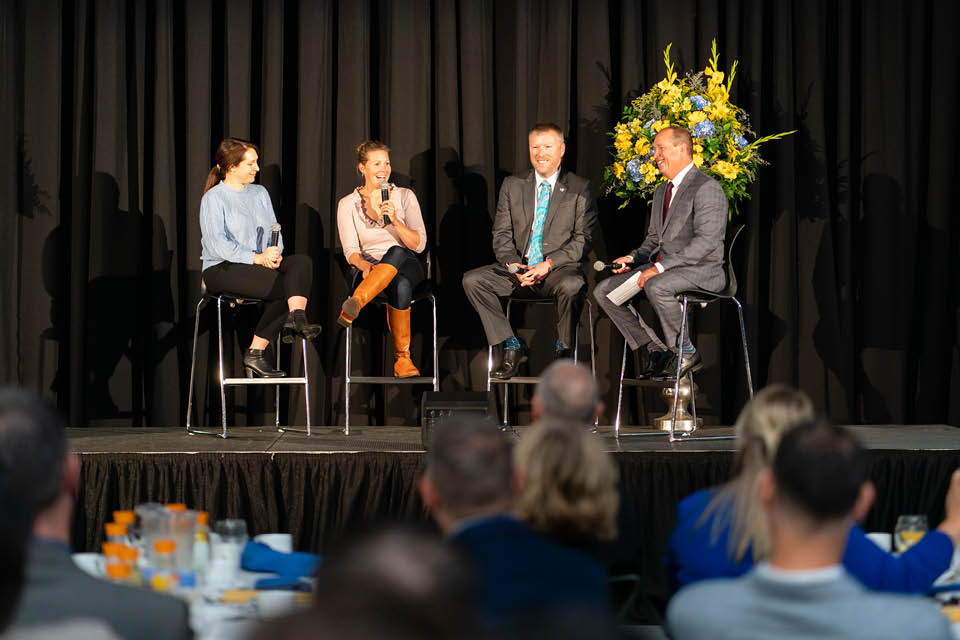 The Vikes alumni panel included swimmer Chris Hindmarch-Watson, now a well-known voice of swimming championships both nationally and internationally; women's soccer player Joann Malhotra (nee Nash), who who a national bronze medal with the Vikes; as well as rower Lindsay Bergen (nee Jennerich), an Olympic silver medallist in 2016. The panel offered their reflections on how their experience as a varsity athlete contributed to their life today, as well as their memories competing at a national championship.
The Vikes will host the below national championships:
Canadian University Rowing Championship (Nov. 2-3, 2019 at Elk Lake)
U SPORTS women's soccer championship (Nov. 7-10, 2019 at Centennial Stadium)
U SPORTS swimming championship (Feb. 20-22, 2020 at Saanich Commonwealth Place)
If the women's field hockey team is successful at defending their 2018  Canada West title, they will also host the U SPORTS National Championship on Nov. 2-3 on campus.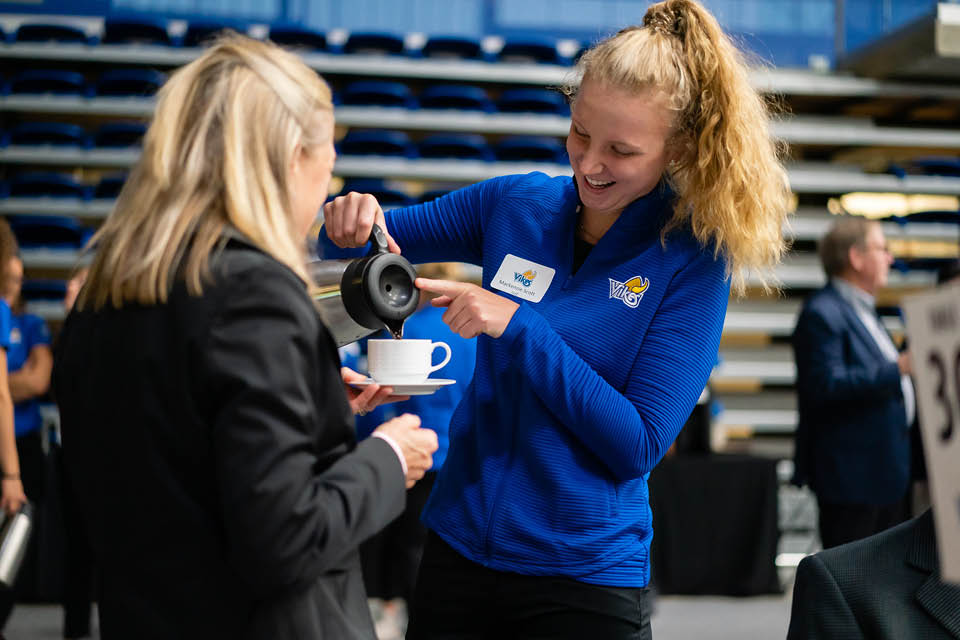 The Vikes Championship Breakfast is the largest annual fundraising event for Vikes Athletics. The support generated by the event helps with both recruitment and retention, allowing Vikes Athletics the opportunity to compete at the highest-level year in and year out.
---
PREVIOUS KEY NOTE SPEAKERS

2018  Gareth Rees (Men's Rugby Alumni)
2017  Ian Hyde-Lay (Men's Basketball Alumni)
2016  Nancy Mollenhauer (Women's Field Hockey Alumna)
2015  Simon Whitfield (Olympic Triathlete)
2014  Darcy Marquardt (Women's Rowing Alumna)
2013  Dr. Paul E. Zehr (UVic Professor and author)
2012  Pierre Lafontaine (Former Swimming Canada CEO)
2011  Adam Kreek (Men's Rowing Alumni)
2010  Stephanie Dixon (Women's Swimming Alumna)
2009  Bob Lenarduzzi (President, Vancouver Whitecaps FC)
2008 Chris Hebb (Men's Basketball Alumni)
For more information visit the Vikes Championship Breakfast website.
Photos
In this story