A lifetime of support creates a lasting legacy
Fine Arts, Libraries, Humanities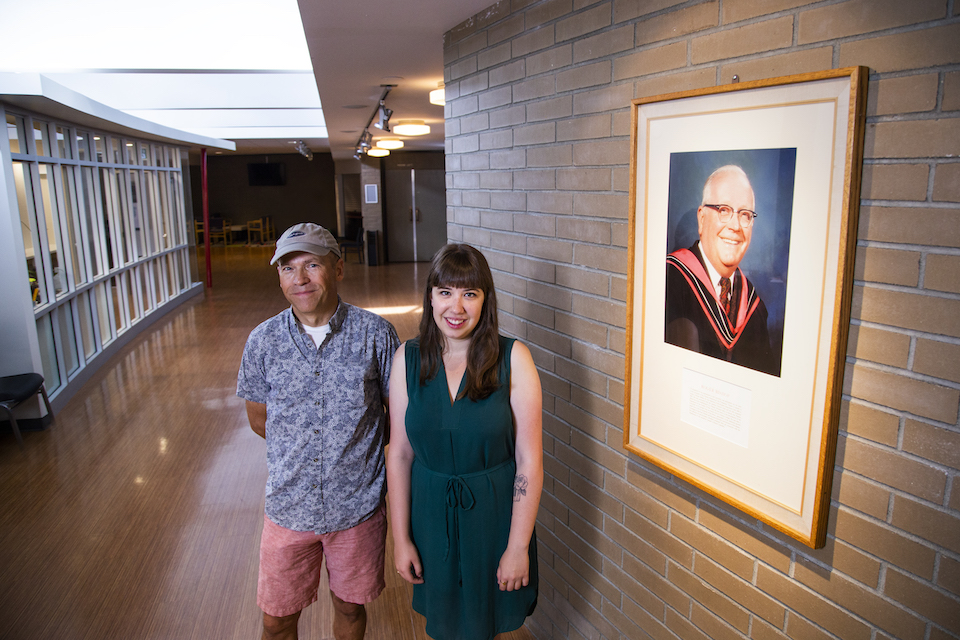 The late Roger J. Bishop, the first head of the University of Victoria's Department of English who was also known as the "father of UVic Special Collections," has left a lasting legacy as both an educator and philanthropist.
In 2016, more than $1.6 million was donated to UVic through the Bishop estate, with $1.2 million to support students in the Faculties of Humanities and Fine Arts through the creation of awards in the English, theatre, writing and music departments. On Nov. 1, 2019, the same month as National Philanthropy Day, UVic celebrated this lasting legacy.
An additional $401,395 created an endowment to support UVic Libraries in the purchase of materials in English language and literature for UVic's Special Collections.
Roger dedicated his life to encouraging people to learn and expand their knowledge. So, it only fits that his legacy continues through a generous estate donation.
—Brian Young, Bishop estate executor and close family friend
Bishop passed away in 2016, just 41 days before his 100th birthday. He and his wife Ailsa, who died in 1994, were well-known for their generosity, hospitality and a deep commitment to the arts, humanities and the library at UVic.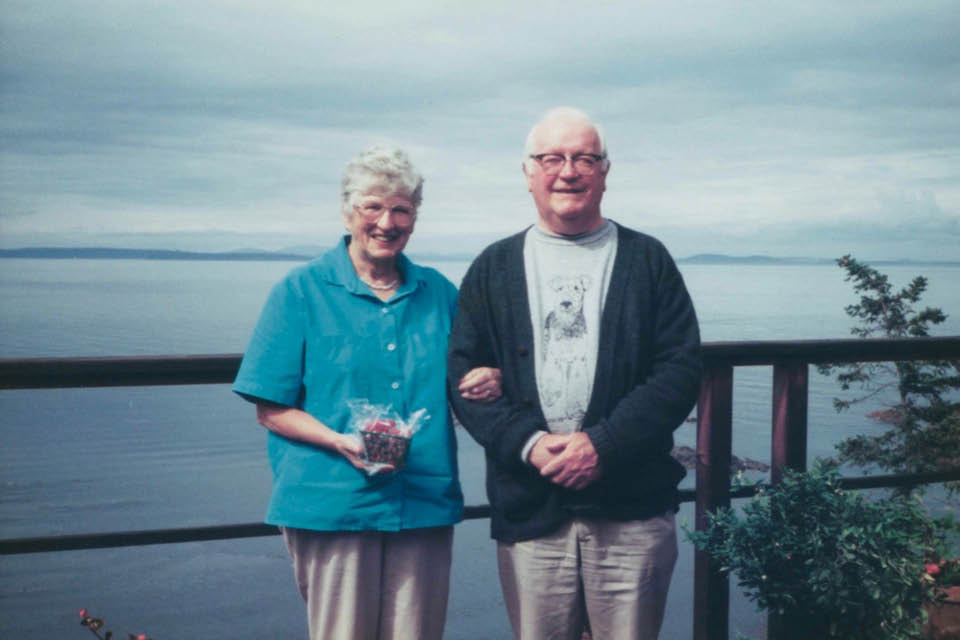 A deep commitment to the arts and humanities
"It's no exaggeration to say that transformative gifts like those from Roger Bishop help our university to keep our society alive," says UVic Dean of Humanities Chris Goto-Jones. "One of the twentieth century's greatest writers, Rabindranath Tagore, once lamented the 'gradual suicide through shrinkage of the soul' being experienced by modern societies as they increasingly neglect their cultural and literary health."
Through the Bishop estate, more than $300,000 has also been added to an existing bursary for students enrolled in the English department. And a donation of artifacts and other gifts-in-kind, including Indigenous woven artwork, was bequeathed to UVic Libraries's Special Collections.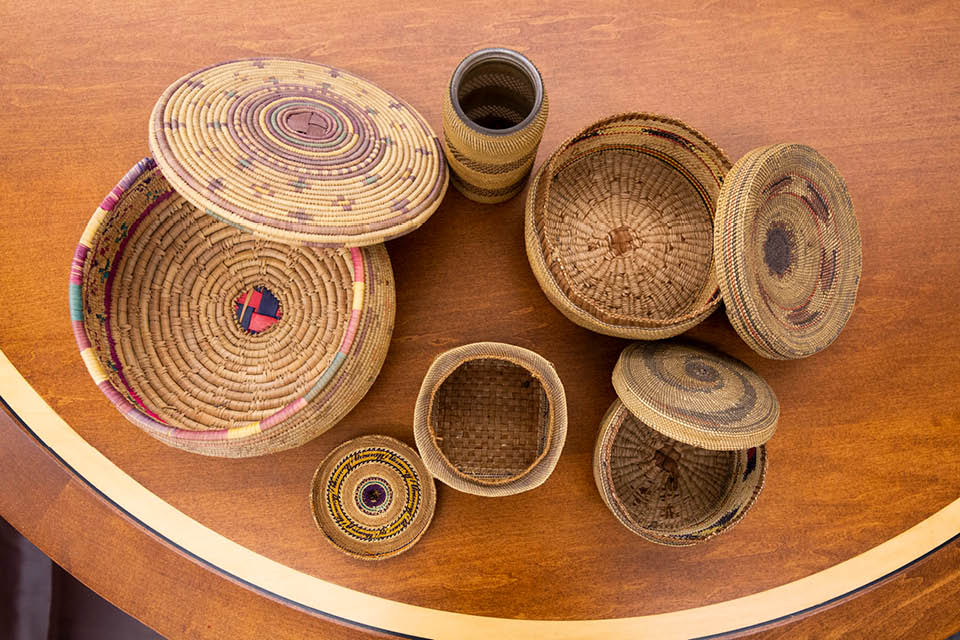 Born in Vancouver in 1916, Bishop graduated from the University of British Columbia in 1938 with a Bachelor of Arts with first-class Honours in English and also obtained a Certificate of Education from UBC before earning a Bachelor of Library Science and a Master of Arts from the University of Toronto.
In 1941, Bishop was invited to teach English at Victoria College, still at that time situated in Craigdarroch Castle. He was head of UVic's fledgling English department from 1945 to 1967. And by the time he retired in 1971, he had overseen the department's move from Craigdarroch Castle to the Lansdowne campus and finally to UVic's current location in Gordon Head.
No university without a library
"He was convinced that you could not have a university without a library," explains Ann Saddlemyer and Joan Coldwell, two of the first women hired by Bishop to teach in the English department. "He urged the administration to budget for books and began searching catalogues and visiting basement book stores all over the world," Coldwell continues.
Visit Dropbox to view more photos and read about the artifacts, books and art that, thanks to Bishop's legacy, are now all part of the university's holdings.
Some of Bishop's finds include Sir Walter Raleigh's History of the World, a first edition of William Burroughs' Naked Lunch and works by Charles Dickens, T.S. Eliot and Sylvia Plath. However, during a book-buying excursion in Britain in 1953, one volume of poetry in particular had eluded him, much to his lasting chagrin. In honour of Bishop, UVic Libraries recently purchased a finely bound edition of this rare book, Robert Burns' Poems, Chiefly in the Scottish Dialect.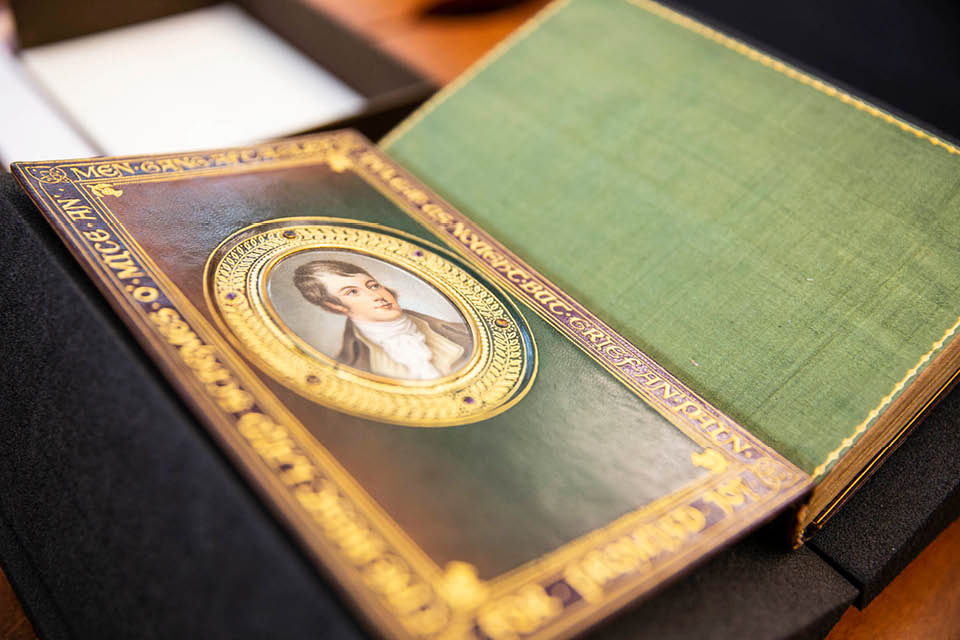 "I remember calling Roger from a warehouse dock in London during the middle of the night about a collection I had the opportunity to buy," says Saddlemyer. "Without hesitation, he said to buy it, he would find the money, and he always did."
Even after his retirement, Bishop would send boxes of books to UVic Libraries. He was also very generous with many works from his own collection.
"We are honoured to be a recipient of Professor Bishop's generosity and passion for collecting," says UVic's Director of Special Collections and University Archivist Lara Wilson. "Victoria College's, and subsequently UVic Libraries', rare and unique collections were established under his vision and dedication."
Inspiring generations to come
Bishop's devotion to teaching liberal arts was not limited to his love of English and literature. He also helped create UVic's theatre department out of his want to allow students to participate in live drama and production, directing many of the first plays on campus. That leadership led to one of the UVic theatres being named in his honour.
In the early years, when the university was still situated on the Lansdowne campus (now the home of Camosun College), Bishop began theatre studies within UVic's English department. A lasting tribute to Bishop is as the namesake for the Roger Bishop Theatre, the proscenium stage at UVic.
"Roger Bishop has always had a presence in our department, because one of our theatres is named for him," says Anthony Vickery, chair of the theatre department. "But his generosity, as represented by this gift, will directly and positively contribute to the success of our students and continue the great legacy of excellence in the theatre department which he helped to found."
The donation establishes three new scholarships in the Faculty of Fine Arts: the Ailsa and Roger Bishop Entrance Scholarship in Theatre; the Ailsa and Roger Bishop Travel Award in Music; and the Roger J. Bishop Writing Prize.
"Roger Bishop's legacy lives on in so many at UVic," says Maureen Bradley, chair of the writing department. "This gift creates a new opportunity to nurture the next generation of innovative creative writers."
Impact of this donation for students
Emily Markwart was one of this year's recipients of the new travel award in music. A classical pianist from Surrey, Markwart is currently in her fourth year at UVic and is pursuing a BMus in music history and literature. Thanks to this scholarship, Emily was able to attend the Orford Music Academy, an annual festival of learning for some of the best and brightest emerging musicians in Canada, this summer in Quebec.
Markwart participated in the voice-and-piano duet week at the academy.
The pursuit of music is enriched by experiences outside of one's everyday life, so to be supported in the chance to go and be immersed in a different environment is refreshing as an artist. There are no words to thank the Bishops properly for their generosity.
— Emily Markwart, UVic music undergrad and a recipient of one of the new scholarships in UVic's Faculty of Fine Arts
For Saddlemyer, Coldwell and Young, long-time friends of the Bishops, seeing the impact of the donation on students brings the story full circle.
"Roger and Ailsa were committed to helping people succeed," says Saddlemyer.
"It is wonderful to now get to see that legacy grow through this gift," adds Young.
Giving to UVic
This type of legacy gift reaches beyond the lifetime of an individual to inspire many generations to come, with a lasting impact greater than any other.
To find out more about how to make a legacy gift to UVic, please call Kristy Colpron, UVic's Manager of Planned Giving and Estate Planning, at 250-721-8967.
Learn more
Photos
In this story
Keywords: donation, philanthropy, scholarship, special collections
People: Roger Bishop
Publication: The Ring