Rare book collector and liberal arts supporter donates $1.6M
Fine Arts, Libraries, Humanities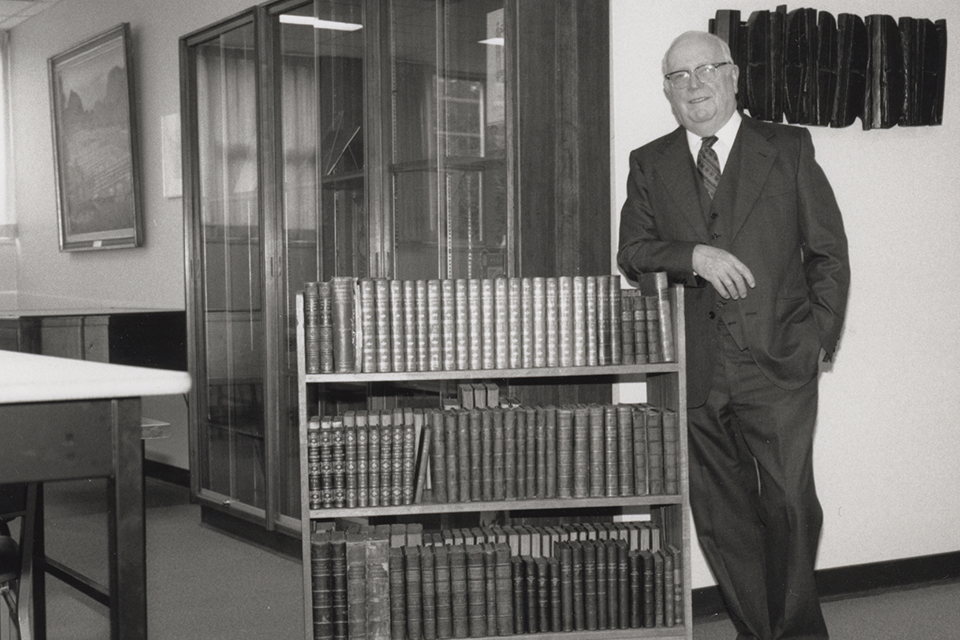 The late Roger J. Bishop—local scholar, avid book collector and lifetime supporter of the arts, humanities and library at the University of Victoria—believed so strongly in the power of a liberal arts education and the importance of reference archives that he frequently shipped boxes of rare books to campus from his travels overseas. Today, UVic celebrates a $1.6-million donation from Bishop's estate. 
Bishop, who passed away in 2016, was a founding member of UVic's Department of English and always deeply committed to student learning. He and his wife Ailsa, who died in 1994, were well-known for their generosity and hospitality. Bishop also supported the establishment of UVic's theatre department and played a major role in building the rare book holdings at the heart of UVic Libraries' Special Collections. 
The estate gift includes the creation of three new endowments in the Faculty of Fine Arts—the Ailsa and Roger Bishop Entrance Scholarship in Theatre; the Roger J. Bishop Writing Prize; and the Ailsa and Roger Bishop Travel Award in Music—and supports an existing bursary in UVic's Department of English. A further bequest directed a number of gifts-in-kind to Special Collections including Indigenous woven artwork and contemporary artifacts. A fourth bequest allowed Special Collections to establish an endowment to purchase materials for research in English language and literature. 
Roger's commitment to education and passion for learning will live on through these gifts. The creation of these new student awards, the existing bursary in English and his enduring support of UVic Libraries all stand as a remarkable tribute to Roger's lifetime of support to the university and also as an example of the extraordinary impact that estate giving can have on the experiences of our students.

— Carmen Charette, vice-president external relations
Born in Vancouver, Bishop began teaching at Victoria College in 1941 and joined UVic at its inception in 1963. Bishop was head of the English department from 1945 to 1967. His contributions to the establishment of the theatre department are recognized in the university's 208-seat proscenium theatre—the Roger Bishop Theatre at UVic. Bishop retired in 1971. 
"We are honoured to be a recipient of Professor Bishop's generosity and passion for collecting," says UVic Director of Special Collections and University Archivist Lara Wilson. "Victoria College's, and subsequently UVic Libraries', rare and unique collections grew under his vision and dedication." 
Donations to UVic play a vital role in enriching the academic experience and offering even more opportunities for our students, researchers and campus community to help build better futures for people and the planet. 
The estate donation is the focus of a private lunchtime celebration today. 
A backgrounder about the Bishops is available.
Also see today's campus story about this announcement.
A media kit containing an array of high-resolution photos is available on Dropbox.
-- 30 --
Photos
Media contacts
Tara Sharpe (University Communications + Marketing) at tksharpe@uvic.ca
In this story
Keywords: donation, philanthropy, scholarship, special collections
People: Roger Bishop