UVic celebrates new grads, exceptional students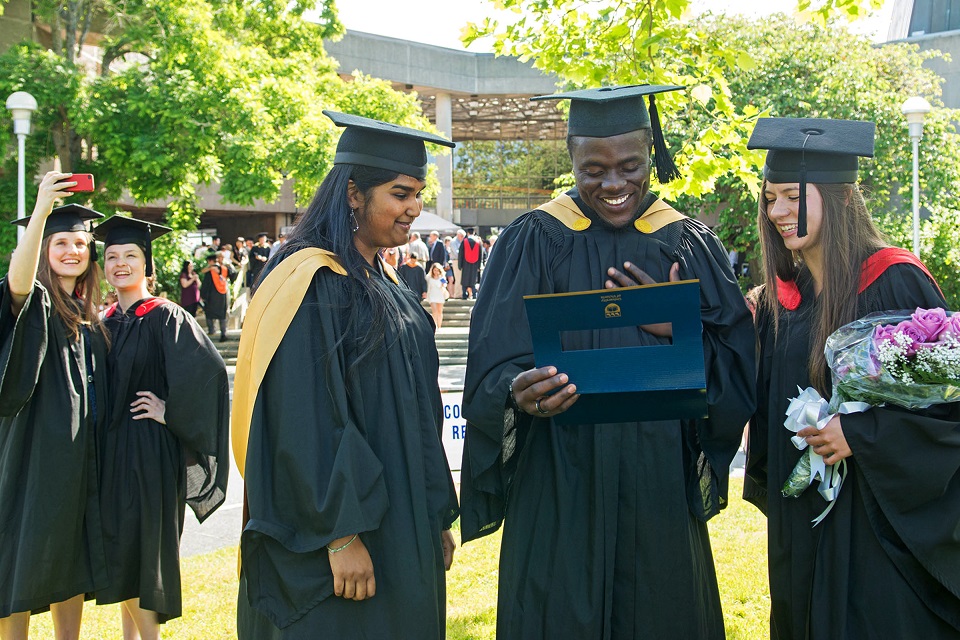 The University of Victoria's spring Convocation ceremonies start Monday, June 10, and continue throughout the week in the University Centre Farquhar Auditorium. The event marks the successful completion of academic studies for 3,777 recipients of degrees, diplomas and certificates. 
Included among the members of the class of 2019 are: 
Kaitie Sly, a music student who has studied and mapped the prevalence of noises humans can't hear (infrasonic and ultrasonic) in the Victoria area.
Keri Graumann and Dheeraj Alamchandani, civil engineering students who designed a system to make artisanal gold mining—a dangerous but common practice in the developing world—safer for people and the environment.
Samantha MacFarlane, who graduates with a PhD in English literature after working extensively with UVic Libraries' publications, archives and award-winning exhibits.
As previously announced, UVic will also present honorary degrees recognizing the achievements of six individuals: 
Teacher and Indigenous language leader Sti'tum'at Ruby Peter — Monday, June 10, 10 a.m
Indigenous language activist STOLȻEȽ John Elliott— Monday, June 10, 2:30 p.m.
Indigenous governance trailblazer Joe Gallagher, k̓ʷunəmɛn — Tuesday, June 11, 10 a.m.
Law-education innovator Neil Gold — Tuesday, June 11, 2:30 p.m.
Pioneering marine naturalist Andy Lamb — Thursday, June 13, 2:30 p.m.
Mathematical biology expert Simon Asher Levin — Friday, June 14, 10 a.m.
Read more about the honorary degree recipients here. 
Each of the 10 ceremonies will be webcast live at uvic.ca/ceremonies/convocation/index.php with social media posts tagged #uvicgrad
A media kit containing high-resolution photos is available on Dropbox.
-- 30 --
Photos
Media contacts
Ian Case (Director, Ceremonies and Events) at 250-721-7632 or iancase@uvic.ca
Jenny Manzer (Alumni Communications) at 250-721-7642 (cell) or alumcomm@uvic.ca
In this story
Keywords: Convocation, students, graduation, alumni