Honing the craft of storytelling—in journals, verse novels and archives
- Lisa Abram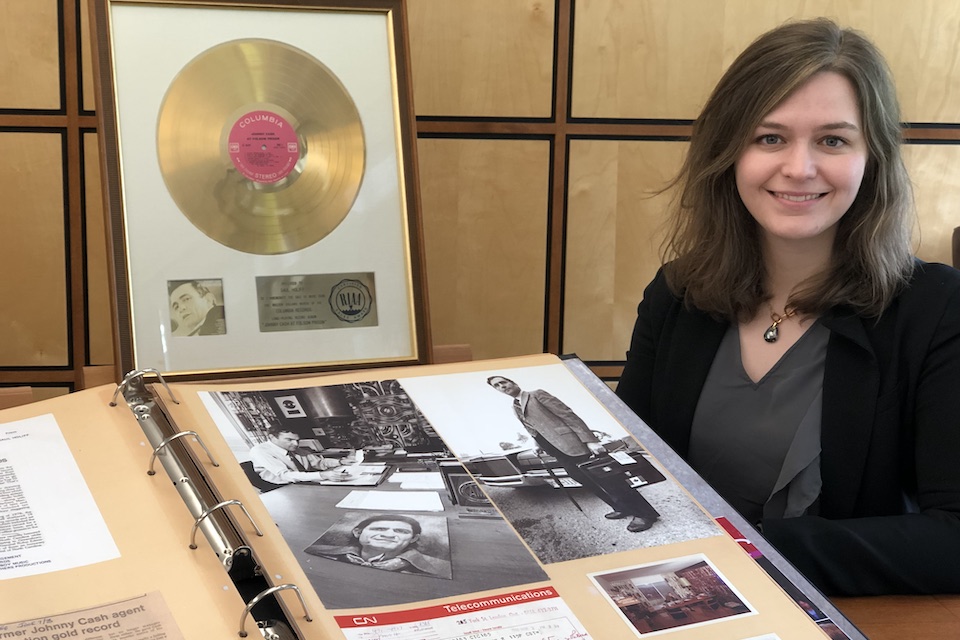 The old adage goes: If you want something done, ask a busy person. Within the span of a few months, Samantha MacFarlane successfully defended her doctoral dissertation in humanities; helped to edit a new publication for UVic Libraries' award-winning imprint; and won a prestigious North American library award for an online exhibit about the archives of Saul Holiff, Johnny Cash's manager in the 1960s and early '70s.
"I have received comments about how challenging it must have been to complete my PhD while working in the Libraries, but I found them mutually enriching experiences," says MacFarlane. My background as a graduate student and instructor in the Department of English led to the opportunity to work as editorial assistant for the libraries' academic journal and its publication series, but my work in the libraries also informed my dissertation writing."
First hired in February 2017 as editorial assistant for the academic journal KULA: Knowledge Creation, Dissemination, and Preservation Studies, MacFarlane's role was to support the day-to-day building blocks of the libraries' peer-reviewed, open access journal, established by University Librarian Jonathan Bengtson.
Later that year, MacFarlane transitioned to a co-op position as publications assistant for the libraries' publication series devoted to its archives and special collections in which she worked with General Editor Christine Walde and former Malahat Review editor John Barton on the libraries' sixth publication, Canada's Iconic Literary Journal: The Malahat Review at 50 (100 pages, 10mb). MacFarlane was also responsible for developing a digital exhibit for the series, and was tasked with highlighting key aspects of each publication in an interactive and engaging way.
When the opportunity arose in January 2018 to apply for the contract position of Digital Exhibit Designer for an exhibit about Holiff and Cash, MacFarlane did not shy away from the challenge, and began the six-month process of building the narrative about an archives that contained thousands of rare and unique items. UVic Libraries Special Collections and University Archives acquired Holiff's archives in 2016.
When asked how she managed to work multiple library jobs while staying focused on her PhD research on women poets and the late Victorian verse novel, MacFarlane explains that "editing for KULA and the publication series was valuable because I was able to apply that editorial perspective to my own writing. And curating for a general audience in the Holiff digital exhibit made me think more carefully about the audience for my dissertation. So I gained a more acute critical awareness about my work by toggling between these projects."
"Sam's profound range of interdisciplinary knowledge, editorial expertise, and academic and scholarly experience—as well as her acute professionalism and precise attention to detail—makes her a joy to work with, as well as being a trusted and treasured colleague across many units in the Libraries," says General Editor Christine Walde. "Sam understands the creative and critical intersections between libraries, archives, and the humanities, and brings that understanding into all the work she does." 
MacFarlane adds, "I think I was a good fit for this project because I have always been interested in storytelling. That fascination is what led me to study literature. In literary studies, you get to examine the structures and mechanisms of different kinds of stories—how stories are told—and then you tell a story of your own about that story. It's a kind of narrative building.  Designing the Holiff exhibit was a similar process. My task was to create a compelling narrative based on the archives, which involved determining our audience (something you have to think about in academic writing) as well as the scope and angle of the exhibit, then choosing items to animate the story of Holiff's life. This kind of storytelling helps the archives come alive."
On April 25, MacFarlane successfully defended her PhD dissertation, the same day that the Association of College and Research Libraries—a division of the American Library Association— announced that UVic Libraries had won a prestigious Leab award for the digital exhibit Volatile Attractions: Saul Holiff, Johnny Cash, and Managing a Music Legend, curated by MacFarlane.  The award committee praised "its multiple modes of navigation, and especially appreciated that the items were fully digitized, providing research value beyond the life of the exhibition."
Following her convocation, MacFarlane had no plans to slow down. Her next project is to provide continuing editorial support for the Libraries' publication series, and for an upcoming KULA issue on "Indigenous Knowledges," due out in 2020.
MacFarlane believes that the academic library is a fertile place to do research, and with additional stories to tell, there is much more work to be done.
Photos
In this story
Keywords: convocation, library, graduate research
People: Samantha MacFarlane, Saul Holiff, Johnny Cash, Jonathan Bengtson, Christine Walde, John Marton
Publication: The Ring