UVic profs elected fellows of Royal Society of Canada
Fine Arts, Social Sciences, Humanities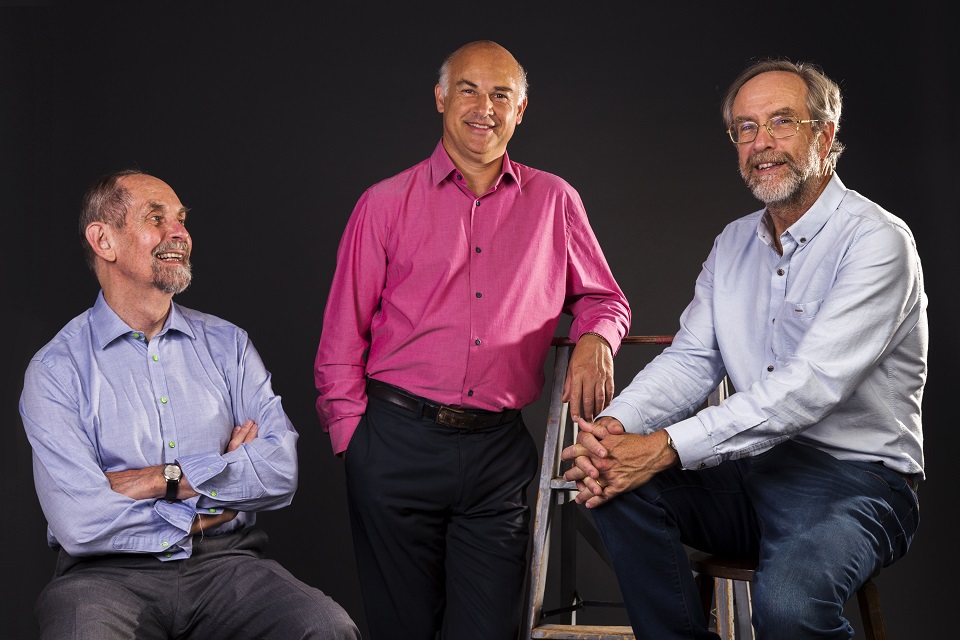 Three University of Victoria faculty members have received the country's highest academic honour, named 2018 fellows of the Royal Society of Canada (RSC). 
Benjamin Butterfield, one of Canada's finest tenors; Eike-Henner Kluge, a leading ethicist and philosopher whose scholarship and theoretical analysis have influenced Canada's right-to-die legislation and the legalities of abortion; and Tim Stockwell, who has pioneered research in substance abuse and public health policy, were elected to the society's distinguished ranks in an announcement made today.  
The title has been bestowed on more than 2,000 Canadians in the 134-year history of the RSC and has just one criterion: excellence. The peer-elected fellows of the society are chosen for making "remarkable contributions" in the arts, humanities and sciences, and Canadian public life. 
While Butterfield has won international plaudits as one of Canada's best operatic tenors, he is equally passionate about his role as head of voice for UVic's School of Music. 
"With a performance career, the more you're in the game, the more you'll be asked to be in the game," he explains. "But my obligation is really to teaching ... for me, it's less about pursuing my 'career' and more about being here for students who sing, and who want to learn to sing—that's my day job, that's my real life, that's what's most important."    
Having performed throughout North America and Europe, as well as in Ukraine, the Middle East and Asia, Butterfield's repertoire ranges from the Renaissance to present day, singing in English, French, Latin, Italian, German, Polish, Czech, Russian and Ukrainian. Over the past three decades, he has performed in many of the world's most historic venues with the finest ensembles, has been featured on over 30 recordings and even gave Rick Mercer a 10-minute opera lesson at UVic last year. 
In opera, Butterfield made his debut in 1994 as Tamino in Mozart's Magic Flute with the New York City Opera while in the midst of an exciting tenure with Canada's baroque opera company, Opera Atelier. At this same time, he joined the rosters of IMG Artists in New York City, Organisation Internationale Artistique in Paris and later Athole Still in London. 
Kluge has been at the forefront of some of today's most important medical debates, from access to abortion to the ethics of deliberate death. Kluge, a professor in UVic's Department of Philosophy, has written 13 books and authored 90 journal articles. 
Kluge's current work focuses on biomedical health information ethics, which includes electronic patient records. He is the author of the International Medical Informatics Association's Code of Ethics. Kluge says he sees his scholarly research as groundwork for larger issues. 
"There has to be a social return somewhere," he says. 
In 1989, Kluge helped establish the Canadian Medical Association's department of ethics and legal affairs. As its first director, he was asked in 1991 to draft an analysis for a Senate committee about Bill C-43, a proposed new law that would have restricted women's access to abortion. The legislation was ultimately defeated in the Senate, in part due to Kluge's work. 
Kluge is known for his work on another contentious issue: the ethics of deliberate death, often referred to as medically assisted dying. His books The Practice of Death and The Ethics of Deliberate Death compelled North Saanich resident Sue Rodriguez to contact Kluge. He became an ethics adviser to Rodriguez, whose Supreme Court case in 1993 was the first to challenge section 241(b) of the Criminal Code. 
Stockwell is a knowledge translator and advocate for strong public health policies to prevent illness, injuries and death from alcohol and drug misuse. He has made key contributions that have shaped substance use policies in several countries, including Canada, Scotland, Ireland and Australia. 
"It is very gratifying to see that some of the ideas arising from my work and that of my close colleagues are being used in Canada and other countries to reduce substance use," says Stockwell, director of UVic's Canadian Institute for Substance Use Research (CISUR) and professor of psychology at UVic. 
Stockwell has pioneered the use of more accurate measures of alcohol consumption and related harms and currently he is working with governments in Canada and overseas to estimate the impact of alternative alcohol policies on health and safety. 
As director of CISUR for 15 years, Stockwell continues to engage in groundbreaking research related to the impact of substance use on health and safety. 
The RSC was established in 1883 as Canada's national academy for distinguished scholars, artists and scientists. Its primary objective is to promote learning and research in the arts, humanities, and natural and social sciences. The society has named 75 current, former and adjunct UVic faculty members as fellows over the years. 
More information about the Royal Fellows.
A press kit containing high-resolution photo is available on Dropbox .
-- 30 --
Photos
Media contacts
Paul Marck (University Communications + Marketing) at 250-721-6246 or pcmarck@uvic.ca
In this story
Keywords: award
People: Eike-Henner Kluge, Benjamin Butterfield, Tim Stockwell