Holocaust survivors remember forgotten hero's wartime efforts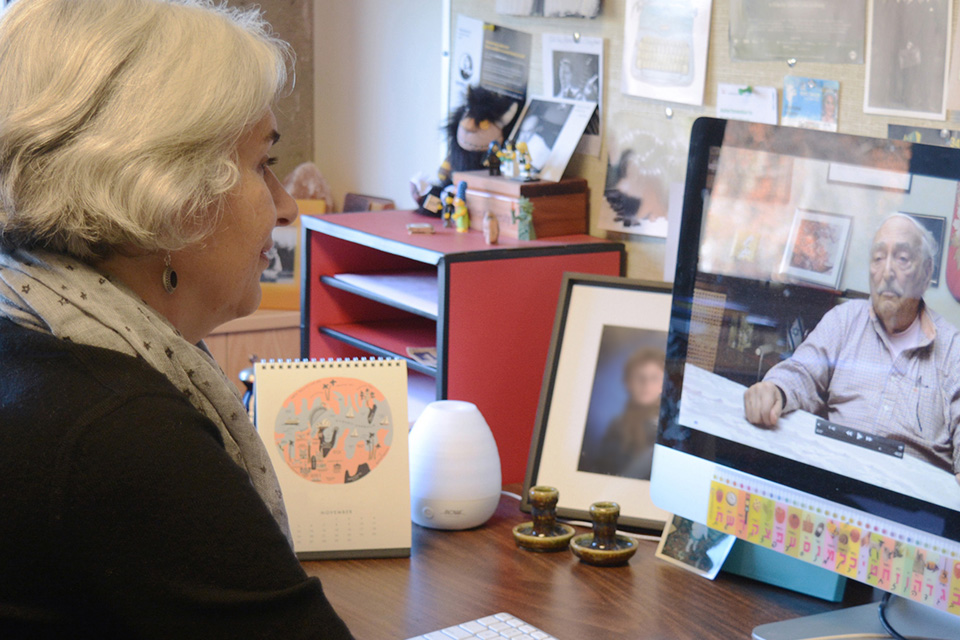 Thirty-six harrowing stories of survival that retrace the wartime diplomatic efforts of Switzerland's forgotten Schindler—a diplomat named Carl Lutz—come to life in new research published by a University of Victoria historian after a chance discovery three years ago.
Charlotte Schallié from UVic's Faculty of Humanities found out about Lutz during a trip to Budapest, where she came across a monument to Lutz while researching about her own grandmother, who had been killed in Auschwitz. Schallié, who is Swiss but had never heard of Lutz, found and then worked with Lutz's stepdaughter, Agnes Hirschi, to collect testimonies from survivors in Switzerland, the United States, Canada and Israel.
Schallié's findings will be published this month in the new book, Under Swiss Protection: Jewish Eyewitness Accounts from Wartime Budapest, which was co-edited with Hirschi. Lutz, who is credited with saving 60,000 Hungarians in the largest civilian rescue operation of Jews in the Second World War, was the Swiss vice-consul in Budapest during the last three years of the war.
Schallié says while the heroic efforts of German businessman Oscar Schindler and Swedish diplomat Raoul Wallenberg have been widely celebrated, the actions of Lutz, his wife Gertrud Lutz-Fankhauser and other people who helped form the rescue team remain largely unknown.
"My hope is these survivor accounts will make Carl Lutz's story much more well-known," she says. "He was a deeply religious and principled man who undertook these efforts at great personal risk."
Schallié, an associate professor in Germanic and Slavic Studies, will present her research Nov. 27 in Bern, Switzerland, at the world's premier gathering for Holocaust remembrance and education, the International Holocaust Remembrance Alliance.
Hirschi, meanwhile, is visiting Israel this week for the unveiling of a monument for her stepfather, where she will gather with other survivors to honour his legacy. She says Lutz was given a desk job after the war and was never thanked for his humanitarian efforts because he had violated Swiss neutrality.
"I had promised my stepfather on his deathbed that I would do my best that his rescue activity would not be forgotten," Hirschi says. "The youth and coming generations should know about the atrocities during the war and that they should never happen again."
In 1942, Lutz organized the issuing of Palestine certificates to help more than 10,000 Jewish children and youth reach Palestine by March 1944. Shortly after, Lutz authorized the production of 50,000 letters of Swiss protection, called schutzbriefe, designed to guarantee the safety of each person named until they were able to emigrate.
He established 76 safe houses, which were under Swiss protection, to house more people including a former glass factory that became known as the Glass House. It alone ensured the safety of some 3,000 Jews during the Nazi occupation of Hungary.
BC brothers Gabor and Janos Maté's mother, Judith, was among those who found safe haven in the Glass House. After the family came to Canada as refugees, Janos went on to become an environmental activist, and Gabor a physician, renowned speaker and bestselling author.
Schallié says other governments such as Sweden, resistance fighters and the International Red Cross followed Lutz's example and started issuing protective letters. By the war's end, close to 124,000 Hungarian Jews survived in Budapest, half of those due to Lutz's efforts.
UVic is home to the I-witness Holocaust Field School, initiated in 2011 as the first of its kind for undergraduate students at a Canadian university. With the field school, the UVic Holocaust Archive and a new master's stream launched this fall, the Faculty of Humanities at UVic continues to help lead the way in Holocaust studies and with exploring issues of multi-cultural human rights education.
Under Swiss Protection is published by Ibidem Press and distributed by Columbia University Press.
Read the campus article for more on this story, with additional photos.
For high-res photos: A media kit containing high-resolution photos, excerpts from the book and historical photographs is available on Dropbox.
-- 30 --
Photos
Media contacts
Dr. Charlotte Schallié (Dept. of Germanic and Slavic Studies) at schallie@uvic.ca
Stephanie Harrington (Humanities Communications) at 250-721-7241, 250-857-1061 (cell) or humscom@uvic.ca
Tara Sharpe (University Communications + Marketing) at tksharpe@uvic.ca
In this story
Keywords: history, racism, war, Holocaust, Germanic and Slavic Studies
People: Charlotte Schallie