National award celebrates accomplishments in patient-oriented research
- Jody Paterson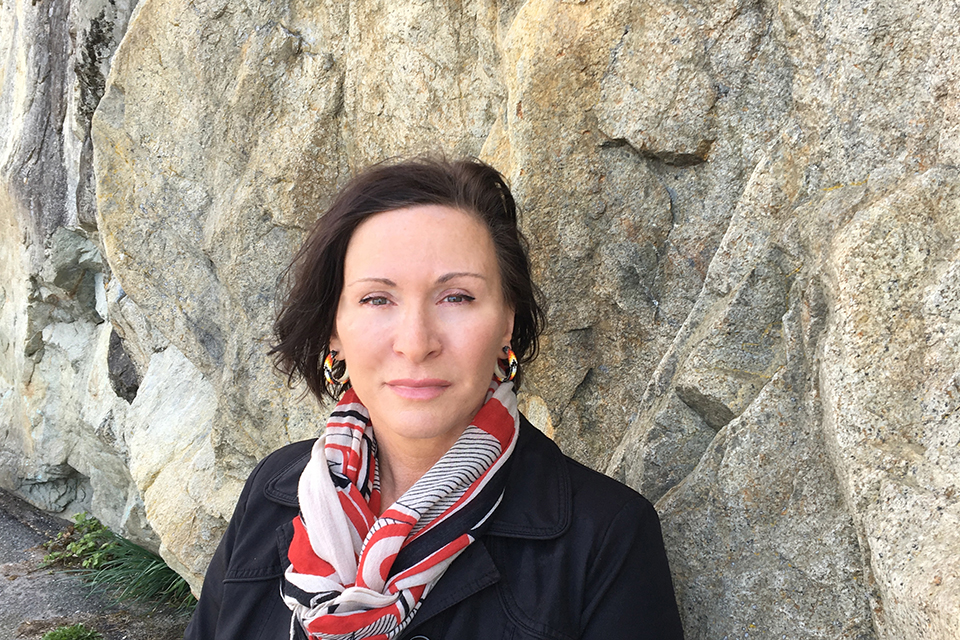 Being praised by community research partners as a "game changer" might be all the confirmation a researcher needs to know her work is having a vital impact on the community.
But a national award from the Canadian Institutes for Health Research (CIHR) makes for pretty great affirmation, too, as does the $100,000 research prize that Charlotte Loppie's research partners—Indigenous women across Canada living with HIV/AIDS—are already happily contemplating how to help her spend.
Loppie, a professor in UVic's School of Public Health and Social Policy and director of the Centre for Indigenous Research and Community-Led Engagement—is one of three Canadian researchers who will be awarded a prestigious Gold Leaf Prize from CIHR at a May 16 ceremony in Ottawa.
The prize celebrates excellence in health research and its translation into benefits for Canadians. Loppie's award is in the category of "Transformation: Patient Engagement."
Loppie works in areas such as Indigenous health inequities, Indigenous HIV/AIDS and the social determinants of Indigenous health. She's dedicated much of her career to "patient-oriented research"—a way of thinking about and conducting research as something that's done by, for and with the people with lived experience who are the focus of the research.
"If a researcher is willing to put their ego aside and really think of themselves as working in service to the people whose lives we're investigating, they discover that these people have tons of creative ideas about how that research can be conducted, and how it can benefit them," says Loppie. "To me it's a mindset that we need to get into."
Members of the Canadian Aboriginal AIDS Network (CAAN) approached Loppie in 2005, when a newly invigorated women's committee within CAAN was urging the organization to study the role of sexual violence in the lives of HIV-positive Indigenous women. The resulting report, Our Search for Safe Spaces: A Qualitative Study of the Role of Sexual Violence in the Lives of Aboriginal Women Living with HIV/AIDS, was published in 2009.
"The report was a game-changer that brokered a shift from deficit-styled western research to Indigenous health research," wrote CAAN members in their support letter to CIHR for Loppie's award. "From trauma and deficit-based research, we journeyed together and saw something different, and saw the possibilities where the narrative about Indigenous women could begin to shift to a vision of health, healthy communities and healing."
While "patient-oriented research" is the CIHR term used to describe the kind of work Loppie does, the definition of "patient" encompasses anyone with lived experience of the issue being studied. That includes loved ones and family members. It envisions research based on the premise that people with lived experience should be the ones guiding every aspect of a project, including what needs to be researched and how findings can best be disseminated to benefit the population engaged in the study.
This methodology is a dramatic change over how things were done even 15 years ago, notes Loppie. As a doctoral student at Dalhousie University in the early 2000s, she had to negotiate with an ethics committee about sharing transcriptions with the Mi'kmaw women with whom she had partnered in research. And when the women involved in the Safe Spaces study indicated their discomfort with broad publication of the results, Loppie didn't pursue publication beyond the Indigenous HIV/AIDS community.
"Once researchers get hold of a study like this, they can use it as a reference in ways that are often stigmatizing for the group," she notes. "That's the last thing we wanted. Just because someone shares their story with me doesn't mean it's mine. I don't want to jeopardize the safety of people just to get something on my CV."
Loppie continues to conduct research that is "consistently proposed and directed by Indigenous communities or collectives that represent full, equal and active partners in all aspects of the research process, and in which Indigenous patients' voices and experiences are privileged."
Overcoming barriers within Indigenous communities that feel "researched to death," Loppie works to "research ourselves back to life," says Renee Masching, director of research and policy at CAAN.
Loppie currently leads Visioning Health II, a research study that builds on earlier work with HIV-positive Indigenous women (Visioning Health I), which established that research done with attention to Indigenous knowledge, cultural traditions and strengths can be healing for participants. Visioning Health II is being conducted in partnership with HIV-positive Indigenous women in eight regions across Canada to explore the impact of this process on women's health.
Photos
In this story
Keywords: Indigenous, disease, hiv, health, public health and social policy, research, award
People: Charlotte Loppie