CFI funds earth sciences, nanotech research
- Mitch Wright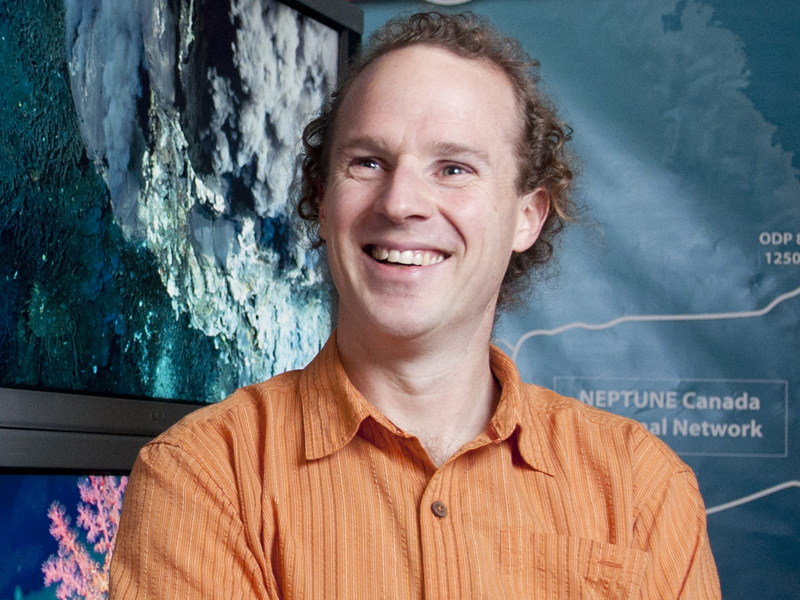 Two teams of University of Victoria scientists are ready to delve into separate research frontiers—one on the leading edge of earth sciences to better understand fundamental aspects of how our planet works, the other pursuing how new nanomaterials can help create useful technological devices—thanks to funding from the Canada Foundation for Innovation (CFI).
A total of $3.4 million is coming to UVic through the federal government agency, part of $215 million announced Jan. 15 for 75 projects at 34 institutions across the country.
Nanotech solutions sought in energy, biosensors
UVic will receive $1.8 million, part of a $7.7-million commitment toward a wide-reaching project in advanced materials science and technology led by researchers at SFU, and also involving UBC and BCIT.
The Prometheus Project aims to create a global hub for materials science and engineering innovation and commercialization, turning world-class research into jobs and growth by creating device prototypes for cleaner energy, improved health-care delivery and faster data processing.
Dr. Alex Brolo, UVic's principal investigator on the project, says the money will be used to upgrade lab and fabrication infrastructure so researchers have increased capacity to translate their designs into commercially viable prototypes.
"This will be a huge step toward taking our ideas to prototypes," says Brolo, a UVic chemistry professor. "We have a strong core of infrastructure, and this investment will help improve the capacity to transform our research into useful applications."
Brolo says UVic's research strength is in the fabrication of nanomaterials that can be incorporated into solar cells capable of more efficient, low-cost power generation and also able to be mass-produced. They're also working with new materials to create miniaturized biosensors and imaging probes, tools that might become "point-of-care" analysis devices for early diagnosis of disease.
"This project will allow BC's four most research-intensive institutes to collaborate on fundamental materials research projects with a wide range of potential commercial applications," says Neil Branda, Canada Research Chair in Materials Science and SFU chemistry professor leading the $19.5-million project. "By engaging with a large community of industry, government and NGO partners, we will move this research out of the lab and into society to solve current and future challenges in important areas such as energy, health and communications."
Undersea research frontier opening up
Dr. Laurence Coogan, associate professor in the School of Earth and Ocean Sciences, is the project leader for a research initiative receiving $1.62 million through the CFI.
Coogan says the project will create an "unprecedented opportunity" by attaching new scientific instruments to the underwater cable operated by UVic's Ocean Networks Canada (ONC) NEPTUNE Canada observatory to enable real-time data observations and sampling at the hydrothermal vents from subsea volcanoes.
"This is really going to open up new opportunities for researchers to understand how mid-ocean ridges work," says Coogan, who will lead a team of 10 researchers from seven institutions across North America on the $4-million initiative. "This is one place where we can watch the creation of new ocean crust take place in real time. The process of regeneration of the crust has a broad impact on the ocean and is one of the fundamental aspects of how our whole planet works."
The Endeavour node is considered a frontier for earth sciences researchers, partially because scientists haven't been able to get easy and reliable access to the deep-sea sites.
The new installations will roughly triple the level of instrumentation currently at the mid-ocean ridge node, more than 200 km off the Pacific coast at a depth of more than 2 kilometres.
"This funding support will nearly triple Ocean Networks Canada's current instrumentation at this spectacular location in the deep ocean," says Kim Juniper, NEPTUNE Canada's Associate Director of Science. "It's a huge vote of confidence in the technology we offer to the global research community."
Most previous research at mid-ocean ridges involved ship-based investigation, with retrieval of data and samples delayed by weeks or even months.
"We'll now be able to understand what's happening immediately after a volcanic eruption or other disruption and understand how changes in the environment affect the surrounding ecosystems," Coogan says, adding that installation is expected over the next few years with the data available to anyone who registers through ONC and NEPTUNE Canada to access it.
NEPTUNE Canada videos on Coogan's work: Part 1, Part 2, Part 3, Part 4
Photos
In this story
Keywords: funding, Earth and ocean science, technology
People: Alex Brolo, Laurence Coogan, Kim Juniper