Apps help revitalize Aboriginal languages
- Tara Sharpe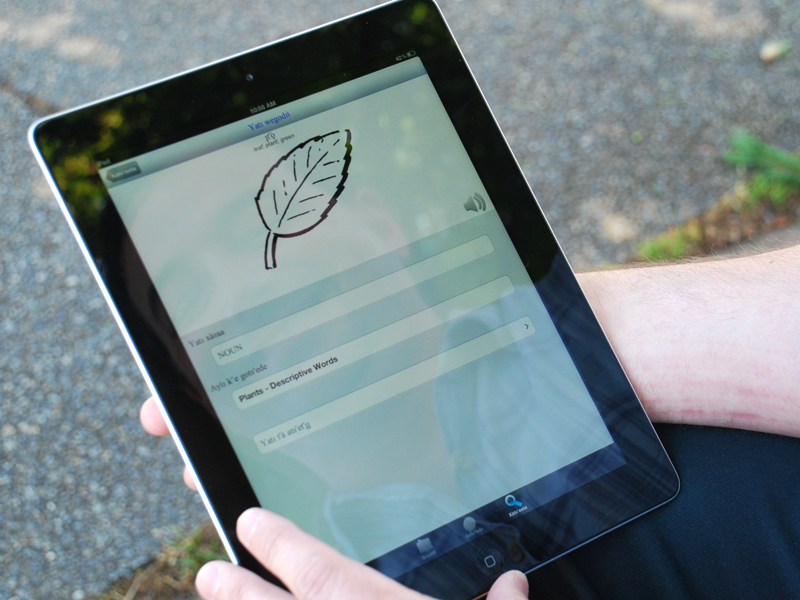 For millennia, Aboriginal words have been passed along orally from generation to generation. Now, on iPads and iPhones, speakers and learners of the Tłįchǫ language can hear and see over 1,300 words and phrases with sounds, pictures and the voices of elders.
UVic and the Tłįchǫ Community Services Agency in the Northwest Territories released the Yati Dictionary App May 18 on iTunes. Users can quickly look up words and phrases, compare their voices to professional studio recordings, and even add additional words that aren't listed—a very valuable feature for future research and development efforts.
Conceived by programmer Chris Coey of UVic's linguistics department, the new app is an important element in the department's plan to publish high-tech language tools. (Coey recently received a President's Distinguished Service Award for this and similar work: http://bit.ly/feo03S.)
Tammy Steinwand-Deschambeault and Dr. Leslie Saxon (linguistics) continue to develop and refine the content of the app. The app can be downloaded for free on iPod, iPad or iPhone. More info: http://bit.ly/JvV8cs
The Endangered Languages Project (www.endangeredlanguages.com) also went online this spring, launched by Google and the First Peoples' Cultural Council of BC. The new site "will bring language champions together from around the world to share language revitalization tools and to network and support each other in this sacred work," says UVic Canada Research Chair in Indigenous Knowledge and Learning Dr. Lorna Williams, who is also chair of the council.
 
Photos
In this story
Keywords: technology, Indigenous language
People: Chris Coey, Tammy Steinwand-Deschambeault, Leslie Saxon