Science Venture: Not your typical science class
- Rosie Westwood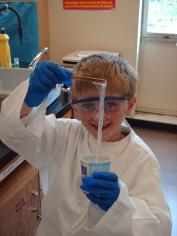 In the remote First Nations community of Yuquot on Nootka Island, the children know the name: Science Venture.
Last summer, the youth explored the island's shoreline and learned about the area's rich marine life and its traditional uses.
It was part of a week-long outreach camp that saw members of UVic's Science Venture program travel by land, boat and air to bring the excitement of science to local youth. Yuquot is one of eight remote communities on Vancouver Island that hosted an outreach camp last summer.
The camps are only a part of Science Venture's efforts to connect with First Nations youth, and just an indication of the program's incredible reach.
This year marks Science Venture's 20th anniversary. The program began as the brainchild of two UVic engineering students who wanted to bring kids the joys and possibilities of science through hands-on and interactive learning.
It was the first program of its kind in British Columbia. And from that first summer, where 140 kids learned to love the sciences, the program has grown to reach 8,198 children and youth from Grade 1 to Grade 12 this past year.
Melisa Yestrau, executive director of Science Venture, says that growth will only continue.
"We want to dispel the stereotypes of science and engineering and technology, and show that anyone can do it, and it's so relevant to anything you do in your life."
Innovative teaching is key to the program's success. Science Venture hires UVic students to teach and facilitate its various programs—from summer camps and in-school workshops to clubs and special events. These students create dynamic, fun programming that brings science to life.
Their efforts were recognized this January through the Actua & GE Canada Award for Leadership and Innovation. Actua is a national organization of programs like Science Venture that seek to expose kids to science.
Jace Meyer, Camp Coordinator and fourth-year education student, says Science Venture's "hands-on, minds-on" approach inspires youth to ask questions and pursue their curiosity, "creating life-long learners."
The program seeks to reach not only the greatest number of youth, but also a wide diversity. Through all-girls programming, Aboriginal outreach and bursaries, Yestrau works to make sure no child is denied an encounter with blue-coloured goop in the chemistry lab or the chance to build their own remote-controlled car.
For Meyer, that inclusion is hugely important.
Last summer she worked with an autistic boy at one of the camps. They spent much of their time together in the biology labs. The boy had struggled in kindergarten and his parents were concerned about whether he would be able to enter Grade 1 in the fall.
"When we were looking through the microscope everything else seemed to go away," says Meyer. "This little boy was able to rest for a moment and just focus on the beauty of the specimen under the microscope."
The experience gave the boy's parents confidence that he could go on to Grade 1.
Science Venture's remarkable growth would be impossible without the support of UVic's engineering, science and education faculties. Professors volunteer their time as mentors throughout the summer and help direct programming year-round.
"It's exciting to see all the changes and growth in the program over the years," says Yestrau. She wants to continue partnering with communities and growing both Science Venture's reach and the quality of its programming.
"We're always looking at new and innovative ways of getting kids excited." To that end, Science Venture is launching a "mini-med camp" this summer—its first foray into medical science.
Like that young boy with the microscope, a generation of Vancouver Island youth has been touched by Science Venture's 20 years of programming.
Yestrau says students often pass her office and remark, "Hey, I did Science Venture."
It's a refrain she's likely to hear echo across the Vancouver Island in years to come, from Yuquot to Victoria and beyond.
Photos
In this story