Theatre grads create their own careers on the Fringe circuit
- Adrienne Holierhoek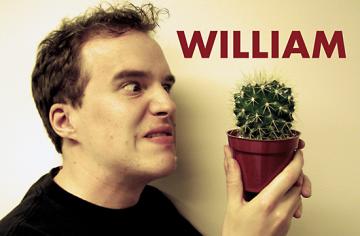 Not having a job after graduation can be scary for any student. But for many UVic Theatre alumni, playing on the Fringe circuit allows them to create their own job… and their own success.
Andrew Wade, who graduated this past spring with a double major in Theatre and Writing, is working the Victoria and Vancouver Fringe Festivals to "get himself out there" and using a variety of skills he developed at university. This summer he performed in his own play, William vs the World, directed BFA: The Musical!, stage managed Sonnets for an Old Century and is currently preparing for his one-man play in Vancouver, The Mad Hatter's Tea Party. (Oh, and if that's not enough, he's also acting in a short independent film!)
"I approach it from the mentality of moving in all directions at once," says Wade. "I'm going to auditions, revising my scripts, researching new opportunities, and working on new clips for my film reel."
A launching pad for many successful careers in theatre, fringe festivals, like the Victoria Fringe Theatre Festival, present randomly chosen, unjuried plays where the artists involved walk away with the ticket revenue. This year there were over 30 UVic theatre students and graduates involved in Victoria.
Wade, like many emerging theatre artists, sees the Fringe as an opportunity to workshop his new plays. "It's forcing me to get a couple of shows under my belt so I have something to work on in the future." But the Fringe experience also helps him grow his knowledge of theatre communities across the country and get some practical touring experience. "I'll be moving back to Vancouver in September, and it's important to reconnect with the theatre community."
Interestingly, BFA: The Musical!, written by graduates of the UVic writing department Meghan Bell and Natalie North, parodies the angst of new grads facing the world for the first time. "It's the tale of five friends with BFA degrees from UVic. Classes have ended and when the real pressure to perform begins they discover their degree isn't the end of their learning. They grow as people, and most of that growing is done through song," says Wade with a grin.
No doubt Wade and his team are hoping that their Fringe experience will follow in the footsteps of other UVic Theatre alumni. People like Charles Ross (BFA '98) whose One-Man-Star Wars production has made the leap from Best of Fringe and constant sold out shows to touring mainstream theatres across the United States and even the approval of and a private viewing with George Lucas himself.
Legoland, an off-beat comedy written by previous student Jacob Richmond and directed by Britt Small (MFA '04) (collectively known as Atomic Vaudeville) was also a hit on the fringe circuit. Featuring alumni Celine Stubel (BFA '02) and Amitai Marmorstein (BFA '07), Legoland went on to tour festivals from Vancouver to Toronto and New York to Los Angeles, winning awards for "Best New Play", "Best Actress", "Critic's Choice," "Festival Favorite" and "Pick of the Fringe." In 2008, the play was picked up by Toronto's Theatre Passe Muraille for their mainstage season.
"The Fringe circuit has proven to be a great venue for boosting emerging talent into the limelight. A lot of UVic theatre grads have successfully launched their careers through independent Canadian touring," says Small.
Legoland's impressive track record greased the rails for their most recent project, Ride the Cyclone, billed as the sequel to Legoland. The mostly UVic theatre alumni cast, including Kholby Wardell (BFA '08), Rielle Braid (BFA '09), Carey Wass (BFA '08), Sarah Jane Pelzer (BFA '09) and Celine Stubel (BFA '02) workshopped and presented the play locally. In 2010, the roller coaster ride really began when they received an invitation to participate in the largest juried festival in Canada, SummerWorks, located in Toronto, winning the 2010 SummerWorks Prize for Production and the NOW Magazine Audience Choice Award.
Ride the Cyclone also garnered unprecedented critical acclaim from The Globe and Mail, being called "…probably the most uproarious and outrageous piece of musical theatre Canada has ever produced" and the most exciting thing to happen to Canadian musical theatre since The Drowsy Chaperone. These awards and exultant praise have landed them a Canadian tour–including a sold-out run in Victoria's Belfry Theatre, Vancouver, Whitehorse and Toronto again–and a deal with international theatre producer Morris Berchard, who bought the rights for American, Canadian, and UK tours, with the intention of going off Broadway.
In 2006, alumna Ingrid Hansen (BFA '09) created SNAFU Dance Theatre with a mandate for "renegade outdoor dance theatre." Her production of Pretty Little Instincts won Victoria's Critic's Choice Best Fringe Show in 2009 and has been steadily touring and growing a following across Canada. This summer she and many other alumni in her company including Emily Opal Smith (BFA '10), Lindsay Woods (BFA '10), Sarah Jane Pelzer (BFA '09), Anne Cirillo (MFA Candidate) and Emily Piggford (BFA '11), participated in SummerWorks in Toronto. And with the success of those before her, who knows?
Back in Victoria, Andrew Wade doesn't feel the worry of the characters in BFA: The Musical! "Honestly, if I don't find work, I'm not worried. I know that I can make my own."
Photos
In this story