Opera premiere of Mary's Wedding enhanced by UVic WWI archives
- Susan Henderson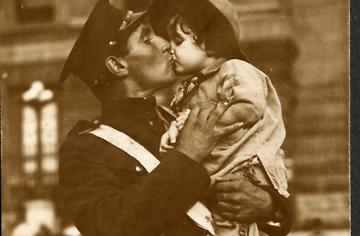 An inspired collaboration between Pacific Opera Victoria and the University of Victoria Libraries has resulted in the creation of exhibits and displays that draw us into "The World of Mary's Wedding." The opera Mary's Wedding about to make its world premiere by Pacific Opera Victoria on Nov. 10, is based on one of Canada's best loved plays written by Stephen Massicotte. The story shifts from the Canadian prairies to the battlefields of Europe.
The World of Mary's Wedding: Reminiscences of World War I from the University of Victoria Archives and Special Collections exhibits and displays may be viewed:
at the Maltwood Gallery at the McPherson Library Oct. 22 to Nov. 17;
in the Archives & Special Collections Reading Room at the McPherson Library, Oct. 24 to Dec. 16;
at the Gallery at the MAC, upper space (McPherson Playhouse) Nov. 8 through 20;
and on a dedicated website at http://worldofmaryswedding.library.uvic.ca.
It's a wonderful opportunity to examine first-hand the materials from the libraries' collections that chronicle the First World War. The exhibit is in three parts: Private Remembering (letters, diaries, personal photographs, scrapbooks), Collective Remembering (the military artifacts of war), and the Art of Remembering (war art, drama, poetry and music).
 
Photos
In this story
Keywords: marys, wedding, exhibitions