Honours for achievements in the arts, business and law
- Mike McNeney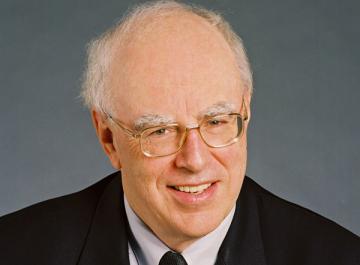 Four honorary degrees will be presented during Fall Convocation ceremonies to recipients representing outstanding support of the visual arts in Canada, community-oriented leadership in business, advocacy for the wrongly accused and groundbreaking filmmaking.
Michael Audain

Honorary Doctor of Laws, (10 a.m., Nov. 10)
Michael Audain, chair of the National Gallery of Canada's board of trustees, is widely known for his deep interest in, and generous philanthropic support for the arts.
He was a founding member of the Bill Reid Foundation, served as president of the Vancouver Art Gallery and is chair of the Vancouver Art Gallery Foundation. In 1997 he created the Audain Foundation for the Visual Arts, which has become the single largest supporter of the Vancouver Art Gallery.
Audain was born in England and came to Victoria with his family when he was nine years old. A descendent of the Dunsmuir family, he attended Victoria College from 1959–60, completing two years of study in a single year. He studied political science at UBC and took an active role in the creation of the BC Civil Liberties Association, hosting the group's inaugural meeting.
Audain later studied at the London School of Economics and, after a career in housing policy and social planning, he joined Vancouver-based Polygon Homes in 1980. Under his leadership (as CEO and now as chairman), Polygon has built more than 17,000 housing units across the Lower Mainland.
Alex A. Campbell

Honorary Doctor of Laws (2:30 p.m., Nov. 10)
Alex A. Campbell started in the grocery business at the age of 15, stocking shelves and bagging groceries for the Super Valu chain. He worked his way up and in 1973 he opened the 49th Parallel Grocery in Ladysmith. Four years later, he and co-founder Ernie Skinner opened their first Thrifty Foods store, in Victoria, beginning a tradition of "being in the business of building better communities."
The success of Thrifty Foods is a testament to Campbell's business acumen as well as his dedication to his customers, staff and suppliers. Campbell set a high standard of community involvement, making Thrifty Foods a model of corporate citizenship and encouraging individual employees to take leadership roles in their communities.
The company's contributions to the BC Cancer Agency, the Greater Victoria Hospitals Foundation, Boys and Girls Clubs, and the ALS Society are just a few examples of the depth and breadth of its community initiatives.
Campbell remained chair of Thrifty Foods until 2007 when the 21-store chain was sold to Sobeys. He now serves as chairman emeritus and continues to provide his guidance and advice as a member of the company's advisory board.
Deepa Mehta Honorary

Doctor of Laws (2:30 p.m., Nov. 9)
Filmmaker Deepa Mehta was born in India and after coming to Canada in 1973 began her career as an editor, producer and director of television dramas.
In 1996, she wrote, directed and produced Fire, the first film in her "elemental trilogy." It became the subject of controversy in India as Hindu fundamentalists pressured the Indian government to ban the film because of its lesbian content and its questioning of the destiny of marginalized Indian women. The film went on to receive 14 international awards.
The next installment, Earth, dealt with nationalism and the politics of land, friendship, identity and family during India's partition from Pakistan. It, too, created controversy, drew criticism and generated wide acclaim from critics and audiences.
The final film in the series, Water, was delayed and forced to move from its principal filming location in the holy city of Varanasi when Hindu fundamentalists rioted and Mehta received death threats. Water, centring on the practice of child marriage and the treatment of widows, was nominated for an Academy Award in 2007 (Best Foreign Film) and won three Genie awards, including best film.
James Lockyer

Honorary Doctor of Laws (10 a.m., Nov. 9)
James Lockyer is a gifted criminal lawyer and tenacious activist, particularly in his pursuit of justice for the wrongly convicted in Canada.
He has worked, often on a pro bono basis, on more than 10 wrongful conviction cases in Canada, including those of Guy Paul Morin, David Milgaard, Clayton Johnson and Steven Truscott, who was acquitted after 47 years of battling his wrongful conviction for the murder of his 12-year-old classmate Lynne Harper.
Lockyer is the founding director of the Association in Defence of the Wrongly Convicted, a non-profit organization established in 1993 to eradicate the conditions that can cause miscarriages of justice. His relentless efforts have greatly influenced the teaching, practice and reform of criminal law in Canada and he has worked to ensure that miscarriages of justice are minimized at the investigation and trial stages.
In addition, he has devoted 25 years of his private life to assisting developmentally challenged individuals in Ontario. In 1984 he co-founded New Leaf, a rural residential and day activity facility north of Toronto. It provides services for individuals with the dual diagnosis of developmental disabilities and mental health issues.
Photos
In this story