Driven to make a difference
- Anne MacLaurin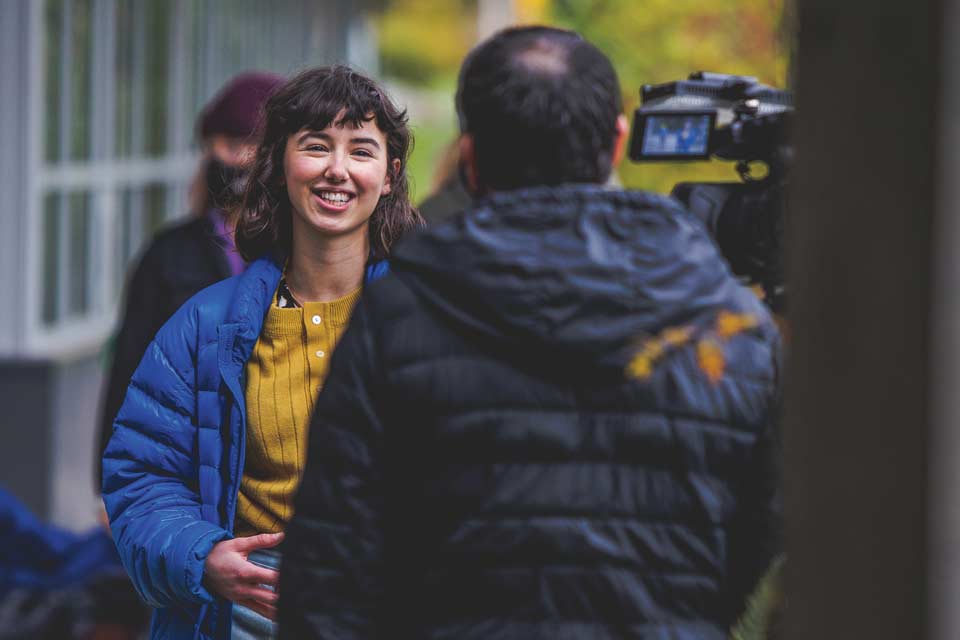 As a high school student, Emily Lowan felt afflicted by the severe reality of the climate crisis. In response—unable to bear the weight—she felt compelled to act. She organized her peers to vote in the provincial election and spent countless hours protesting on the lawns of the BC legislature.
As Lowan applied to universities, she says she was skeptical that these isolated institutions could provide her with the practical skills required to enact transformative change.
"I didn't expect to find an outlet for activism during my time at UVic," says Lowan, graduating this month with a BA major in political science and minor in environmental studies, with a co-op distinction.
In her first year, she had doubts—most of her professors were "apathetic and painfully out-of-touch with the nature of the climate emergency," says Lowan.
She found her political home at UVic by fluke, stumbling into a Divest UVic protest early one morning.
"It was a pleasant surprise to find the wonderful people at Divest UVic and the Corporate Mapping Project, where I built new muscles as a political organizer and deepened my understanding of activism through social movement theory and investigative research methods," she explains.
Drawn to UVic because of its environmental studies program, Lowan was particularly interested in political ecology professors, such as James Rowe.
I love that my research focus of climate justice politics informed my ever-evolving theory of change, shaping my approach to political activism and community-engaged research projects."

—Graduating UVic political science student Emily Lowan
As a recipient of the UVic Excellence scholarship, Lowan received funding for her undergraduate program. She also was one of six finalists in BC competing for an Oxford Rhodes Scholarship. It was the Divest UVic campaign, however, that inspired her to run for the UVic Student Society Director of Campaigns position, which she considers a formative experience that allowed her to practice, implement and experiment with politics and social movement theory.
As President Hall took the helm as UVic's new president, Lowan led Divest UVic's successful campaign—covered by Macleans University Rankings in June 2022—during which Lowan and eight other UVic students painted a 14-foot mural in front of the administration building.
"I'll always look back fondly on the time when I blockaded the university administration building; for hours, I sat numbly on the cold concrete, arms linked with my peers in our protest for full fossil fuel divestment," says Lowan.
"In political science, I focused on international law and relations, which helped develop and hone my understanding of climate politics, historical and ongoing injustice," adds Lowan.
In her third year, Lowan received a Jamie Cassels Undergraduate Research Award (JCURA).
"In my JCURA research project, I worked with Dr. Claire Cutler to examine the political, legal, and economic vulnerabilities in BC's Personal Protective Equipment (PPE) supply chain during the COVID-19 global pandemic," explains Lowan.
"It was fascinating to delve into a live-issue research project outside my typical realm; however, there were many lessons relevant to the climate crisis—interviews with public servants revealed many constraining dynamics and stumbling blocks in public emergencies."
"I love to solo-travel on the cheap, swim in the ocean year-round, meander in the forest, and experiment with collage," says Lowan.
After graduating, Lowan is launching into full-time work at Climate Action Network Canada as a political strategist and campaign lead on coalitions related to the anti-pipeline protest, divestment, and federal climate policy. 
"This is my dream job," says Lowan, "I can apply my activist lens to the work I do with our community partners."
Photos
In this story
Keywords: convocation, climate, student life, environmental studies
People: Emily Lowan
Publication: The Ring