UVic adds billions to provincial economy, benefits extend throughout society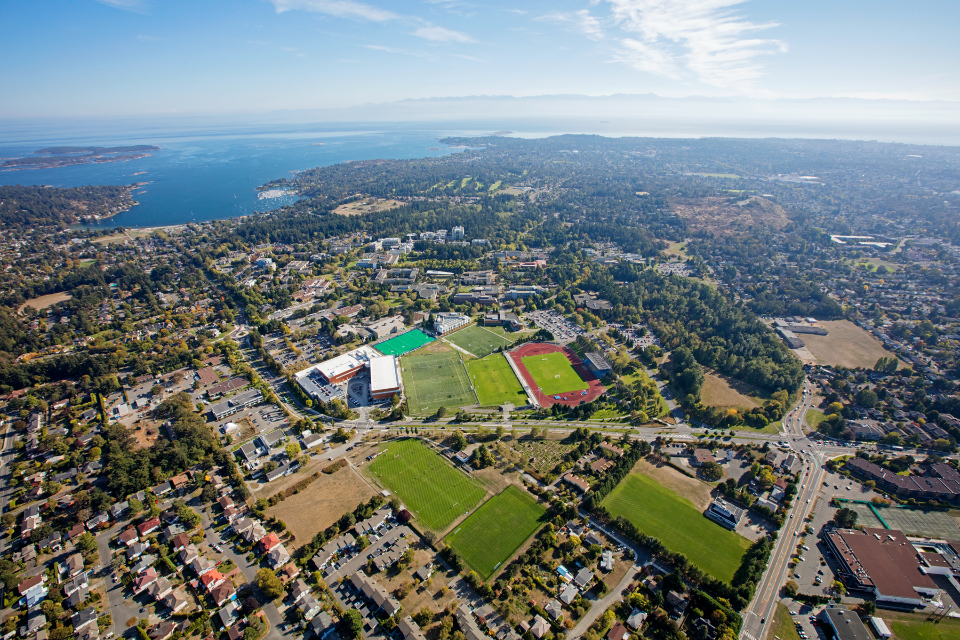 The University of Victoria's activities, students and alumni help generate $3.3 billion to BC's economy and overall prosperity, an independent study and analysis has determined.
The independent report by Emsi Burning Glass, released today, indicates that UVic's total impact in BC supported 40,595 jobs. The economic impact for Greater Victoria is $1.8 billion, or one of out of every nine jobs.
"UVic is a proud partner in the Greater Victoria and BC economy," says UVic President Kevin Hall. "The investment in our students, research and operations creates benefits for local businesses, community partners, taxpayers as well as society as a whole by creating a more prosperous economy. Without a doubt, our ability to make this impact relies on our partners and supporters."
The university adds value in many ways in addition to helping students increase their employability and achieve their individual potential. UVic facilitates new research, fosters innovation and entrepreneurship and enables arts and cultural activities. A direct contributor to economic growth through spending as an employer and buyer of goods and services, the university also draws visitors generating new dollars and opportunities for the region.
The report, released at a Greater Victoria Chamber of Commerce event, provides a local and provincial economic impact analysis for the fiscal year 2019/20. Areas of focus include operations, research, construction, visitor and student spending as well as spin-off companies and alumni impact.
"From the networking sessions to customizable assignments, I was fully supported by the professors and the wider UVic community, which allowed me to not only graduate with an MBA degree but also set the foundation for the success of FreshWorks," says Sam Mod, CEO and co-founder of FreshWorks Studio, an award-winning firm that designs and develops custom apps.
"We have grown FreshWorks to 100+ diverse individuals representing 21 different countries and speaking 31 languages in beautiful Victoria. It helped us to put Victoria on the map."
The study also considers UVic as an investment from the perspective of students, taxpayers and society concluding it provides a strong return on investment that includes social benefits throughout the province.
Data from the report also shows that despite COVID-19, UVic's impact continued to grow in fiscal year 2020/21.
Report highlights:
UVic is a home for research and innovation, which provided $281.3 million to the province and $213.9 million in added income to the region.
UVic contributed $3.3 billion to the BC economy and $1.8 billion in added income to the Greater Victoria economy.
UVic activities and students supported one out of every 69 in the province and one out of every nine jobs in Greater Victoria.
The increased earnings of alumni contributed $2.4 billion to the province and $917.2 million in added income to the region.
There were 10,000 faculty and staff employed full or part-time (7,635 full-time equivalent) at UVic, with a payroll of $344 million.
UVic attracts students and visitors from outside the region and around the world who spend money on food, accommodation and entertainment. Their spending added $182.2 million in income to the province and $171.3 million to the region.
UVic supports the community. For every $1:
Students gained $1.40 in higher earnings over their working lifetime.
Taxpayers gained $2.70 in added tax revenue and public sector savings.
Society gained $4.20 in added provincial revenue and social savings.
"UVic is an important economic engine for Greater Victoria, not only as a large employer but also for the vital role it plays in educating the future workforce and contributing expertise, thought leadership and innovation," says Emilie de Rosenroll, founding CEO of South Island Prosperity Partnership." 
For more information, read the Executive Summary uvic.ca/economic-impact.
View Fact sheet on provincial impact
View Fact sheet on regional impact
-- 30 --
Photos
Media contacts
Denise Helm (University Communications + Marketing) at 250-721-7656 or dhelm@uvic.ca
In this story
Keywords: government, partnerships, rankings, research, staff, employment, co-op, education, community, sustainability, administrative
People: Kevin Hall, Emilie de Rosenroll, Sam Mod