UVic Style Guide update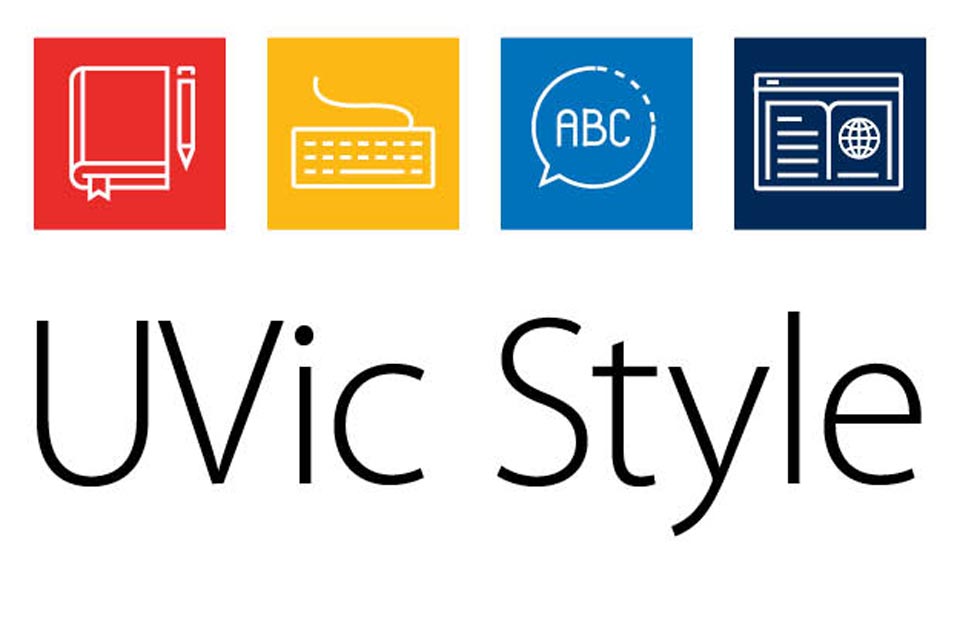 Beyond the Oxford comma
This year's updates will help writers do a lot more than properly capitalize Senate, accent the Michèle Pujol Room or choose the Latin suffix for an alum. 
The UVic Editorial Style Guide, which helps campus writers avoid inconsistencies in spelling, capitalization and other matters of editorial style, has been updated and reissued by University Communications + Marketing (UC+M). The 2019 update better reflects the evolution of inclusive language around gender and sexuality, and spells out commitments to respectful use and typographic representation of Indigenous place names, partners and subjects.
The 2019 edition also expands and solidifies core principles of respect when writing about students, staff, faculty and partners.
The guide should be used by academic and administrative units for print and web materials—but not for academic, scholarly or research texts. When preparing marketing and general communications materials, official correspondence and reports and submissions to university governing bodies, following the guide helps support the quality and consistency of materials that represent the university.
In addition to contributions by communications staff from across the university, this update benefitted from input and assistance by several key members of the UVic community, including UVic's (and world's only) Chair in Transgender Studies Aaron Devor, Equity and Diversity Manager Kamilla Milligan, Director of Indigenous Education Jean-Paul Restoule and LE,NONET Academic Manager Rob Hancock.
The first edition of the style guide was issued in 2007, receiving a minor update in 2015 to address changes in use for internet-related resources. As a living document, it's expected to evolve as new editorial questions arise and language and usage change. To that end, the definitive source will be maintained online at uvic.ca/style, including any announcements of additions, changes and updates.
A limited number of print copies of the 2019 guide are available on request from Mandy Crocker (mcrocker@uvic.ca, local 8587). University Communications + Marketing can also help with other editorial questions you may have including interpretation of points in the guide or matters of spelling. Please call 250-721-6022 or email ring@uvic.ca.
Photos
In this story
Keywords: administrative, writing
Publication: The Ring