Concussion and the Caped Crusader: Batman's big screen impact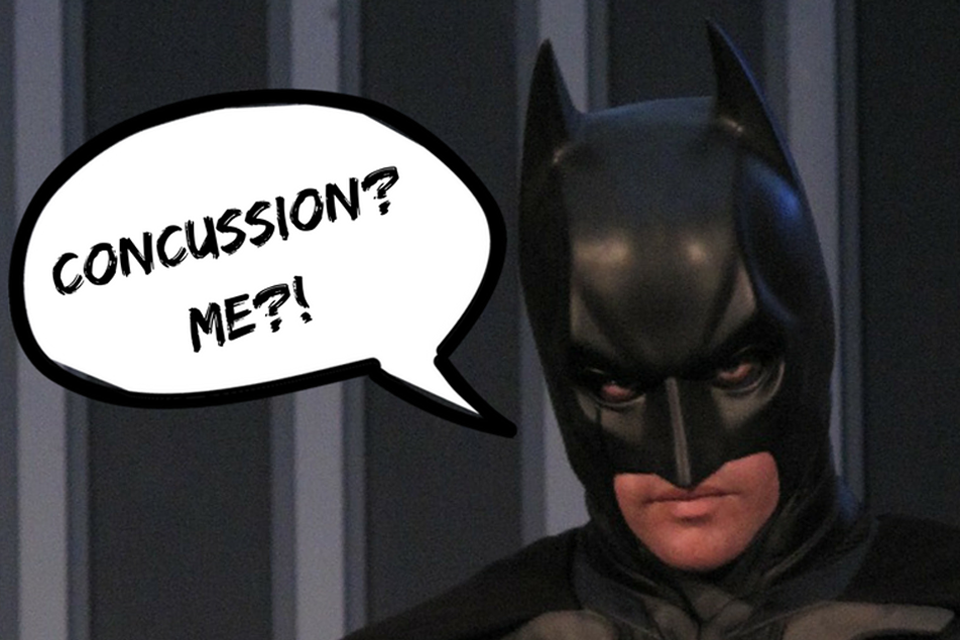 Batman is a superhero with no superpowers. Since his debut in 1939, it's his humanity and vulnerability that made him one of the most compelling comic and movie superheroes. He defeats criminals using his highly trained fighting skills with nothing but his bat suit for protection. His body and brain have taken a massive beating in his movie incarnations, but he's never shown any signs of concussion.
In the paper
Can Concussion Constrain the Caped Crusader?
published this month in the
British Journal of Sports Medicine
, University of Victoria neuroscientist E. Paul Zehr and physician Bruce Wright use Batman's big screen career to highlight the cumulative effect of repetitive head injury.
The authors surveyed the 10 big screen versions of Batman—from the black and white movie serialization of 1943 to this year's blockbuster
Batman V Superman
—and assessed each fight, accident and incident involving the Dark Knight for possible exposure to concussive impact.
In this paper Zehr and Wright found that across the 10 films spanning 73 years, Batman is exposed to a staggering 176 potentially concussive events—or just over six per hour of screen time. Some versions of the character have done really well—the lowest exposure was Val Kilmer's Batman in 1995's
Batman Forever
(just three events per hour)—and others not so well—the highest exposure is Ben Affleck's version in 2016's
Batman V Superman
(almost 11 events per hour).
Zehr, Director of UVic's Centre for Biomedical Research, is also an award-winning science communicator and author of
Becoming Batman: The Possibility of a Superhero
(2008). He's a regular speaker at San Diego International Comic-Con, teaches the world's only
Science of Batman
course at UVic, and is no stranger to assessing superhero occupational health and safety.
"The thing with Batman is that he's always been pitched as a human being—an exceptional one with the best combination of genetics, training and toughness—but still a human like us," says Zehr. "The other side of that coin means he should respond as a human to injuries like head impact leading to concussion." Until now, though, no one has assessed this issue in detail.
The repeated exposures suggest Batman is also at risk for chronic traumatic encephalopathy—CTE—the current concern for many who play sports like football and hockey, or who are on active combat military duty. These issues are also discussed further by Zehr in two blog commentaries, "
Batman & Brian Injury
" in
Psychology Today
magazine and "
Concussion and the Caped Crusader
" in ComiConverse, released simultaneously with the journal paper.
"We really hope that work like this, while topical, fun and engaging, helps raise awareness of the problem of effectively identifying and handling concussion," says Wright, head of the Division of Medical Sciences and Regional Associate Dean of Medicine (Island Medical Program) at UVic.
"Using fictional characters can help highlight real world issues," adds Zehr. "Thinking of the damage that Batman would experience in real life helps us appreciate the true severity and common occurrence of head injuries."
-- 30 --
Photos
Media contacts
Dr. E. Paul Zehr (UVic Centre for Biomedical Research) at 250-472-4067 or cfbr@uvic.ca
Suzanne Ahearne (University Communications + Marketing) at 250-721-6139 or sahearne@uvic.ca
In this story
Keywords: biomedical, batman, concussion, brain, research, Centre for Biomedical Research
People: Paul Zehr, Bruce Wright