Ground-breaking marks transition to construction phase of student housing and dining project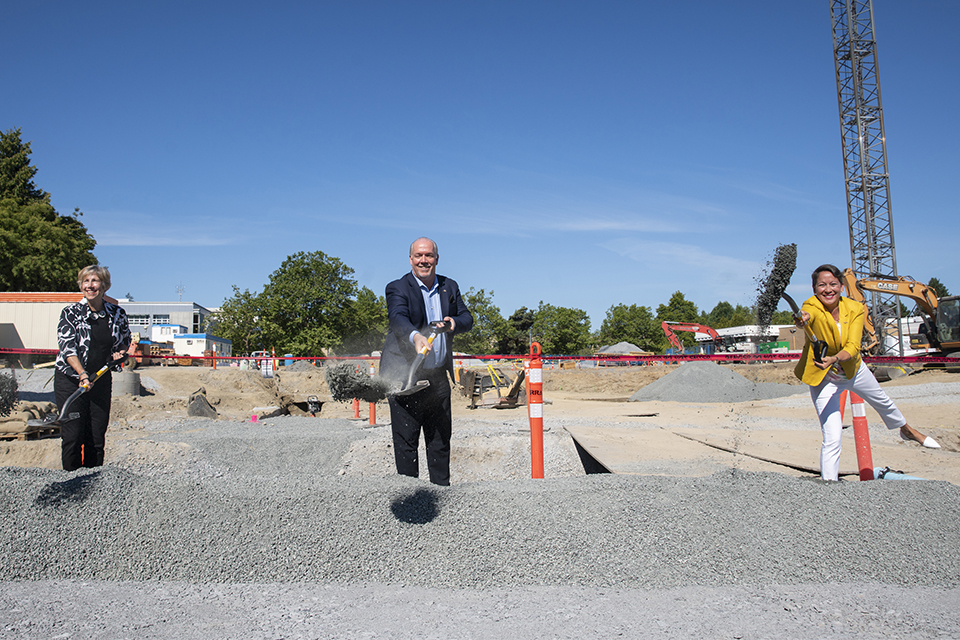 Premier John Horgan and Minister of Advanced Education and Skills Training Melanie Mark attended a ground-breaking ceremony for the Student Housing and Dining project at UVic on July 27, near the site of the two new buildings. The brief ceremony at the building site was hosted by Vice-President Finance and Operations Gayle Gorrill.
"With 75 per cent of our students arriving from outside Greater Victoria, it has long been a strategic priority for the University of Victoria to provide more on-campus housing," said Gorrill. "Living on campus contributes to the educational experience and success of our students and we are grateful this project will provide a welcoming home away from home."
Living on campus is the perfect place to become involved in campus culture, find a community of likeminded students only steps from your door, and ease the transition into university life. Looking back on my first year, there were so many new experiences and opportunities I hadn't even imagined. I'm so glad I made the decision to live in residence and be a part of the UVic community right off the bat. With more housing options right on campus, I know future students will have a great experience at UVic.
—Alyssa Husband, UVic fifth-year education student
While COVID-19 may have closed many campus buildings in the spring and necessitated a transition to online learning and working, the pandemic did not slow down the progress of the three-year $232.4 million project.
The initiative to create 621 new student housing spaces, plus a modern 600-seat dining hall, classrooms and conference space, is the first major capital project since the university's Campus Plan was renewed in 2016. Fencing at the main project site was installed in January, and work to upgrade underground services across Ring Road took place from March to May.
"We couldn't have predicted the past few months, but having fewer people on campus actually worked in favour of this large project," says Mike Wilson, director of campus planning and sustainability. "We are moving ahead this summer with deconstruction of the old buildings, and people will start to see the structural forms of Building 1 going up by September. It is a very large site, so it is relatively easy for the crews to maintain the physical distancing requirements."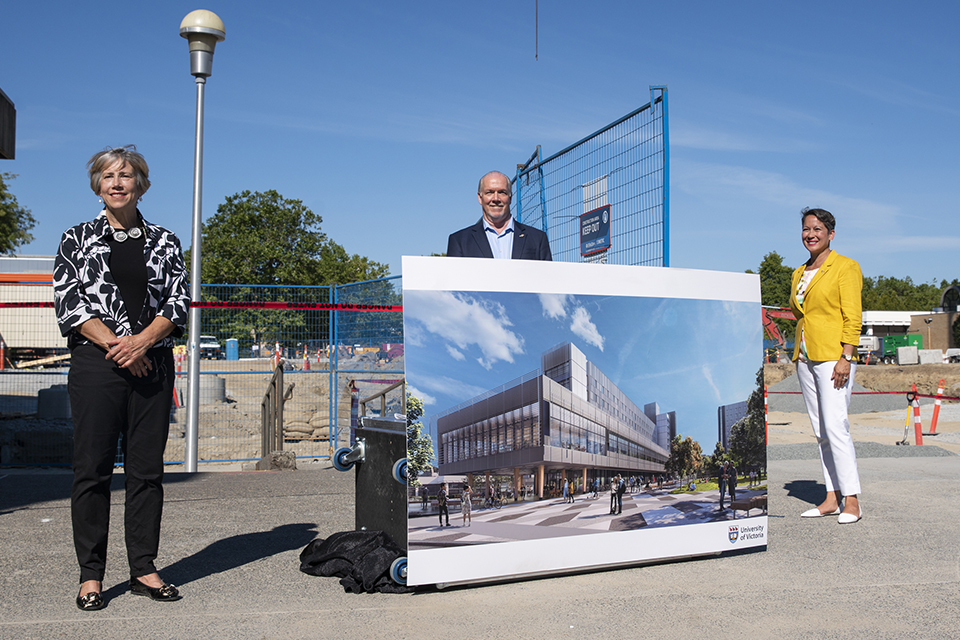 The two new student housing and dining buildings will be located outside of Ring Road south of the Student Union Building. They are replacing the Cadboro Commons Building as well as Margaret Newton and Emily Carr residences.
The buildings will offer traditional dorm rooms, and new "community-living" style rooms with a shared kitchen and living area. Following UVic's Indigenous Plan, the buildings will include an Indigenous student lounge and design elements that embrace and reflect Indigenous history and culture, as well as group and classroom space. 
Spirit of place
In January 2020 an Indigenous blessing ceremony took place at the site, bringing together campus leaders, students and members of the Songhees, Esquimalt and W̱SÁNEĆ nations to show respect for the land and acknowledge the history of traditional territories where UVic resides. The ceremony also honoured the Elders who have guided the project team in incorporating Indigenous design elements and teachings.
Design and construction of the new buildings will meet the most rigorous global building standards for sustainability and energy efficiency: both Passive House and Leadership in Energy and Environmental Design (LEED) Gold standards. Passive House standards use more than 75 per cent less energy for heating and cooling and 50 per cent less overall than a typical building, while LEED V4 is an internationally recognized, third-party rating system based on energy and environmental principles. The use of wood as a primary building material will significantly offset the carbon footprint of the project. 
All of UVic's new campus buildings have been constructed to the LEED Gold sustainability standard since 2007. Read more about UVic's three latest building projects.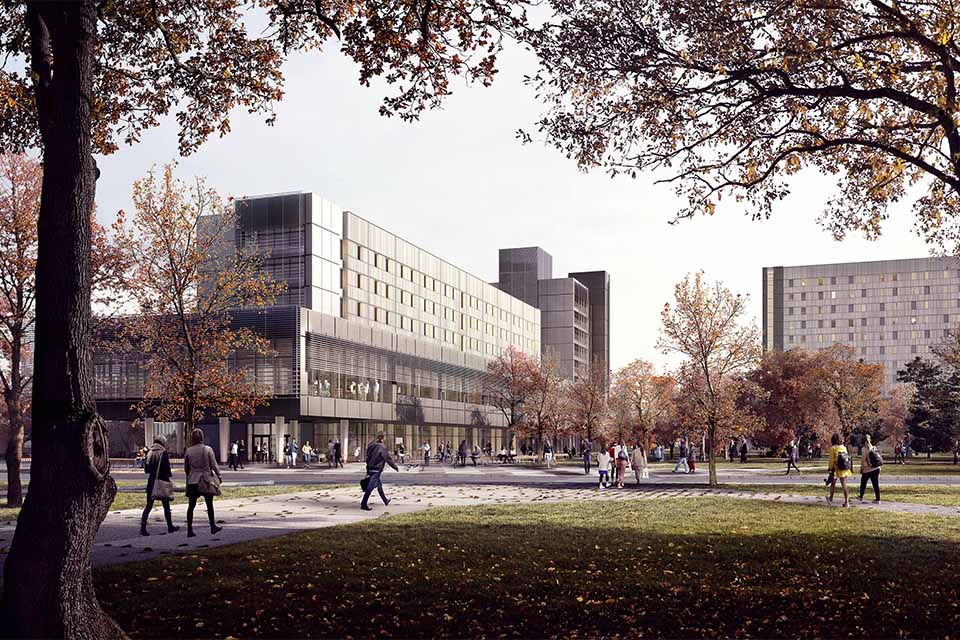 Food services: The MOD
With excavation beginning at the construction site, the MOD–a modular dining facility–has moved into Parking lot B, across Ring Road. Craned into place in 30 separate sections and assembled on site, the 500-seat MOD will serve as the residence dining hall during the construction period. Testing of the commercial kitchen, which will provide the same diverse range of quality food service options as were previously available in the Commons Kitchen, will take place during August. The MOD will be operational from September 2020 until summer 2022, when the state-of-the-art dining hall in Building 1 becomes operational.
Rooms in Building 1 will be available for students beginning in September 2022. All new housing, dining, meeting spaces and classrooms in both buildings will be available by early 2023.
The B.C. government is investing $450 million in the construction of approximately 5,000 student beds between 2018 and 2023. Read the BC news release.
For updates and more information visit the project website.
Photos
In this story