Čeqʷəŋín and Sŋéqə: Reclaiming Indigenous place names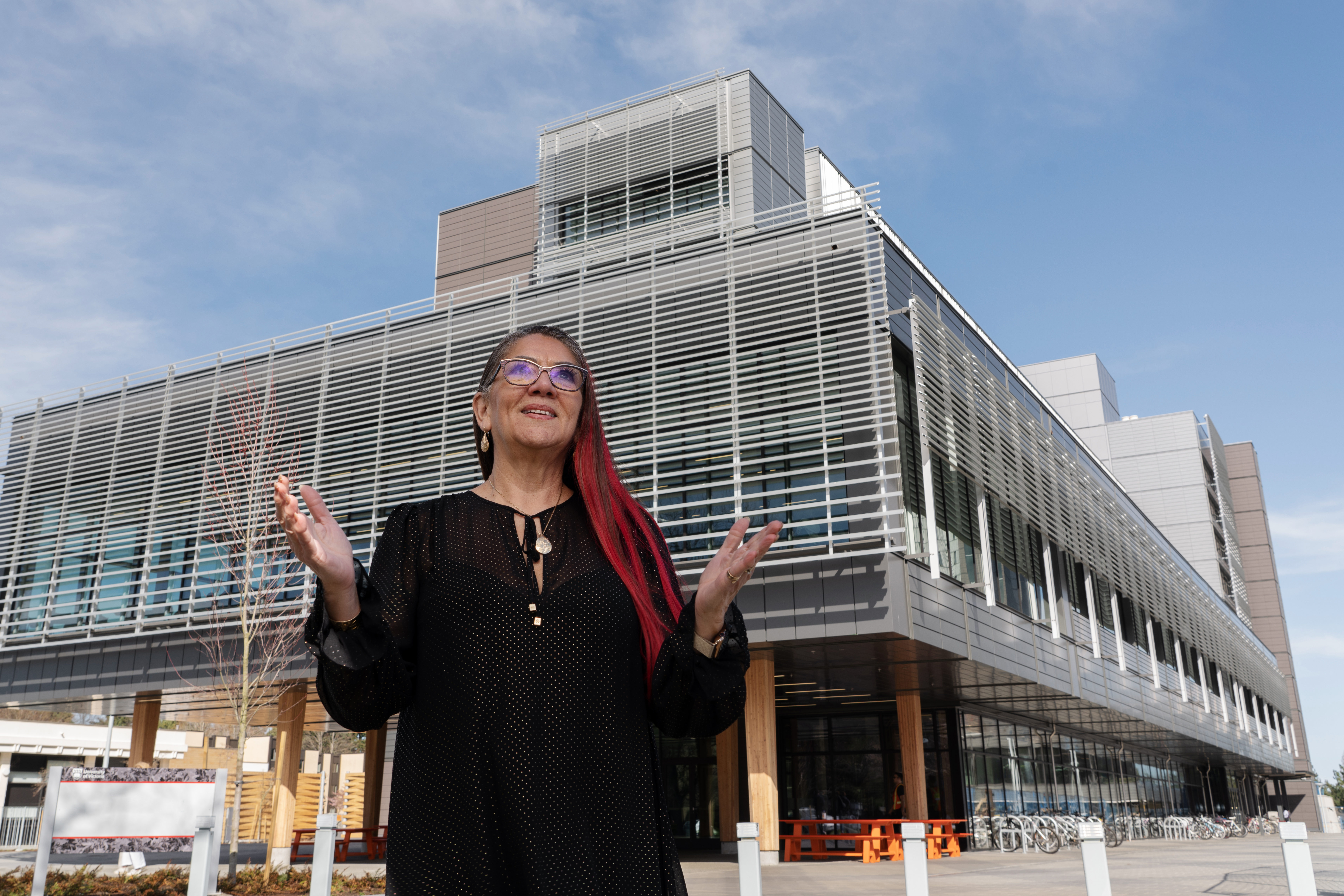 The names of local villages and the Peoples from the land on which the University of Victoria now sits were reclaimed and lifted up today as the names for the university's two new student housing and dining buildings.
In the ceremony and celebration at UVic today, university and community members gathered to reveal the names and to thank and honour the Songhees and Esquimalt Nations for permission to use lək̓ʷəŋən names.
The first of the new student housing and dining buildings, started in 2019 and completed in 2022, is called Čeqʷəŋín ʔéʔləŋ (Cheko'nien House), the name given to the territory that is now Oak Bay, and the Peoples who lived there.
The second of these new buildings, to be completed by September 2023, is called Sŋéqə ʔéʔləŋ (Sngequ House), after a village in what is now known as Cadboro Bay. It was used for camas harvesting, trading and cultural and spiritual practices. It means 'snow patches.'
"Today, we want to raise our hands and acknowledge everyone who has helped to carry out this good work. The building names will be a constant reminder of the history of these lands and will hopefully inspire critical reflections and educational opportunities for the campus community. The work we've undertaken together represents a milestone in acknowledging the true history of where we are located—on lək̓ʷəŋən territory—and a way forward in continuing to build respectful relationships with local Nations."

—Qwul'sih'yah'maht, Robina Thomas, Vice-President Indigenous
To ensure this work was done in a respectful way, UVic asked Chiefs and Councils, Elders and community members for guidance and direction on the building naming. Collaboration and meaningful consultations were at the centre of this work.
"Our vision for working together on this over the last five years was driven by a strong commitment to honour and integrate Indigenous ways of knowing and being into our work in a respectful manner. We set out to create a meaningful opportunity to share the history of this land with our students and wider university community, and to offer learning experiences that hold up language and land in a good way. Respectful collaboration and meaningful consultations were at the centre of this work."

—Joel Lynn, executive director of Student Services at UVic
UVic began the naming process by consulting with Songhees and Esquimalt Nation students, community members and Chief and Council. Elder Seniemten, Dr. Elmer George, one of the last fluent lək̓ʷəŋən speaker, who has made it his life's work to revitalize the language, brought forward the names. Seniemten's grandfather was from Čeqʷəŋin and Sŋéqə.
"The guidance of local Elders has been essential to this work, and I am forever grateful for the endless knowledge and heart that they bring to support UVic students and staff. I acknowledge that there is a long way to go but that these steps are important. I feel grateful to see these changes during my time at UVic, and that local Elders get to witness these changes in their lifetimes."

—Chésa Abma-Slade,  UVic law student and Xwsepsum (Esquimalt Nation) member
The UVic community will have the opportunity to learn the building names, where they originated from and the significance of their meaning. Developing opportunities to gain a better understanding of Indigenous Peoples, histories and cultures, and the impacts of colonization, is integral to the university's commitment to decolonization and to the United Nations Declaration on the Rights of Indigenous Peoples and the BC DRIPA Action Plan.
"It is important that this project sets a precedent, and that the university continues to follow the direction and guidance of Indigenous leadership, Elders and community members. While a lot of the work that took place is well documented, the cultural and consultation work is not meant to be a checklist for future projects. Every project and every community will be unique and have different ways of leading the work."

—UVic Chancellor, Marion Buller
Read more and hear the pronunciation of the names: uvic.ca/naming
-- 30 --
A media kit containing photos, audio clips, video is available on Dropbox. 
Photos
Media contacts
Hannah Mashon (Indigenous Academic and Community Engagement Communications) at iaceco@uvic.ca
Suzanne Ahearne (University Communications + Marketing) at 250-721-6139 or uvicnews@uvic.ca
In this story
Keywords: People Place Planet, community, Indigenous, administrative, faculty and staff, student life, IACE, reconciliation
People: Joel Lynn, Marion Buller, Robina Thomas