Ice-jigging and dynamic learning with CALR course
Continuing Studies, Humanities
- Tara Sharpe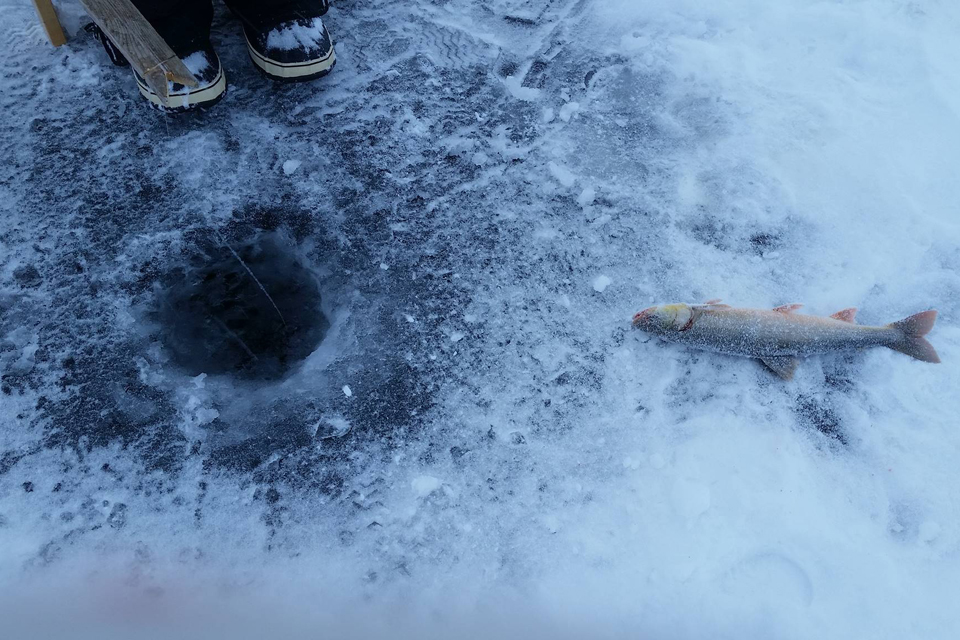 This summer, while events took place across Canada to mark National Indigenous Peoples Day on June 21, CBC News launched an in-depth feature story broadcast on CBC TV North and nationally on World Report and the World At Six, highlighting a UVic certificate program provided in partnership with Nunavut Arctic College, the Division of Continuing Studies at UVic and the Department of Linguistics in UVic's Faculty of Humanities.
Indigenous language revitalization at UVic
Indigenous communities are working hard to ensure the survival of Indigenous languages and for more than 40 years, UVic researchers, students and collaborators have been immersed in local and national efforts, working with Indigenous organizations, Elders, community-based researchers, language-revival specialists, community language experts and educators.
As one of many UVic diploma, certificate, undergraduate and graduate programs in Indigenous language revitalization, the Certificate in Aboriginal Language Revitalization (CALR) offers courses at UVic and in locations across Canada. The full program is usually held off-campus in cooperation and collaboration with Indigenous communities.
The CALR involves UVic's Department of Linguistics in the Faculty of Humanities; UVic's Division of Continuing Studies; and the En'owkin Centre, an Indigenous cultural, educational and creative arts institution in Penticton and co-creator of the CALR program; as well as many other partnerships over the years.
Special Topics in Language Revitalization
LING 187: Special Topics in Language Revitalization: Language and Land is an example of the courses involving experiential land-based learning in the CALR program. Taught by instructor Emily Angulalik at Nunavut Arctic College from Oct. 24 to 29, 2016 in Cambridge Bay, it was the focus of the CBC report.
Angulalik is one of "four determined Inuit women" described by the national news network as "fighting to revive [Inuinnaqtun] — one voice at a time." She told the CBC reporter that one of her "dreams for Cambridge Bay is seeing a youth fully conversing with an Elder."
Last year's course included outings each day with language, traditional activities and learning from Elders — with much of the week spent in different settings. One day, an Elder brought the group to a location where she had fished for land-lock char for many years. In addition to the land-based activities and hearing more about colonization and residential school, the students also learned stories from the Elders about the changes from nomadic lifestyle to living in settlements.
"The 'On the Land Field Trips' were very informative and a great way to learn from our Elders relating to the land, animals and most of all terms relating to the Inuit Culture, as a way to revive the Inuit language as well," adds Angulalik.
The next CALR courses with Nunavut Arctic College begin in October 2017, taught in Cambridge Bay by instructors Maxine Baptiste and Angulalik. Find out more
Photos
In this story
Keywords: Indigenous languages, Indigenous, arctic, languages and linguistics, community, student life