Rebuilding a pathway to good relations
- Kate Hildebrandt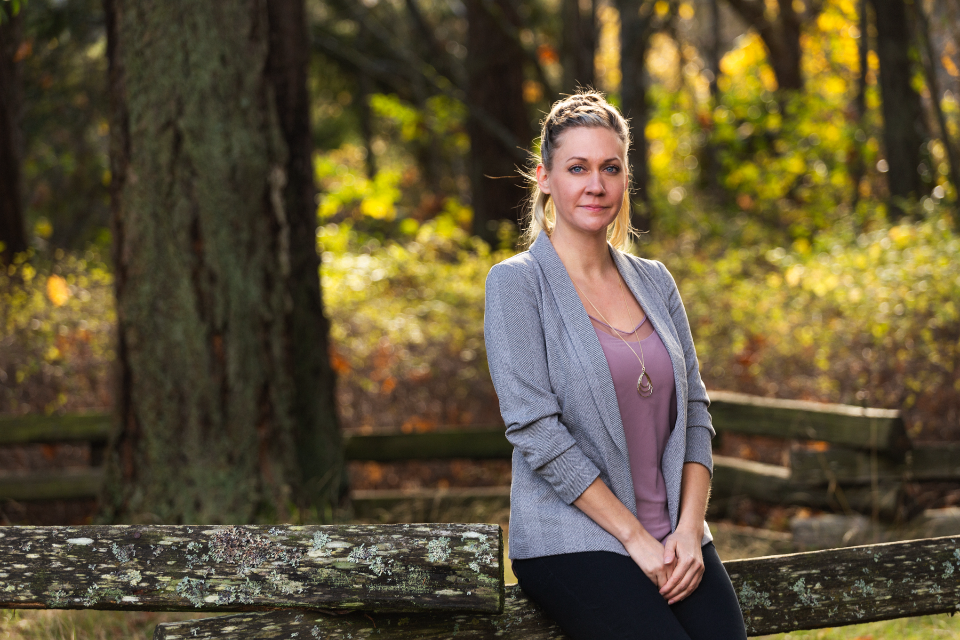 Meet Tara Erb, network coordinator with the BC Network Environments for Indigenous Health Research (BC NEIHR). She plays a leading role in supporting the next generation of Indigenous scholars while working on her own research into the facilitation of cultural safety and anti-racism training.
Her work with BC NEIHR, she says, is on par with cultivating a "creative hothouse," assisting a mix of emerging scholars from across BC who are leading Indigenous health research projects.
"It's huge," says Erb, "to be able to support these students and connect them with established Indigenous scholars."
Erb is French and Moose Cree from the northern Ontario community of Moose Factory. She works alongside Charlotte Loppie, the director of BC NEIHR and an internationally renowned Indigenous scholar. Loppie, professor and associate dean with the Faculty of Human and Social Development, supervised Erb during her master's degree studies in sociology and will oversee Erb's PhD studies, which begin next fall with UVic's Social Dimensions of Health.
Loppie was impressed with Erb's findings on the lack of support and care for facilitators who lead cultural safety and anti-racism training programs.
"A facilitator has to invite discussion on each participant's idea of racism," explains Erb. "They interrogate participants in order to help them see and understand their own power and privilege in this world."
For participants, these concepts can cause feelings of anger, fear and hurt resulting in a backlash. "Even the most gifted facilitator can endure those reactions only for so long," says Erb, noting that burnout is a common factor.
Erb also cited a profound lack of formal support and study on this subject. "We need to give facilitators a voice on what they are going through," says Erb, arguing that the focus has been centred on the participants' experience, "with little or no regard for the impact on the facilitator."
Erb draws upon her own lived experience and that of her relations, including a recent journey back to Moose Factory, an historic area where the Hudson's Bay Company developed their largest North American trading post. Shared oral history led Erb to new thinking on those first relations between the British and the Moose Cree. "I've been told these relationships were friendly and helpful at the start."
There is a pathway here, she adds, that could support good relations today through a new approach to cultural safety training. A new curriculum development project on cultural safety training and facilitation is now underway within BC NEIHR, led by Loppie and based on Erb's findings.
"I believe cultural safety has the potential to transform relationships between Indigenous and non-Indigenous peoples in Canada," she wrote in her master's thesis in 2020, "making it one of the ways in which reconciliation can be realized."
"It's about relationships," Erb insists, "which have always been foundational in leading sustainable social change."
True to form, Erb and Loppie found friendship through their shared interests in this research. "Charlotte is passing on her knowledge to me," says Erb. "She has mentored me in ways I cannot name. I learn by just watching her." The respect is mutual, says Loppie. "Tara's research has the power to make real, lasting change."
Photos
In this story
Keywords: research, Indigenous, health, colonialism
People: Charlotte Loppie, Tara Erb
Publication: knowlEDGE