Love of science, and joy in the unexpected
- Kate Hildebrandt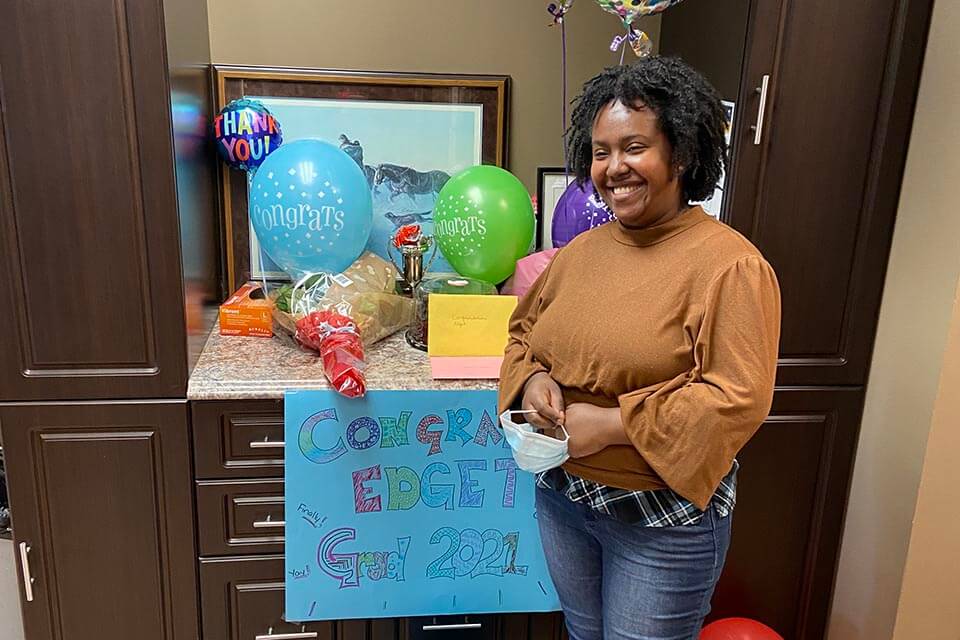 When Edget Waktola said goodbye to home and family, leaving Ethiopia for a new life in Canada, the last thing she expected to find was a nursing career on Vancouver Island.
She'd already set her sights on teaching physics. Working with high school students, however, didn't quite satisfy. She wasn't sure what career would be fulfilling, so she went back to school and completed a master's degree in environmental science at Addis Ababa University.
And so in 2011, now a wife and mother with one son, Waktola followed her husband Ze Engida to Halifax, NS, where he completed a master's degree in physics at Dalhousie University. The family would relocate again in 2014, this time to Victoria with two sons, where Ze would finish his PhD in Earth and Ocean Sciences at UVic. He now works on campus as a data specialist with Oceans Networks Canada.
In Halifax, Waktola discovered she really liked working as a care aide, which opened her eyes to new career possibilities. "That's when I knew I wanted to be a nurse," she says. In 2017, she enrolled in the undergraduate program at UVic's School of Nursing and soared. Having just completed her fourth and final year, her practicum organizing a vaccine clinic with the Tsawout Nation's health centre team would satisfy beyond her expectations.
While she knew in her heart that nursing was right for her, that surety was confirmed by the people of Tsawout Nation. "This was a very good experience," she says. "I felt welcomed. The people were warm and kind and so respectful."
Interpersonal connections key to vaccine clinic
During her practicum, Waktola would go to people's homes and talk with them about COVID-19 and her role in planning a vaccine clinic. This helped boost pre-registration, an essential element to determine if an on-site clinic would be viable.
"Edget was a terrific student," says Leanne Kelly, an Indigenous nursing teaching professor. "She is attuned to her own context, in touch with herself and how she communicates with others. She was able to create relationships quickly despite lockdown restrictions."
"Things were changing fast and there were many unknown factors," Waktola recalls. "We had to figure out if we had enough vaccines for however many people wanted one and then determine how many nurses would be needed to help prepare and deliver injections."
As things evolved, four nurses worked at the clinic, joined by a few local doctors. A daily ration of 29 vials of vaccine worked out to around 180 injections per day, resulting in 498 people vaccinated and a letter of congratulations from the regional medical health officer.
"It was challenging," Waktola smiles. "Some people were very hesitant at first. We had to come up with a plan to deal with that hesitancy." In addition to sending personalized letters, they hosted information sessions using social media. They also produced a video featuring nursing alum Mandy Stobbe, the Tsawout Nation's community health nurse, who graduated one year prior to Waktola.
"Mandy and I developed a video script and I helped her rehearse," says Waktola, emphasizing a need to hit the right note with their 'layer cake' approach to communicating.
"Lots of people booked their appointment and attended, but then some people started changing their minds. The challenge, even after they registered for the vaccine, was learning how to speak to those who were not 100 per cent sure." That took time, patience and empathy.
"We would explain, answer their questions and do what we could to calm their fears."
Stobbe says it was Waktola's deep understanding of science and teaching that helped people decide the vaccine was the right thing to do. "She fit in very well with the Tsawout community," says Stobbe. "She was a natural."
A global perspective on health care
While Waktola admits this was her first such experience, she talks of having seen great numbers of people succumb to disease in her hometown. "I have seen many people suffering with AIDS, dysentery, measles. Most people in Ethiopia cannot afford to pay for the medicine they need."
As was the case with her baby brother who contracted measles at the age of two. He survived, but the fever robbed him of his hearing. "School was not available for him," she says. In general terms, education in Ethiopia is a privilege; education at a special school for the deaf was unlikely.
"So he and I made up our own sign language," Waktola recalls. Her brother did eventually attend a special school, is now 27 and thriving.
Considering all that life in Canada can offer, Waktola says she is still getting used to it. "Especially the challenge in creating a social life. The Indigenous community I observed at Tsawout reminded me of that. Not only the close family relationships, but the friendships between neighbours."
Indigenous people are there for each other. I saw how families with a child are comfortable leaving that child with their neighbours.

—Edget Waktola, UVic class of 2021
At home in Ethiopia, she says, people raise their kids this way. "Connection is also found through the church just like at home. Through spirituality, they maintain a routine which supports that connection."
While she misses her family and homeland dearly, Waktola says she found another family at Tsawout Nation, which was most evident when the community came together to celebrate her last day. Stobbe also wanted to compensate for Waktola not having a graduation ceremony due to lockdown orders.
"It was so heartwarming," Waktola says, happy to have made so many good friends. "And they asked me if I would come back." A job opening for a home and community care nurse may give Waktola good reason to return. Interviews are in progress and a hiring decision is to be announced soon.
Photos
In this story
Keywords: convocation, student life, international, nursing
Publication: The Ring