Finding self, reclaiming space through Indigenous social work
Graduate Studies, Human and Social Development
- Kate Hildebrandt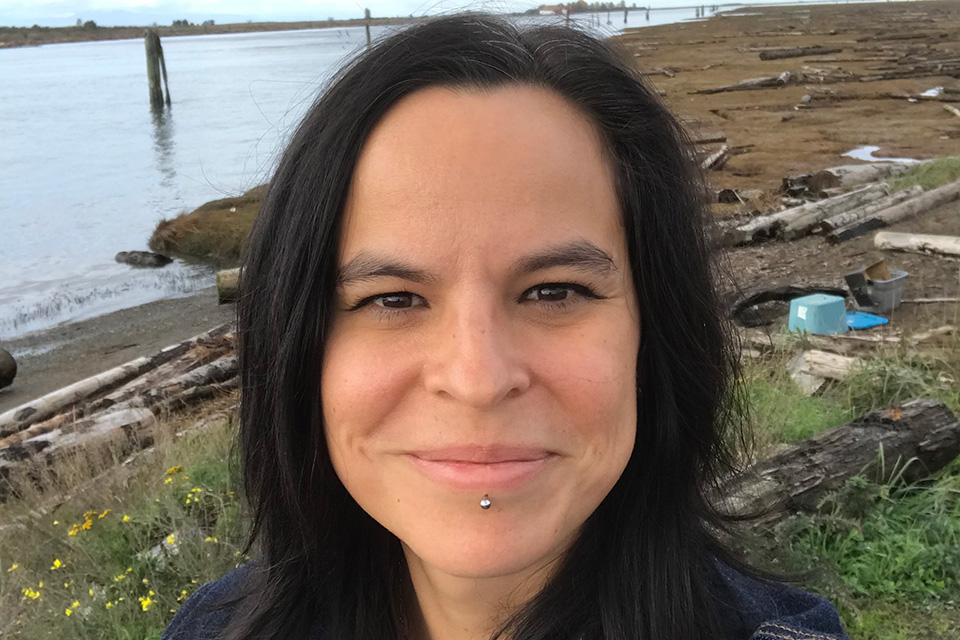 Corrina Sparrow wanted more out of her post-secondary education experience. While she was excited for the learning, she yearned for something she believed post-secondary education could help her develop: a historic understanding and a stronger sense of Indigenous identity.
Of the Musqueam and Pentlatch People, yet raised outside her communities, Sparrow was searching for that rich understanding of self, about her own Two Spirit identity and experiences, as well as a sense of place, belonging and responsibility in Indigenous community.
She found what she was looking for largely through UVic's School of Social Work, completing a bachelor's and now a master's degree with an Indigenous specialization. Sparrow now leads the social development department and community wellness division of the Musqueam Indian Band.
"I wanted to make sense of what was going on in my own family, my own communities and experiences, and I believed going back to school was the best way to start that." Returning to school at age 25 to obtain high school equivalency, Sparrow enrolled at Camosun College where she accessed Indigenous student supports and found guidance through their approachable model.
"Camosun offered a really nice transition into UVic, which I thought was unattainable for me at that time," she says. "Both schools offer a sense of family and community to Indigenous students. They're tight-knit and work closely together, which is a huge benefit for those students who have to study away from home."
Taking UVic courses while attending Camosun also enabled Sparrow's entry into academia. As did the forward thinking and Indigenous approach of her educators, which Sparrow found welcoming. "UVic has always just felt like home to me."
What stands out is her reconnection to her Indigenous communities, and finding the strength to work and live within her Musqueam community in positive ways. "The skills and knowledge I gained through my master's degree studies helped me contribute in ways that directly benefit my relatives and culture."
In her first few weeks on the job with Musqueam Indian Band, Sparrow dedicated her time talking to people of the community, to Elders and Knowledge Keepers. She asked about their expectations of her as a leader, and their needs, learning that healing support was top of the list. The other most requested help was the development of traditional cultural activities for young people and families.  
The Musqueam people are stewards of the Fraser River and the waters, Sparrow explains, "and we needed a canoe." She dreamed of rebuilding a burned down carving shed and the community's canoes, also lost in the shed fire, put away years prior in honour of a respected local carver who drowned in a fishing accident. Sparrow envisioned, too, a new canoe journey for youth, hoping to spark interest in carving, canoeing and other vital Musqueam traditions.
She and colleague Shelly Johnson (UBC) secured a Social Sciences and Humanities Research Council (SSHRC) grant for $500,000 in 2014, ranking fifth across all submissions in Canada. Their application was highly recommended by reviewers because they secured a $90,000 commitment from the Musqueam band to support the project, gathered more support letters than the digital application system could upload, and also because they were the first canoeing proposal in SSHRC's history.
It wasn't until September 2015 when they found a 350-year-old, 40-foot cedar log that would be carved and built into a journey canoe. Many songs were sung to awaken the spirit of 'The Old Woman' log, so named to honour the circle of Indigenous women who made the project possible.
According to Dickie Louis, a Musqueam carver, the last canoe carved in the community was in 1985. By August 2016, Sparrow was paddling with fellow community members in the journey canoe's maiden voyage on the Fraser River.
I continue to look to our Coast Salish knowledge, cultures and methodologies, and I see these processes in action every day. As researchers, we must draw upon this knowledge, to help other Indigenous people find their own voice and visibility through this work.
—Corrina Sparrow, social work graduate
Just as her own learning continues, Sparrow is enrolled at UBC in a First Nations Endangered Languages course, studying how to speak the Musqueam hən̓q̓əmin̓əm̓ language. She is also preparing to start her PhD in Fall 2019.
As she prepares to cross the UVic stage this month, Sparrow points to faculty, staff and fellow students—many she considers kin—who, as she puts it, "bring all these gifts together to create powerful learning for Indigenous and non-Indigenous students alike. I am grateful to UVic for making space for this."
Photos
In this story
Keywords: convocation, student life, alumni, Indigenous, social work, community
People: Corrina Sparrow
Publication: The Ring