New fund created to support Elder engagement
- Denise Helm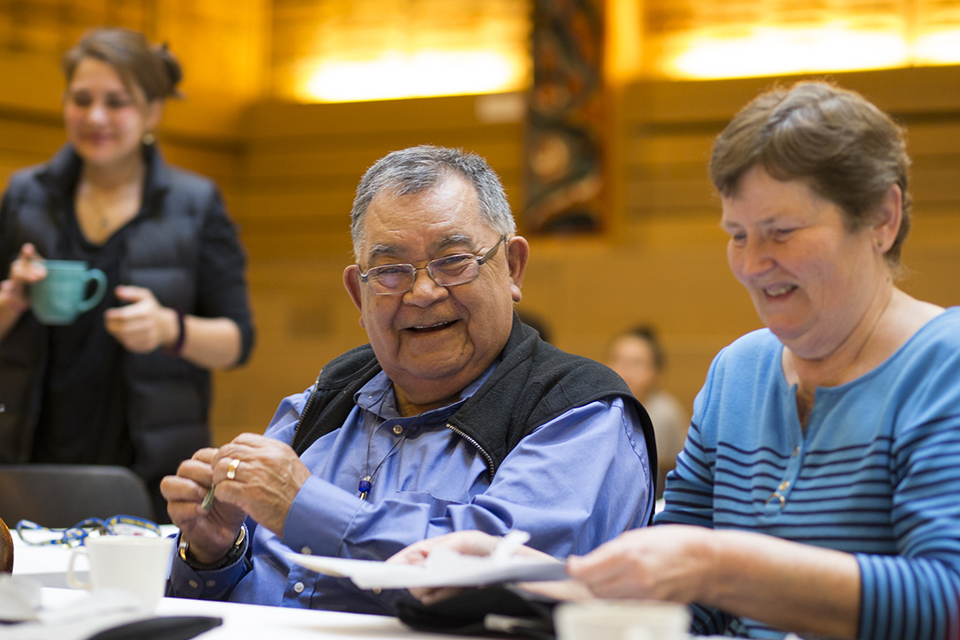 We learn from others who have knowledge and experience.
So, it's not surprising that Elders as "wisdom keepers" are integral to UVic's Indigenous Plan. As the plan notes, Elders "are pivotal in protecting the Indigenous ways of knowing and being" and that "the cultural wisdom of Elders defines and informs the manner in which Indigenous people live in the modern world."
As an essential part of the plan along with foundational teachings, the Elders are being welcomed by the university to guide campus members in their work and to continue to build on their existing longtime involvement at UVic.
For Yvonne Houssin, a Métis third year student, being able to learn from Elders and to turn to them for advice or comfort, has made her feel welcomed and supported at UVic.
"We respect Elders in our communities and their lifetime full of knowledge. We look to them and their steps to inform our future steps. I think anyone can benefit from what they can share."
The university is establishing the Learning from Each Other fund to provide meaningful engagement with Elders and opportunities for learning Indigenous ways of knowing to students, faculty and staff. The fund will support events and activities such as faculty seminars, classroom visits, Elder honorariums and/or meetings off campus with community groups or local First Nations communities.
Donations are invited for the fund. The university made an initial allocation of $10,000 to launch the fund, and, in addition, will match the first $15,000 in personal donations. Information on how to donate is available on the university's giving or donation web page. To arrange donations by payroll deduction, contact Moses Mukasa at 250-721-6004 or mosesmukasa@uvic.ca.
Faculty, staff or students who wish to apply for funding to engage with Elders can get information from the Office of Indigenous Academic and Community Engagement after the official launch of the Indigenous Plan on Sept. 14.
Shanne McCaffrey, a professor in the School of Child and Youth Care, recalls her own interactions with Elders on campus. Their caring, attentive actions spoke volumes about their multi-dimensional gifts of knowledge and experience which can benefit both Indigenous and non-Indigenous people, she says.
"People are at different places in their learning about de-colonization, indigenization and history. Elders are the most important touchstone in all of this work. The most amazing thing about their work is they can relate to all these layers of knowing and plug in these gaps for us through their stories, through their experience, through their practices, through ceremonies and through their deep connection to the land."
Photos
In this story
Keywords: Indigenous, Elders, child and youth care, community, funding
People: Yvonne Houssin, Shanne McCaffrey