Tap into your inner creativity in the 3D world
- Lisa Abram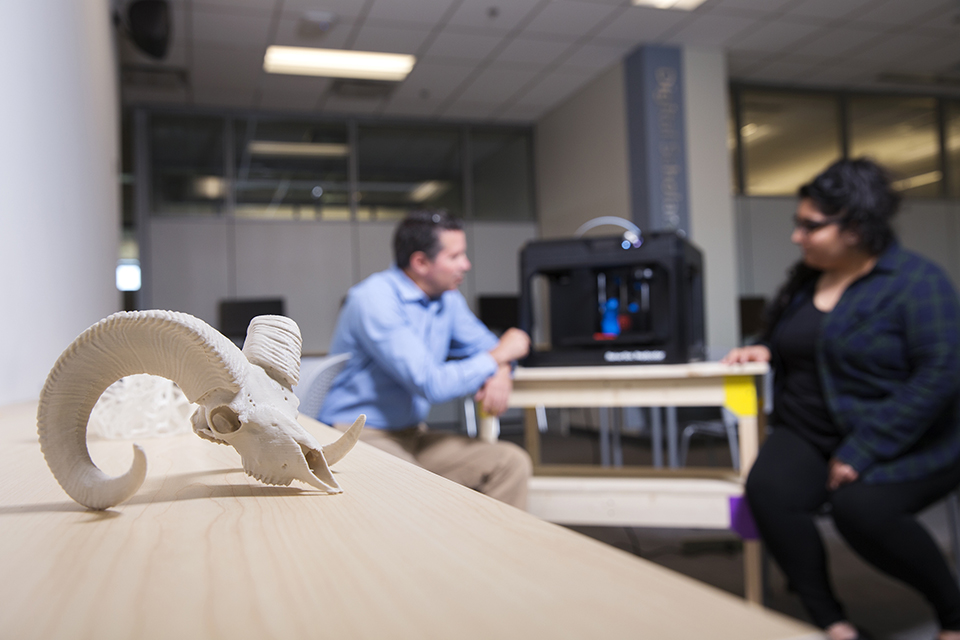 There's only one university makerspace in BC to offer free 3D printing and design workshops to all students, faculty and staff—and it's right here at UVic.
The new Digital Scholarship (DS) Commons in the Mearns Centre for Learning – McPherson Library is a dedicated facility (sometimes called a "makerspace") providing students with enhanced access to software, hardware and expertise in support of digital scholarship.
"We're reaching out to everyone on campus, offering them access to specialized digital tools—like 3D printers, electronic tool kits and Adobe Creative software—along with workshops to help students learn to use them," says Rich McCue, Digital Scholarship Commons coordinator.
The freshly minted space is a melting pot of creativity and academia with multiple occupants—including the Electronic Textual Cultures Lab, Internet Shakespeare Editions, Humanities Computing and Media Centre, and Systems Offices—all sharing a passion for all things digital.
Dynamic learning
With hands-on learning the impetus for this new space, and a series of free workshops being offered to the entire UVic campus, the possibilities for creative output are as diverse as the technology itself.
"It's not always easy for students from all disciplines to get help with commonly used software applications like Photoshop, ArcGIS or R Studio," explains Lisa Goddard, associate university librarian for digital scholarship and strategy. "UVic Libraries want to offer a supportive environment for self-directed learning, so students can learn how to apply a variety of technologies in course assignments, research and creative projects."
For example, computer science students recently took a 3D design class for just-in-time learning, preparing themselves for professional careers with skills which are not part of their formal curriculum. With just-in-time learning, students can acquire in-demand skills for real-life career opportunities just as they need them. It's 3D art imitating life.
Learn. Create. Collaborate
Thanks to experiential workshops in 3D printing and design, data visualization, electronic tool kits and 360-degree video cameras (to name a few), the DS Commons is already an active shared makerspace and learning environment, following a nation-wide trend to learn, create and collaborate.
For example, a UVic lecturer recently printed an Edward VI wax seal that is much larger than you would expect, to demonstrate to students how photography does not always accurately depict the true scale of artifacts.
"With access to these tools, people will be able to pursue their passions, solve problems they care about and develop important digital literacy skills," says McCue.
Find out more
Learn more about Digital Scholarship Commons workshops at UVic Libraries.
Learn more about the Bighorn Sheep skill specimen from the Ian McTaggart Cowan collection, featured in the photo.
Photos
In this story
Keywords: adaptive technology, digital humanities, library, digital, 3d printing, technology, student life
People: Rich McCue