"Never less than amazing": Lafayette String Quartet take its final bow in 2023
- John Threlfall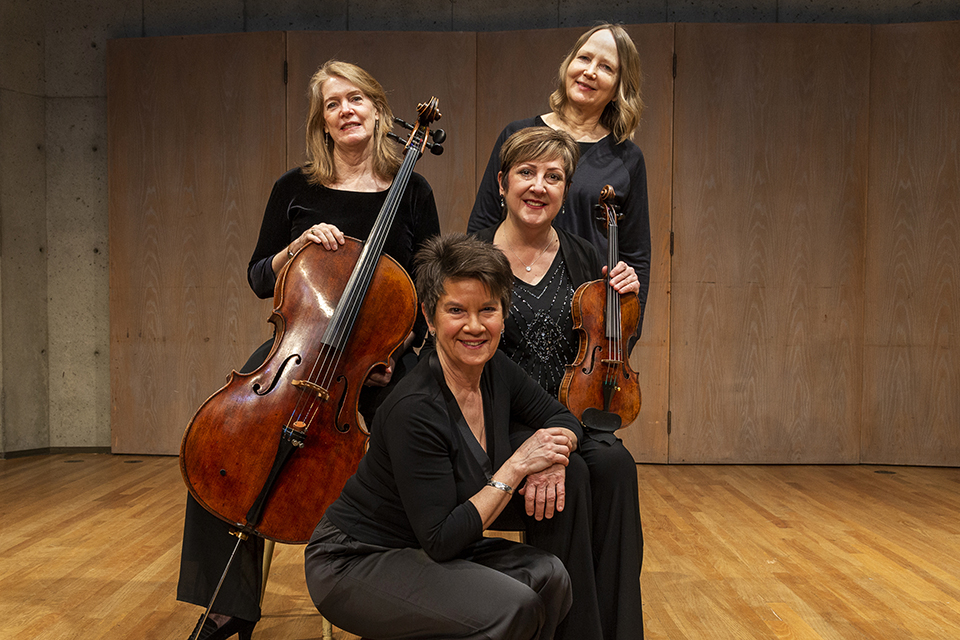 A Detroit McDonald's may be the most unlikely place to start the story of UVic's internationally acclaimed chamber music ensemble, yet under the golden arches is precisely where the newly formed Lafayette String Quartet (LSQ)—violinists Ann Elliott-Goldschmid and Sharon Stanis, violist Joanna Hood and cellist Pamela Highbaugh Aloni—had made the decision to pursue a career as a professional string quartet in 1986.
Even more unlikely? Getting their first big international break thanks to the Chernobyl meltdown: when fears of radioactive fallout prompted another string quartet to cancel an appearance at a Munich music festival, the nascent LSQ snapped up the offer to step in as replacements—and never looked back. 
Now, with over a dozen albums and a thousand appearances worldwide behind them, the members of UVic's multiple award-winning Lafayette String Quartet have announced their decision to retire as a performance ensemble in August 2023—a decision made collectively and unanimously, as all their decisions have been…including the anonymous vote on whether or not to accept the newly created position as artists-in-residence at UVic's School of Music in 1991.
We just thought we'd do this for two or three years, but here we are over 35 years later—and what an experience we've had. But great things have to stop at some point, and this feels like the natural time to finish.

—LSQ cellist Pamela Highbaugh Aloni
A passionate commitment as artists and teachers
The Lafayette String Quartet and UVic have created musical history for over 35 years. Supporting the world's only all-female string quartet with its original members is a distinct rarity, and we are extremely proud of their accomplishments.

—Acting Vice Provost Susan Lewis, who as former dean of UVic's Faculty of Fine Arts and former director of the music school, has known the LSQ for 20 years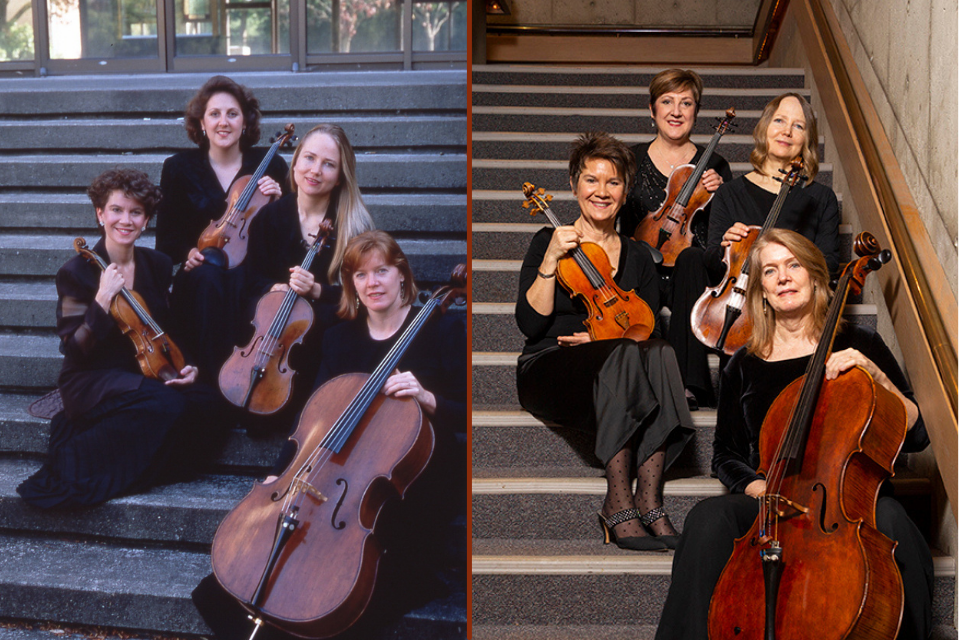 While plans are currently underway for the LSQ's final season—including the recording of five new commissions by female composers, among other performance projects—the university community has been quick to praise the ensemble's accomplishments.
"In addition to their internationally acclaimed performance history, the quartet has transformed the teaching of chamber music at UVic, training and mentoring a generation of over 400 string musicians and developing the master's of music in string quartet performance—the only program of its kind in Canada," says Susan Lewis, UVic's acting vice-provost.
Read the university's announcement (Jan. 27 news release)
Not only has the LSQ enhanced UVic's reputation, it has also played an essential role in Greater Victoria's extended music community, as both musicians and champions of public-school string programs, as well as bolstering Canada's chamber music reputation and legacy.
"The Lafayette Quartet helped put UVic on the map as a string and chamber music destination by setting an internationally recognized standard of excellence," says Alexis Luko, current director of UVic's School of Music.
A musical lineage of performance and teaching
Named for both the street and early home of two of their members (the Lafayette Towers on Detroit's Lafayette Avenue), the LSQ's musical lineage is far more vaunted: among their own musical mentors were the Cleveland String Quartet and the noted Russian violinist Rostislav Dubinsky, founder of the Borodin Quartet, who had the unique opportunity of working directly with famed 20th-century Soviet composer Dmitri Shostakovich.
Indeed, one of the LSQ's career highlights—along with performing the complete Beethoven cycle of string quartets and the full Mozart quartets and quintet cycles—was the unique performance of a chronological cycle of Shostakovich's 15 string quartets over a series of five concerts at UVic in 2017. 
The great thing about being in a string quartet is that it's repertoire-driven: it's the music that we play that makes being in a string quartet worthwhile.

—LSQ violinist Ann Elliott-Goldschmid
"Our career took such a rich trajectory with teaching—had we been strictly a performing group, we would have gotten through much more repertoire—but our role models were always great musicians who taught," adds Elliott-Goldschmid.
Highbaugh Aloni agrees. "Teaching enhances so much of our playing: one of my own teachers said you don't really learn how to play until you can teach. We have all benefited from being teachers; it really affected how we play individually and as performers."
Music director Luko, who was herself an undergraduate music student in the 1990s, clearly recalls the impact of the LSQ's early years—and their importance as female faculty members.
When I was a student, nobody missed a Lafayette String Quartet concert. The sheer performance energy and powerful bond of these four women made a huge impression on me…It felt like a real feminist moment. This group brought 'woman power' to the highest levels of chamber music.

—Alexis Luko, director of UVic's School of Music
Long-time colleague Bruce Vogt recalls their arrival on campus in 1991. "They brought an instant energy, a joy in performing and in collaboration," he says. "It was always an inspiration to play with them…individually or together, they brought us closer, inspired so many of us."
The senior string quartet in Canada
From their earliest days as a quartet, the LSQ earned both praise ("These people are good!" exclaimed Detroit's Metro Times in 1987) and international attention ("The Lafayette String Quartet resides at the heart of chamber music life in Canada" noted a 1993 cover feature in UK's historic Strad magazine), which continued throughout their career.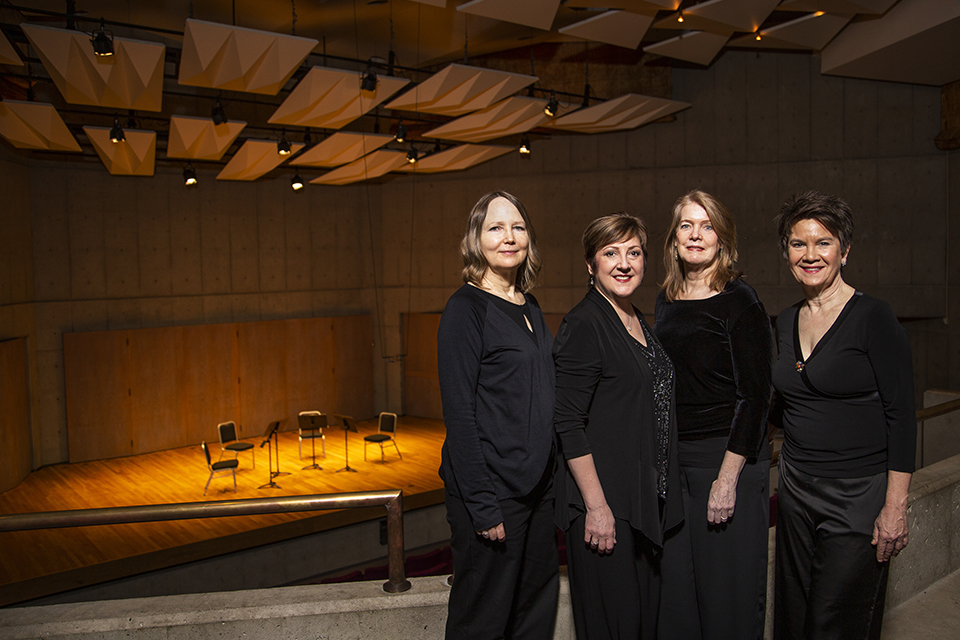 "They are never less than amazing," says James Campbell, who has known the LSQ since he performed with them—on Dubinsky's recommendation—for his debut faculty concert at Indiana University's Jacob School of Music in 1988. Dubbed "Canada's premier clarinetist," Campbell has since performed with and booked the LSQ numerous times at Ontario's acclaimed Festival of the Sound, of which he has been artistic director since 1985.
"They were definitely unique as one of the only all-female quartets, but it was their spirit that set them apart," he recalls. "Technical and musical excellence is assumed at that level, but there was an extra personality to their group that connected with us all—audiences included."
That's a sentiment shared by Jennifer Taylor, artistic director of Music TORONTO—Canada's pre-eminent chamber music series. "Our audiences love the Lafayette Quartet," notes Taylor, who has been booking the LSQ for 32 years—including the upcoming closing night gala of Music TORONTO's 50th anniversary season in April 2022.
"Their longevity without a change of personnel is remarkable—and they clearly still like each other," she says. "As the senior string quartet in Canada, we are proud to call them 'Friends of the House'."
Campbell agrees with their remarkable legacy.
"They've been together through children, through illnesses, through injuries, through all the ups and downs of a musical career, which are many," he says. "Most quartets have players that come and go—the name continues but the personnel change—but the Lafayette are united as sisters: it's unique and quite amazing."
The healing power of music
In addition to their musical and teaching legacy, the LSQ also created the annual Lafayette Health Awareness Series in 2005 to provide expert information on various health topics ranging from COVID and aging well to brain health and breast cancer—the latter of which both inspired the series and profoundly impacted the LSQ, following a 2001 diagnosis and treatment for one of its members.
As such, music and well-being have become integral to the daily lives of the LSQ—from their own practice and health to both their students and the audience members with whom they share their music.
A generational legacy
While certain aspects of the LSQ's final season will depend on the current pandemic—including a number of local and national performances—what isn't in question is their remarkable legacy spanning more than 35 years.
"They will never be replaced," says the Festival of the Sound's Campbell, who is scheduled to perform with them in fall 2022. "Those four personalities are unique and special, so you'll never get another quartet like them."
As a long-time colleague, UVic's Lewis can't help but see their influence on campus.
"If you look at the history of the School of Music, there's before the Quartet and after the Quartet," she says. "They didn't just arrive and head off into a rehearsal room for 30 years: their influence permeated every aspect of the school—and beyond."
For Allana Lindgren, the dean of UVic's Faculty of Fine Arts, they represent the pinnacle of performance and pedagogical rigour.
In addition to being world-class musicians, the members of the LSQ have been inspiring role models of elegance, intelligence and artistic brilliance throughout their impressive careers. They embody our guiding aspiration in Fine Arts to challenge our students to excel through our own passionate commitment to excellence as artists and teachers.

—Dean of Fine Arts Allana Lindgren
But each member of the LSQ offers a more personal reflection on their legacy.
"We could never have dreamed of this adventure," says Highbaugh Aloni. "We've really had a great run."
I just feel so blessed to have had such rich opportunities.

—LSQ violinist Sharon Stanis
Elliott-Goldschmid considers their impact on the local music scene. "There was chamber music here when we arrived, of course, but there's been such growth over the past 30 years…Victoria had incredibly fertile ground and we just helped to plant the seeds. We've made music with so many colleagues around the city over the years, and our students are now playing in chamber groups everywhere in Victoria and across the country."
It's this final thought that may well offer the best coda to the Lafayette String Quartet's legacy. Thanks to their dedicated mentorship, the LSQ is surrounded by a generation of student musicians who are now succeeding as peers in ensembles, symphonies and quartets of their own.
It is so fulfilling to play with our former students. Nothing beats that.

—LSQ violist Joanna Hood
Find out more
Photos
In this story
Keywords: music, arts, administrative, community, gender, health, string quartet
People: Ann Elliott-Goldschmid, Sharon Stanis, Joanna Hood, Pamela Highbaugh Aloni
Publication: The Ring