Lafayette String Quartet plans final performances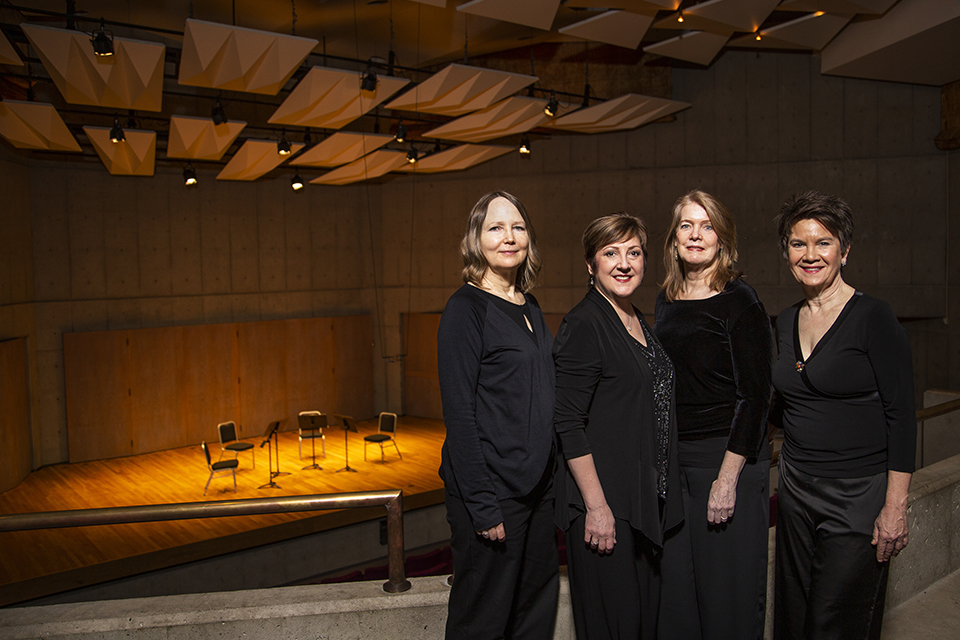 The University of Victoria is announcing today that the internationally acclaimed Lafayette String Quartet (LSQ), the only all-female ensemble in the world still with all four original members, is ending their time as an ensemble after more than 35 years of performances and three decades of teaching with UVic's School of Music.
The multiple award-winning quartet (violinists Ann Elliott-Goldschmid and Sharon Stanis, violist Joanna Hood and cellist Pamela Highbaugh Aloni) will take their final bow as a group in August 2023.
The Lafayette String Quartet and UVic have created musical history for over 35 years. Supporting the world's only all-female string quartet with its original members is a distinct rarity, and we are extremely proud of their accomplishments. In addition to their internationally acclaimed performance history, the quartet has transformed the teaching of chamber music at UVic, training and mentoring a generation of over 400 string musicians and developing the master's of music in string quartet performance—the only program of its kind in Canada.

—Acting Vice-Provost Susan Lewis who, as former dean of UVic's Faculty of Fine Arts and former director of the music school, has known the LSQ for 20 years
With over a thousand performances worldwide and a dozen albums behind them, the LSQ has played a pivotal role within Greater Victoria's extended music community and Canada's chamber music legacy. Plans are currently underway for the LSQ's final season, which will include the performance and recording of five new commissions by female composers.
In addition to an exemplary musical and teaching legacy, the LSQ also created the annual Lafayette Health Awareness Series to provide expert information on various health topics ranging from COVID and aging well to brain health and breast cancer—the latter of which both inspired the series and profoundly impacted the LSQ, following a 2001 diagnosis and treatment for one of its members.
"The Lafayette Quartet helped put UVic on the map as a string and chamber music destination by setting an internationally recognized standard of excellence," says Alexis Luko, director of the school. "The sheer performance energy and powerful bond of these four women made a huge impression on me when I was an undergraduate in music here in the '90s. It felt like a real feminist moment. This group brought 'woman power' to the highest levels of chamber music."
Read more in the campus article.
-- 30 --
A media kit containing high-resolution photos is available on Dropbox.
Photos
Media contacts
Lafayette String Quartet (School of Music) at lafayettestringquartet@uvic.ca
John Threlfall (Fine Arts Communications) at johnt@uvic.ca
Tara Sharpe (University Communications + Marketing) at 250-721-6248 or tksharpe@uvic.ca
In this story
Keywords: music, arts, administrative, community, gender, health, string quartet
People: Ann Elliott-Goldschmid, Sharon Stanis, Joanna Hood, Pamela Highbaugh Aloni