Rebalancing the scales
- John Threlfall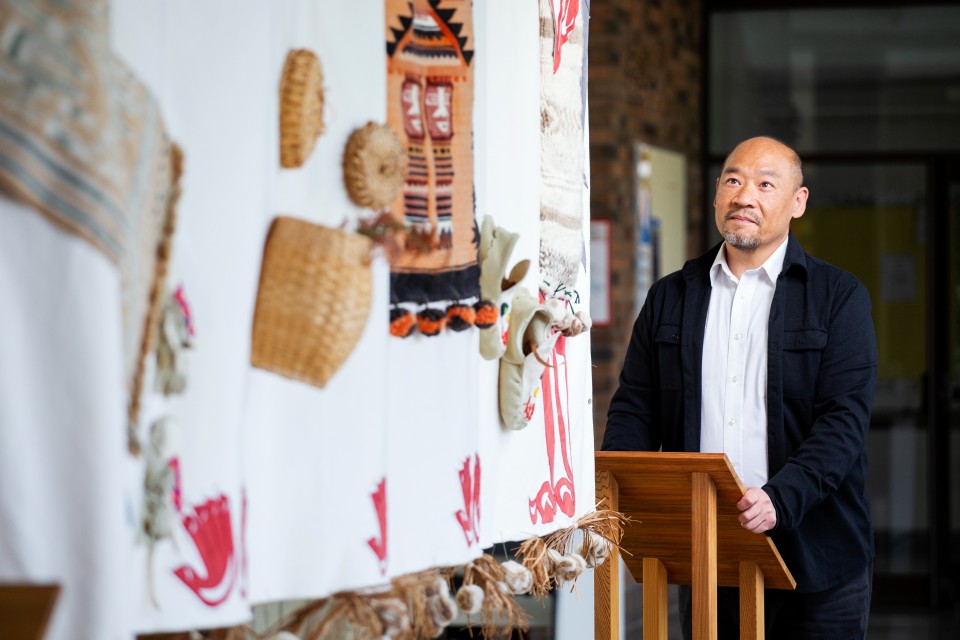 To paraphrase the poet Longfellow, music may well be our universal language, but how it's traditionally taught in our schools no longer speaks to students in a multicultural society.
That's why University of Victoria School of Music professor Adam Con is looking to rebalance the musical scales.
"We need to broaden the perspective of how and what we're teaching," he says. "We have to honour the past, but we also have to move forward by ensuring students see their own cultures reflected."
Con, co-head of UVic's music education program and principal investigator of the National Study on the Status of Music Education, says he believes we can build a better society by integrating concepts of access, equity, diversity and inclusion (AEDI) into every school's music classroom and ensemble—a difficult task as the study revealed vast disparities between provinces' approaches to music education.
"At UVic, we're teaching students that when they create music together, they become a community," he says.
"We're actually teaching life—music just happens to be the vehicle."Con's AEDI concerns are not only core to his teaching—including 15 years in the K-12 system as well as his role as Choral Canada's national chair of AEDI—but are also rooted in his experiences growing up in Vancouver. "None of my music teachers looked like me … they were all white," he says, adding, "I've recognized I can be one small piece of the representation puzzle: people see me and hopefully see possibilities in themselves."
Putting an AEDI lens on music education means reframing how it's taught, with an emphasis on process over performance. While Con's research revealed there's no single solution, essential steps forward include diversifying cultural partnerships to include Indigenous ways of knowing and being, and expanding the musical portfolio that's taught to better reflect Canada's multicultural makeup.
"People tend to think about this lens by colour—what you can see—but sometimes it's more about what you don't see," says Con. 
While the Western tradition places emphasis on reading sheet music, many cultures learn by ear, and that's where access and inclusion become important.
"When we only teach music for music's sake, we start to exclude people," he explains.
This shift in approach was at the core of the groundbreaking inter-faculty collaboration led by Anita Prest in the Faculty of Education and Steven Capaldo and Con in the Faculty of Fine Arts, with grateful contributions of Indigenous partners. The Indigenizing Music Education conference held in May at UVic was attended by more than 200 people and was an essential next step after research revealed the need to include First Peoples Principles of Learning in the curriculum.
"We've never had music educators, Indigenous cultural bearers and knowledge keepers from all of BC's 60 school districts together before." 
Con says he realizes that more research and a long-term approach are needed to adopt an AEDI approach and decolonize the reliance on Western classical music. "Once our students start teaching in the public school system and are able to make a difference, it could be another five or 10 years before we see significant change," he says. "But we plant the seeds and put our hope into our students."
Advocating AEDI into music education reflects UVic's commitment to quality education as articulated in the United Nations Sustainable Development Goals.
---
Edgewise
With financial support from the Social Sciences and Humanities Research Council of Canada, the Indigenizing Music Education conference, Everything is Connected: Songs, Relationships and Indigenous Worldviews, featured eight partner organizations: the Victoria Native Friendship Centre, BC Ministry of Education (Indigenous Branch), BC Music Educators' Association, School Districts 61 (Victoria) and 83 (North Okanagan-Shuswap), Pacific Opera, University of British Columbia and UVic.
It focused on developing respectful relationships and exploring ways to embed Indigenous ways of knowing and being into BC music education classes in ways that are culturally appropriate to each school district. "This was a historic event," says Con. "We had spontaneous drumming and sharing of songs, as well as critical conversations about decolonizing music education." Next steps? Developing local relationships with First Nations peoples in every district and expanding the conversation nationally.
UVic is one of only two Canadian universities supported by Ontario's Don Wright Foundation through a $1-million, one-time endowment to the School of Music, focused specifically on music education.
A recent report on music education in Canadian schools found that only one in three had a specialized or certified music education teacher on staff and that, over the past decade, music education funding has decreased while student participation in music programs has increased.
Photos
In this story
Keywords: research, music, reconciliation, arts, community, Indigenous
People: Adam Con
Publication: knowlEDGE