Vox alumni: the confusion of colonial ceremonies
- Kim Senklip Harvey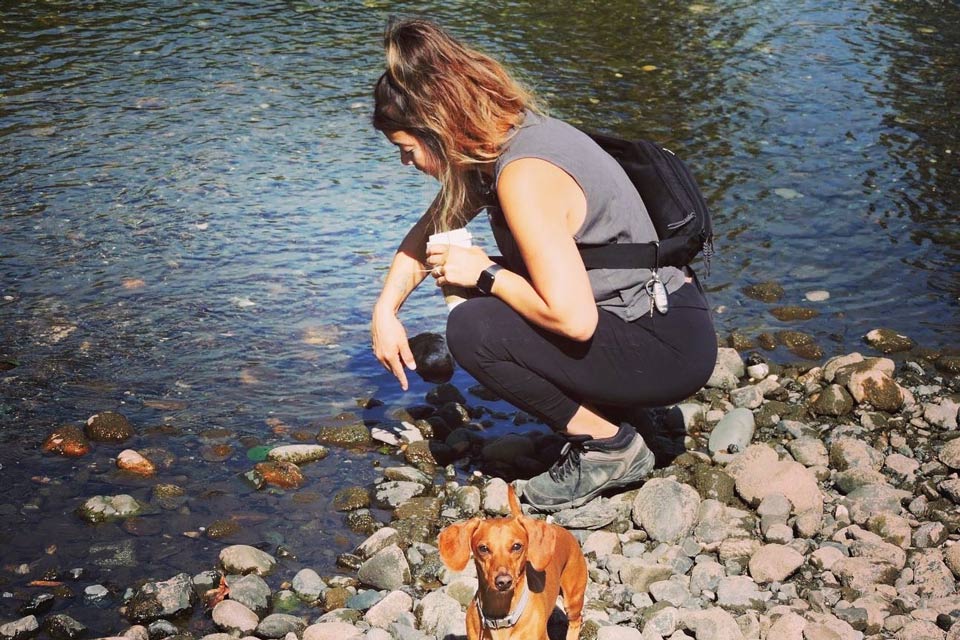 Acclaimed writer and recent UVic grad Kim Senklip Harvey recalls her life to date in ceremonies—and lineups, many lineups.
At my kindergarten graduation, the teacher gave us a certificate and a penny to "start our future wealth." I wore a Minnie Mouse dress, styled it with my Sally Jessy Raphael glasses, frilly socks, Shakespearean bob cut and topped it off with an expression of disappointment… or maybe it was fear. This photo has become I dare say "iconic" with my friends and family, an emblem of my hilarious discomfort with the ceremony of "completing" an education. It's a totem of what I now understand to be my discomfort with colonial ceremonies. Or I could just be mad that I would no longer get to see my cute, kind and freckled bf Ian every day and that I rather enjoyed the happenings of the garden of kinder, and I didn't appreciate this notion of having to move on. 
Either way, this first graduation started a series of marks on my spirit from the confusing completions of colonial education systems. There was the kindergarten penny (like really, they couldn't give us a nickel?). Then there was Grade 7 graduation, where we spent what I remember as hundreds of class hours using the projector to outline our faces, cutting them out of construction paper and Scotch taping them to the gym walls to create a 2D dirtbag suburban bust gallery. Then there was Grade 12 graduation, where we commemorated our maturation into adults by renting inflatable bouncy castles and secretly drinking Malibu rum out of Gatorade bottles in a stinky community centre bathroom with our parents babysitting us in shifts. 
There was so much drama infused into these ceremonies, but I craved guidance on what they meant. The most important and cherished element of these colonial ceremonies seemed to be the sacred act of lining up. So many lineups, so much waiting to just strut, shuffle or prance (player's choice) for 20 to 30 seconds across a stage. I was a shuffler, or maybe a jokester, or both. For my Grade 7 graduation I decided to dress like Jack Nicholson if he was a farmer. I wore blue sunglasses and shorteralls with a baby blue polyester bowling shirt. This was my attempt to "screw the system" and undermine the expectation that I had to wear a rayon flower dress from Mariposa. 
But what might just be my most comfortable graduation ceremony to date occurred this past May when I completed my MFA in Writing at UVic. There was no in-person ceremony due to COVID, so I was mailed what looked like a UVic pizza box with a grad cap, pen and a lil banner that I think read "HOORAY." I opened it up at the kitchen table with my Ma and Pa, deeply grateful for their witnessing. I took a deep breath and exhaled the joy of this moment and the pain of two educations stolen from the smartest people I know. 
They said "We're proud of you." I pushed past the anger and let their courageous love into my heart, then jokingly put my grad cap on Pa, grabbed my master's pizza box and shuffled upstairs. My Ma yelled "Should we take a picture?!" and I yelled back "Naaaaa, another time." This has yet to come—and I like it. I like that the totem is the feeling of that moment.
The ceremonies I understand the most are the ones I participate in with my family and peoples on my territories that centre around nourishing our spirits and relations. The ceremonies that help me prepare for what will be my greatest and final graduation, when the teachings of this life are determined to be complete, and I do my last shuffle in this world to my final resting place. Until then, I will eagerly and good humouredly continue to collect the pennies, the busts and pizza boxes with great reverence, love and a bit of confusion.
Sechanalyagh, limelet. 
—
Kim Senklip Harvey is a writer, director and actor from the Syilx, Tsilhqot'in, Ktunaxa and Dakelh Nations. Her play, Kamloopa: An Indigenous Matriarch Story, won the 2020 Governor General's Literary Award for English-language drama. She earned an MFA from UVic and is currently pursuing a PhD in Law at UVic. She loves Cheezies and questions.
Photos
In this story
Keywords: alumni, reconciliation, Indigenous, convocation, student life, theatre, writing, decolonization, colonialism
People: Kim Senklip Harvey
Publication: The Torch