Theatre researcher explores sea rituals and climate change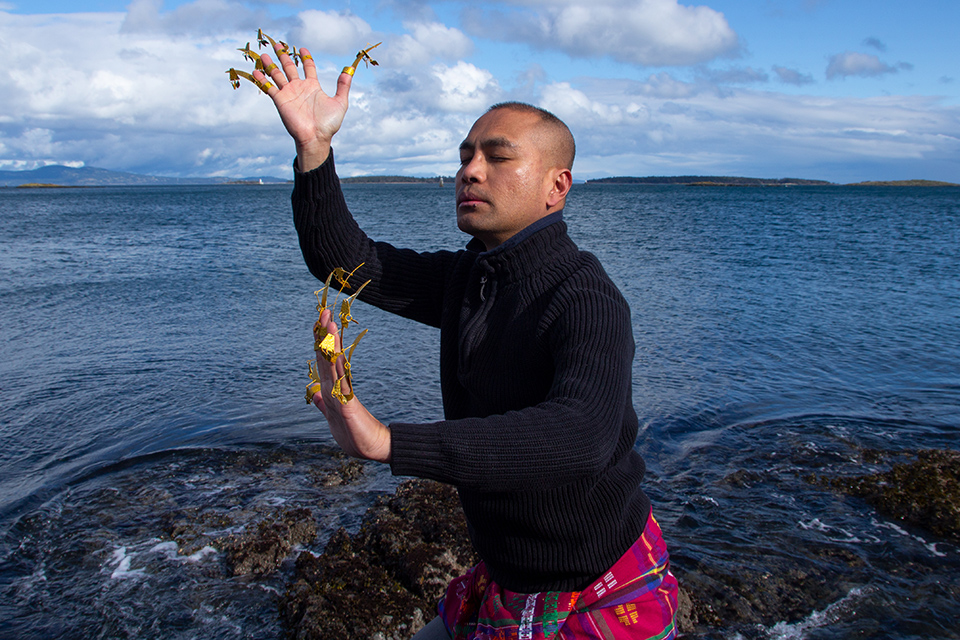 How can applied theatre help explain the impact of a super typhoon on local fishers in the Philippines and amplify their stories of Indigenous ecological knowledge as vivid messages about climate change? These are some of the questions international applied theatre researcher Dennis Gupa has been exploring at the University of Victoria's Department of Theatre, applying the tools of theatre, performance and drama in grappling with global warming especially with its impact on the island nations of the world.
"How does our history of exile connect with the history of climate disaster?" asks Gupa. "By looking at the experience and knowledge of local island communities of the Philippines—people who have been experiencing these climatic events for so many years, but are not really given a lot of opportunities to tell their stories—we can learn from their embodied knowledge and inherited wisdom. Our poetries and songs renew our kinship with the ocean."
Currently completing his PhD in applied theatre, Gupa's research investigates traditional ecological knowledge and the connection between sea rituals, applied theatre and climate change. Growing up in the Philippines, Dennis witnessed firsthand the threat to oceans from both human impact and extreme weather.  "When we think of the water, I think of social justice," he says.
Applied theatre uses the tools of theatre and performance to not only teach but also bring about social change while building a sense of community. Since 2018, Gupa has been connecting with Filipino diasporic communities to tell their stories through contemporary theatre and Philippine Indigenous performance forms. Overseas, he's been working with Waray elders on the island community of Guiuan, where the 2013 super typhoon Haiyan (or Yolanda)—one of the deadliest on record—first hit land.
I believe that theatre can facilitate a process of diversification of knowledge so we can understand the depth and impact of these types of ecological events. This is the time to commit to broadening the way we think about climate change by creating platforms for local community members and elders who are directly experiencing climate crises and outside the radar of global knowledge production.
—Dennis Gupa, applied theatre PhD candidate in UVic's Faculty of Fine Arts
In the Philippines, Gupa co-organized a climate-change theatre congress and festival in 2018 that gathered scholars, artists, policy makers and local government officialsculminating in collaborative performances guided by Filipino elders. In Canada, Gupa has created performances with members of Filipino-Canadian communities in Victoria, Vancouver and Winnipeg. 
Dennis Gupa's research covers an array of important—urgent—topics, including climate justice and climate change, Indigenous ways of knowing and being, and the impact of performing arts on local communities. His work will reach far beyond academia.
—UVic theatre professor Kirsten Sadeghi-Yetka, who supervises Gupa's doctoral research
Gupa is the current artist-in-residence with Ocean Networks Canada, a UVic initiative, and has collaborated with numerous other organizations and centres over the years—here in Canada including at UVic and also overseas in Southeast Asia.
As one of Canada's top universities, UVic produces internationally acclaimed research on applied theatre practices and the human dimensions of climate change. We're a global leader in multiple areas of research strength from clean growth, climate sciences and ocean health to cultural and creative activity.
Gupa's research was supported by the Social Sciences and Humanities Research Council in Canada and the National Commission for Culture and the Arts in the Philippines, in addition to other funding.
Read more about Gupa in the campus article.
--30--
A media kit containing a selection of high-resolution photos is available on Dropbox.
Photos
Media contacts
John Threlfall (Fine Arts Communications) at johnt@uvic.ca
Tara Sharpe (University Communications + Marketing) at tksharpe@uvic.ca
In this story
Keywords: arts, oceans, climate, theatre
People: Dennis Gupa