Producing plays during a pandemic
- John Threlfall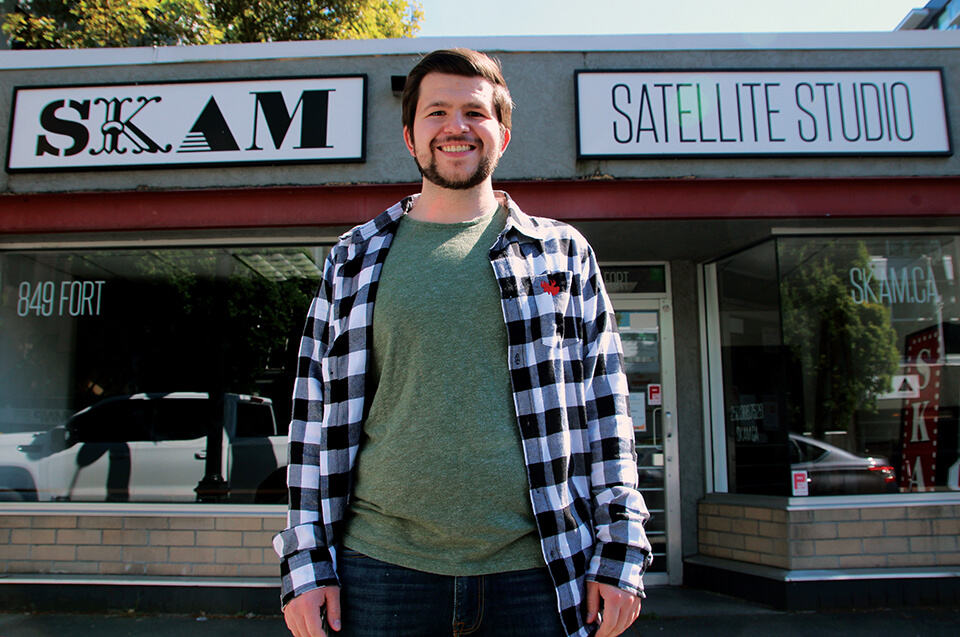 If you had to pick the worst possible time to start a theatre career, it would be tough to top the COVID era. With live indoor performances cancelled since March 2020 and no relief in sight, the arts remain one of the hardest-hit economic sectors of the pandemic. Yet Logan Swain is feeling optimistic about his career choice, thanks to UVic's co-op program and alumni company Theatre SKAM. Not only is Swain graduating this spring with a BFA in comprehensive theatre with a design specialization, but he's already been hired as a producer with SKAM.
"Doing theatre in a non-educational environment has been a great opportunity for me," he says. Thanks to two separate eight-month, BC Arts Council-funded co-op terms, Swain completed his degree by undertaking ever-increasing responsibilities at SKAM: designing a new play, organizing a tour, interacting with city officials, working with kids and so much more. "The logistics of that hands-on, real-world experience was very different than at UVic, where everything already exists."
Born and raised in the Cowichan Valley, Swain felt theatre was the logical choice for him, as it encompassed the various career paths he was considering.
Music, writing, film, engineering, event planning . . . what's really great about the theatre program at UVic is that you're given all the tools and skills you need to do things on your own—but when you actually put them into practice, you're fully supported. And doing co-op was a great next step: still having that support but also having the freedom to make your own decisions.

—Logan Swain, UVic class of 2021
With design credits on seven Phoenix Theatre productions behind him, as well as the experience of mounting a pair of Fringe shows with his own company, Bucket Head Theatre, Swain started at SKAM in 2019 and was able to design two different productions, organize a tour and help mount a 13-show festival before the pandemic hit. He then found himself at ground-zero for the decision-making process when SKAM received official approval to continue with their annual outdoor SKAMpede Festival in July 2020, providing some physically-distanced relief to the city's live-performance drought.
"It's kind of surreal to look back and see that the choices we made last year are still the standard of what we need to be doing now," Swain admits. "I approached it with the idea that you should feel safer at the festival than you would walking down the sidewalk."
But the pandemic isn't the only change facing the arts sector, where IBPOC issues have increasingly been at the forefront.
"The arts are usually viewed as progressive from the outside, but that's not always the case," says Swain, who has Métis heritage. "Most companies have one person as artistic director—usually a mid-career white man who's a former actor or director. It takes a lot of hard work and internal effort to change that, but it's time."
Indeed, Swain is currently part of a BC Arts Council-funded project researching alternative ways of artistic leadership, and a Canada Council-funded group envisioning a succession plan for SKAM's own leadership.
"What if you had four people leading a company instead of just one?" he wonders. "How can you have a more fulfilling career as an individual artist if you're also running a company? SKAM is an ideal company for that kind of change, as we do so many different things: mount shows and festivals, operate a theatre school, run a rental space. I definitely think it's positive progress—it feels like we're heading in a good direction."
With planning already well underway for the 13th annual SKAMpede Festival (running July 16-18 along the Galloping Goose Trail), Swain is feeling decidedly optimistic about keeping things live this summer.

"We have four versions of the festival right now, depending on what happens," he chuckles. "It's kind of fun, even if it is complicated."
Photos
In this story
Keywords: convocation, arts, employment, theatre, indigenous, arts and culture, co-op, career, fine arts, administrative, student life
People: Logan Swain
Publication: The Ring